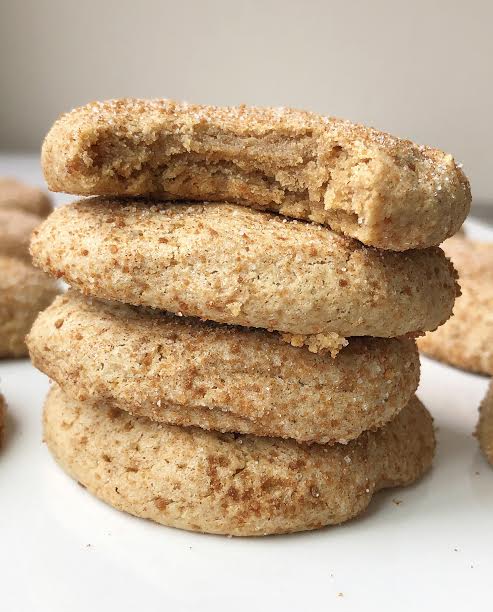 *This post may contain affiliate links. Read my disclaimer here.
Jump to Recipe
Snickerdoodle Protein Cookies
Protein bars can be very expensive and honestly I don't love how a lot of them taste. These Snickerdoodle Protein Cookies are easy, inexpensive and delicious!! The last year or so I've been making my own protein snacks. I absolutely love creating new flavors and types of snacks! They taste amazing and are much cheaper than the store bought versions.
These snickerdoodle protein cookies have the most amazing texture – literally exactly like a soft and chewy snickerdoodle cookie. They have ~5 g protein in each cookie, require only a few ingredients and are paleo and vegan!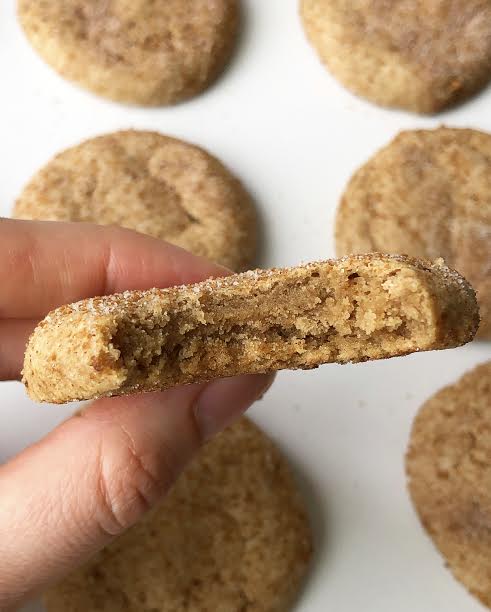 HOW TO MAKE THE MOST DELICIOUS SNICKERDOODLE PROTEIN COOKIES:
All you'll need is a few simple ingredients, a mixing bowl, and a baking sheet + silicone baking mat (I love the reusable silicone baking mat because they are so easy to clean and not waste). You'll be amazed at how delicious these healthy snickerdoodle protein cookies are!
Ingredients:
almond flour
vanilla pea protein powder (can sub for vanilla whey protein)
cashew butter (or nut/seed butter of choice)
maple syrup
vanilla extract
cinnamon
sugar (of choice) for coating
What I used:
My absolute favorite protein powder and the one I have used for almost 3 years is Nuzest. Specifically I love the Nuzest Probiotic Vanilla & the Nuzest Probiotic Cacao. For 15% off anything on the site, you can use code "FIGGINDELICIOUS". It works perfectly in baked goods, smoothies, protein bars and balls and more!
Reusable Silicone Baking Mats – I absolutely love using these baking mats. They are easy to use and better for the environment – yay! They are also inexpensive (only $15 for a 3 pack of different sizes)
Any cashew butter can be used, but I love buying mine at Trader Joes or Whole Foods 365 brand
Almond flour is a little on the pricey side, so I like to buy mine in bulk! You can find my favorite one here. This is especially great if you use almond flour often or plan to use it again in the future. If you need any ideas, below are some of my favorite almond flour recipes!
Possible Substitutions:
NOTE: I have not personally tried these substitutes for this recipe and can't guarantee they will work. I share substitutions in hopes to help those who need to make substitutions!
if you want to use whey protein, any vanilla whey protein should work. I tried them with this 100% grass fed vanilla whey protein and they were perfect! I love this protein powder because of it's simple ingredients and it's a great price!
in place of almond flour, you can try all purpose flour or gluten-free all purpose flour
instead of maple syrup, you can substitute for any liquid sweetener (you may just need to tweak the amount)
I recommend using cashew butter, but you can sub for any nut/seed butter
you can use any granulated sugar for the coating
Recipe Steps:
These could not be easier! They literally take 5 minutes to make less than 10 minutes to bake. Then, you'll have delicious snack cookies for the week. Woo! All you'll have to do is mix the wet ingredients together, then add in the dry. Roll into balls, then coat each one in the cinnamon sugar mixture. Bake & enjoy!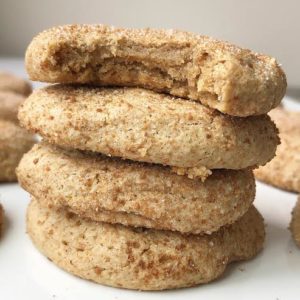 Snickerdoodle Protein Cookies
Ingredients
1/4 cup almond flour
3/4 cup vanilla pea protein powder (or vanilla whey protein)
1/2 cup drippy cashew butter (or nut butter of choice)
1/3 cup maple syrup
1/2 tsp vanilla extract
1/2 tsp cinnamon
Cinnamon Sugar Coating:
1 tbsp sugar of choice
1/2 tsp cinnamon
Instructions
Preheat oven to 350 degrees and line a baking sheet with parchment paper or silicone baking mat

Mix together cashew butter, maple syrup, and vanilla extract. In a separate bowl, combine almond flour, protein powder, and cinnamon. Add dry ingredients to wet and mix until smooth.

If necessary, refrigerate batter for 10-15 minutes, or until firm enough to roll into balls.

Roll into 15 balls. Coat each one in cinnamon sugar mixture and push down to flatten slightly.

Bake for 7-9 minutes. Let cool & enjoy!
Additional Recipes You'll Love:
I have several delicious snack and dessert recipes you may also love: No Bake Red Velvet Truffles (paleo, vegan), Lemon Protein Balls (gf, df, nut free), Cookies & Cream Truffles (gf, vegan), Cookie Dough Fudge Bars (vegan, paleo), Rocky Road Fudge Bars (vegan, paleo), Cinnamon Roll Muffins, Coffee Cake Greek Yogurt Muffins, Birthday Cake Chocolate Chip Cookie Skillet (paleo & vegan), Cookie Dough Fudge Bars (paleo & vegan), Double Chocolate Cookie Skillet (paleo & vegan), Lemon Bars (gluten-free), Flourless Zucchini Brownies (paleo) & more dessert recipes
I always love knowing when you guys make (and love) my recipes – so tag me or send me a message on Instagram, or leave a reply/rating below! Also, you can find this recipe, as well as all of my others, on Pinterest (click the photo below to Pin)!