Funfetti Cream Cheese Muffins
Jump to Recipe
How fun are these funfetti cream cheese muffins!? I don't know about you, but anything with sprinkles just makes me happy! Especially when it means I can eat sprinkles for breakfast. Woo!
These are light and fluffy, not very sweet, and have a delicious cream cheese filling. They are made with only a handful of ingredients that you probably already have on hand. If you'd like, you can skip the cream cheese filling (although I don't recommend it). Hope you love them as much as we do!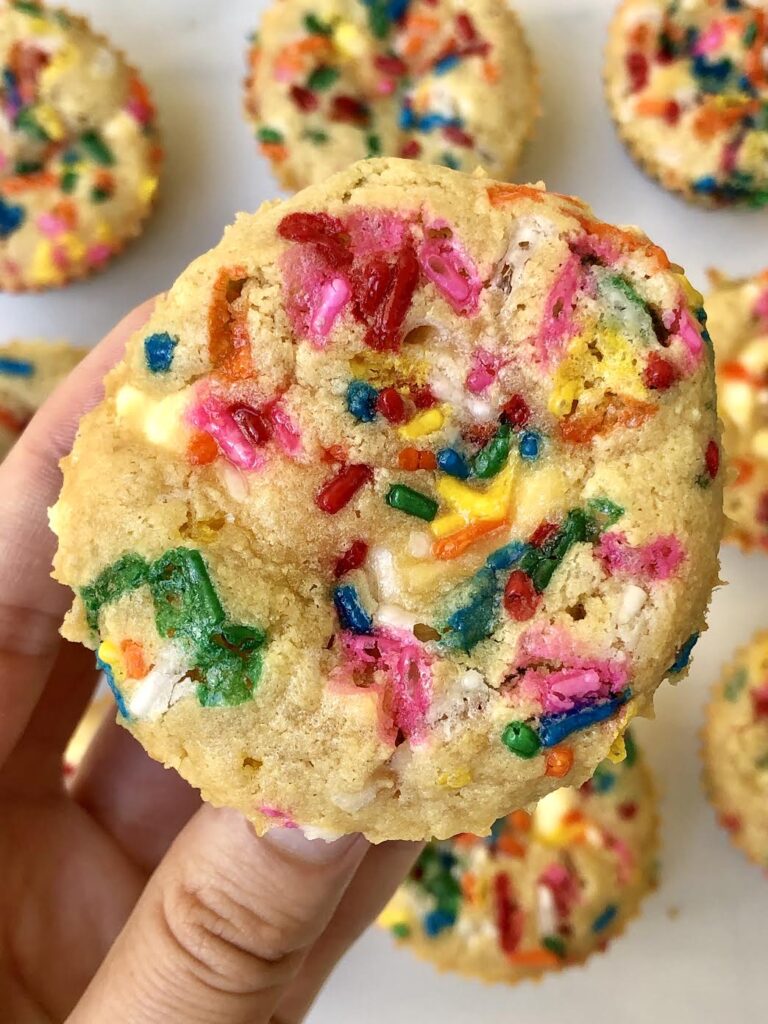 What You'll Need:
You only need a handful of ingredients and a few simple steps to make these Funfetti Cream Cheese Muffins!
Ingredients:
almond flour
brown sugar
eggs
butter
milk of choice
vanilla extract
baking powder
sprinkles
cream cheese
* Possible substitutes listed below. NOTE: I have not personally tried any of these substitutes for this recipe, however I believe they could work.
You could substitute coconut sugar for the brown sugar
For the butter, you could substitute vegan butter
How To Make:
This recipe comes together in just a few simple steps. First, combine the wet ingredients, then add in the dry ingredients. Fill each muffin cup about 2/3 the way full. Then, add a dollop of the cream cheese mixture, push down gently and cover the cream cheese with batter. Top with extra sprinkles!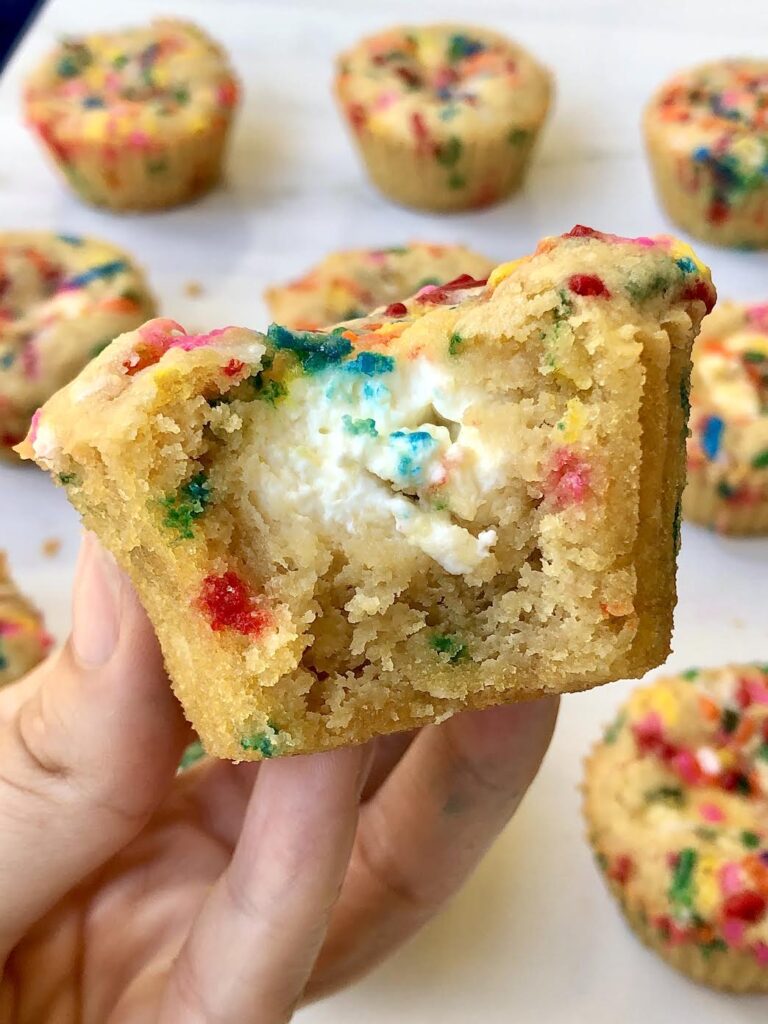 Funfetti Cream Cheese Muffins
Ingredients
2 cups almond flour
2 eggs
1/2 cup milk of choice
1/3 cup packed brown sugar
6 tbsp butter softened
1 1/2 tsp baking powder
1 tsp vanilla extract
3 tbsp sprinkles
Filling
3/4 cup cream cheese 6 oz
2 tbsp milk of choice
1/2 tsp vanilla extract
1 tbsp cane sugar (optional)
Instructions
Preheat oven to 350 degrees F & line 12 muffin slots with silicone muffin liners.

Cream together the eggs, butter, and brown sugar. Add in milk and vanilla extract.

Add in almond flour and baking powder and mix until well combined. Fold in sprinkles.

In a separate bowl, mix cream cheese, milk, vanilla, and sugar (optional) until it forms a creamy mixture

Fill each muffin cup ~3/4 full. Place ~ 1 tbsp cream cheese mixture in the center of each muffin.

Using a spoon, slightly push down the cream cheese then swirl the batter over top so that the cream cheese is mostly covered. Top with additional sprinkles

Bake for 21-23 minutes

Let cool completely & enjoy!
Additional Recipes You'll Love:
I have several delicious muffins that I think you'll also love: Cinnamon Roll Muffins, Coffee Cake Greek Yogurt Muffins, Birthday Cake Chocolate Chip Cookie Skillet (paleo & vegan)
I always love knowing when you guys make (and love) my recipes – so tag me or send me a message on Instagram, or leave a reply/rating below! Also, you can find this recipe, as well as all of my others, on Pinterest (click the photo below to Pin)!