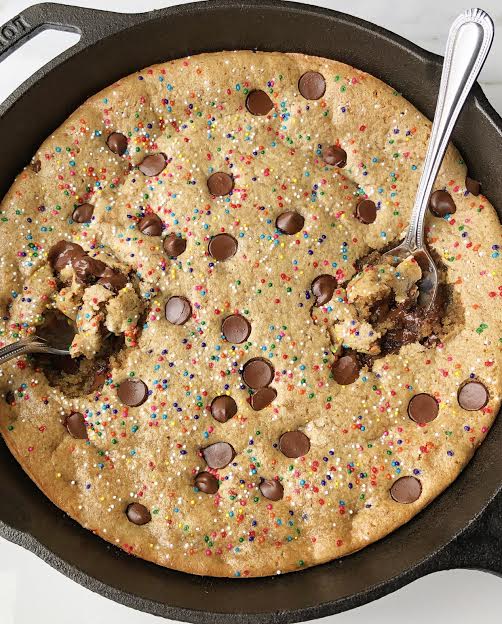 Birthday Cake Chocolate Chip Skillet Cookie
This birthday cake chocolate chip skillet cookie is hands down the BEST skillet cookie I have ever had. Yes, that includes the pizookies I used to beg my parents to let us get for dessert at BJ's restaurant as a kid. Why is this better you ask? Because it is the most ooey gooey delicious cookie you'll ever taste. Also, it happens to be paleo and vegan (depending on chocolate chips and sprinkles used). In short, you need this in your life.
I truly believe this will be your new favorite cookie too! The ingredients are simple, real food ingredients that you may already have on hand: almond flour, cashew butter (or desired nut/seed butter), coconut sugar (or brown sugar), and flax seed meal (to make vegan friendly flax eggs, or you can use regular eggs). Each bite is packed with dark chocolate, sprinkles and melt in your mouth goodness. I certainly recommend eating this fresh out of the oven. Maybe with some ice cream on top too. Either way, grab a spoon and dig in!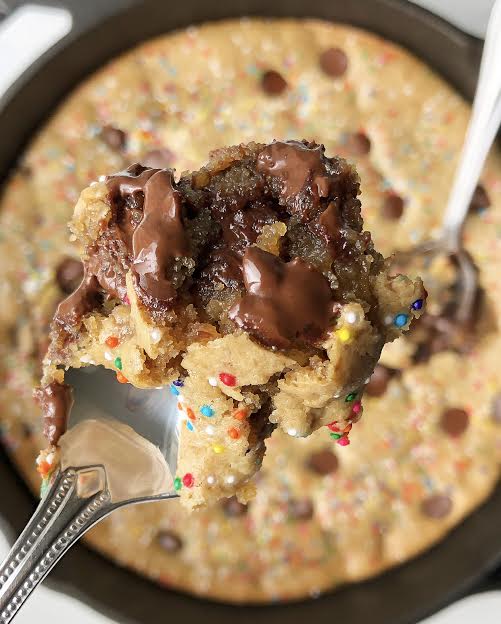 If you want to share, this soft and chewy cookie skillet will sure to be a crowd pleaser. Or, you can keep it all for yourself (like I did!). Don't let the two spoons fool you – I'm not planning on sharing this with Tom. Honestly though, I would share he just isn't the biggest dessert guy (weird, I know!). That just means more cookie heaven for me.
What You'll Need:
You only need 8 total ingredients, one mixing bowl and a fork to make your skillet cookie dreams come true!
Ingredients:
almond flour
cashew butter (could sub for any nut/seed butter)
coconut sugar (or brown sugar)
flax eggs (don't worry, I'll teach you how to make these! Or you can use regular eggs)
milk (of choice)
vanilla extract
baking soda
chocolate chips
sprinkles
Looking for other recipes that use similar ingredients? Check out my Peanut Butter Chocolate Chunk Cookies, Fudgy Raspberry Brownies, or No Bake Cookie Dough Fudge Bars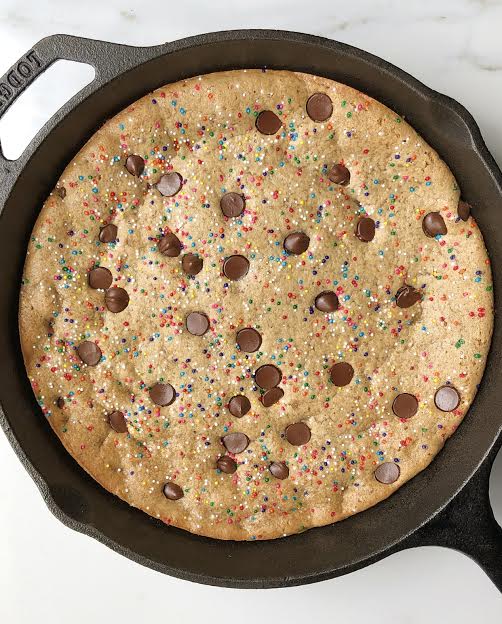 Birthday Cake Chocolate Chip Skillet Cookie
Ingredients
1 cup almond flour
3/4 cup cashew butter
1/2 cup coconut sugar or brown sugar
2 flax eggs *see note for how to make
1/4 cup milk of choice
1 tsp vanilla extract
1/2 tsp baking soda
1/3 cup chocolate chips plus additional to add on top
1 tbsp sprinkles
Instructions
Preheat oven to 350 degrees F and lightly grease a 10″ cast iron skillet

In a medium bowl, whisk together flax eggs, coconut sugar. Add in cashew butter, milk and vanilla extract and mix until smooth.

Combine almond flour and baking soda. Add into wet ingredients and mix thoroughly. Fold in chocolate chips.

Pour mixture into greased cast iron skillet. Sprinkle additional chocolate chips and sprinkles on top.

Bake for 22-24 minutes, or until edges are golden brown
Notes
*Flax eggs: 2 tbsp flax seed meal + 1/4 cup and 1 tbsp water. Mix together and let sit for 5-10 minutes.