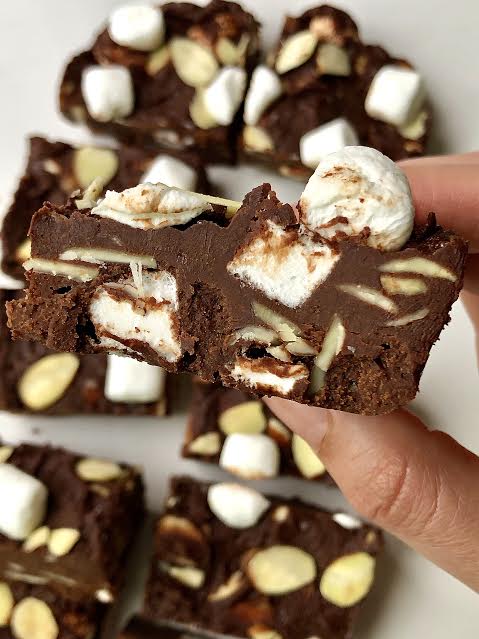 Jump to Recipe
Rocky Road Fudge Bars
These Rocky Road Fudge Bars are everything you didn't know you needed. Perfect easy treat to keep in the fridge/freezer and it takes less than 10 minutes to make! It has the perfect fudge texture with all the chocolatey, nutty, creamy goodness! Rich and sweet, but not too sweet (there's actually no added sugar besides what is in the chocolate chips and marshmallows)!
Last week I made Moose Tracks Cookies and it got me thinking of other ice cream flavors I love. When I thought of these Rocky Road Fudge bars, I knew I needed to make them immediately! You should too!
What You'll Need:
To make these Rocky Road Fudge Bars, you'll just need 6 ingredients and a little patience (aka waiting for it to freeze)
Ingredients:
chocolate chips
coconut oil
natural creamy peanut butter (or preferred nut/seed butter)
sliced almonds
marshmallows
milk, of choice
cacao powder
sea salt
*To make these vegan, just use dairy-free chocolate chips and vegan marshmallows. For paleo, use an approved nut butter and you could make your own paleo marshmallows, like this recipe here!
How To Make:
All you need is a mixing bowl, fork, small saucepan (or bowl if you are microwaving the chocolate to melt), and a bread pan! First, melt the chocolate chips with coconut oil. I find the best way to do this is in a small saucepan over very low heat, continually stirring. In a mixing bowl, combine the melted chocolate with peanut butter. Then, add in milk and mix until smooth. Then do the same with the cacao powder and dash of sea salt. Finally, fold in sliced almond and marshmallows. Spread evenly across a parchment paper lined bread pan, sprinkle additional marshmallows and almonds on top & freeze for 1 hour!
Additional Recipes You'll Love
If you're looking for freezer treats or warm weather recipes, you may love these: Cookie Dough Nice Cream (Vegan/Paleo), Lemon Bars (Paleo-ish), Peanut Butter Cheesecake Cups (Nut Free, Vegan), Strawberry Shortcake Cookies (Paleo), Cookie Dough Freezer Bars (Nut Free, Vegan)
Rocky Road Fudge Bars
Ingredients
2/3 cup chocolate chips
1 1/2 tbsp coconut oil
1/2 cup peanut butter or preferred nut butter
1/3 cup milk of choice
1/4 cup cacao powder
3/4 cup sliced almonds
3/4 cup marshmallows
Dash of sea salt
Instructions
In a small saucepan over low heat, melt the chocolate chips and coconut oil. Stir frequently until no chips remain.

In a mixing bowl, use a fork to mix together chocolate and peanut butter. Add in milk and mix until smooth. Then, mix in cacao powder and sea salt. Finally, fold in sliced almonds and marshmallows.

Line a bread pan with parchment paper. Spread the rocky road mixture evenly across bottom. Top with a few extra almonds and marshmallows and a sprinkle of sea salt.

Freeze covered for 1 hr. Cut into 10+ pieces & enjoy!
Notes
Best kept in an airtight container in the freezer or refrigerator.