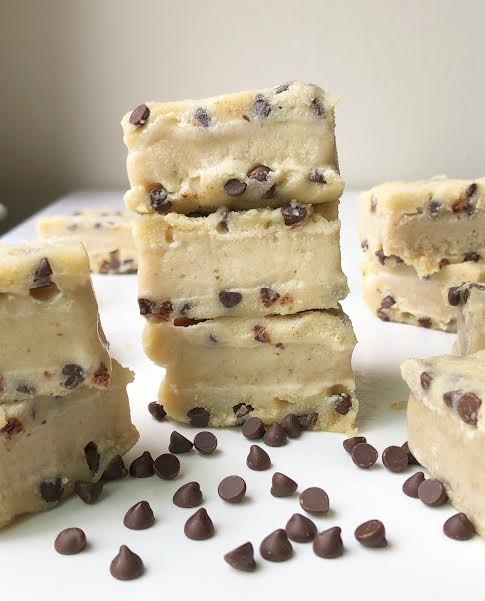 Jump to Recipe
Cookie Dough "Ice Cream" Sandwiches
The weather is starting to warm up here in Michigan (meaning it seems like the April snow has finally come to an end and the temperatures are staying in the 50's and 60's) and I'm ready for all the warm weather foods and flavors. Also, I'm ready for actual warm Spring/Summer weather to come! Anyway, some of the first things that come to mind for me during this time are ice cream and fresh fruit! We made fish tacos with mango salsa last night and today I made these UNREAL cookie dough ice cream sandwiches.
These cookie dough "ice cream" sandwiches are no bake, super simple, and are vegan and paleo-friendly! The cookie dough layer is made with wholesome ingredients like almond flour, coconut oil, maple syrup, and the "ice cream" is made with just two ingredients – bananas and milk of your choice!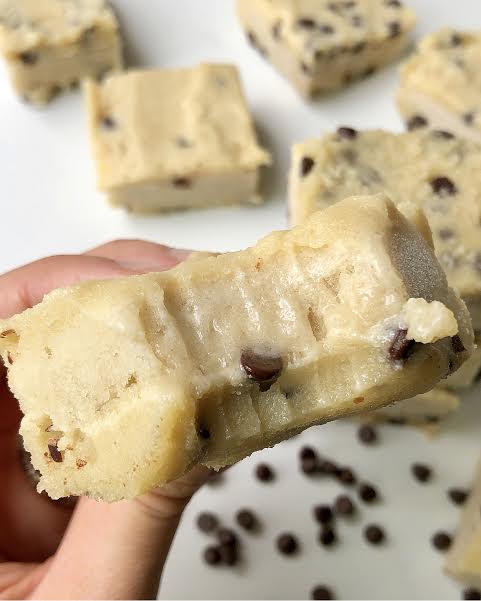 What You'll Need:
To make these Cookie Dough "Ice Cream" Sanwiches, you'll just need 7 main ingredients and a little patience (aka waiting for it to freeze)
Ingredients:
almond flour
coconut oil
maple syrup
vanilla extract
mini chocolate chips
bananas
milk (of choice) – I used unsweetened almond milk
How To Make:
All you need is a mixing bowl, blender, and 8×8 glass pan! First, mix together all ingredients for the cookie dough then add half the batter to the parchment paper lined pan and spread evenly. Put that layer in the freezer while you blend the banana and milk. Spread the banana ice cream evenly over the cookie dough layer, then freeze for 1-2 hours. Finally, add the rest of the cookie dough, freeze for an additional 30 minutes to an hour & enjoy!
Additional Recipes You'll Love
If you're looking for more ice cream or warm weather recipes, you may love these: Cookie Dough Nice Cream (Vegan/Paleo), Lemon Bars (Paleo-ish), Peanut Butter Cheesecake Cups (Nut Free, Vegan), Strawberry Shortcake Cookies (Paleo), Cookie Dough Freezer Bars (Nut Free, Vegan)
Cookie Dough "Ice Cream" Sandwiches
Ingredients
2 cup almond flour
1/3 cup coconut oil melted
1/4 cup maple syrup
3 tbsp milk of choice
2 tsp vanilla extract
dash of salt
2/3 cup mini chocolate chips
Banana Ice Cream
3 bananas sliced and frozen
2-3 tbsp milk of choice
Instructions
Line an 8×8 glass pan with parchment paper

In a mixing bowl, combine almond flour, coconut oil, maple syrup, milk, salt, vanilla extra until smooth. Add in mini chocolate chips.

Spread half the dough (about 1 heaping cup) evenly across the bottom of the 8×8 pan. Place in freezer while you make the banana ice cream. Put the other half of the cookie dough in the refrigerator, covered.

In a blender, blend bananas and milk until smooth (start with 2 tbsp milk and add another tbsp if necessary). Spread ice cream evenly over cookie dough layer. Cover, and freeze for 1 hr, or until firm enough to add the top layer of cookie dough.* To help prevent ice crystals from forming, press a piece of plastic wrap or wax paper firmly against the entire surface of the ice cream (remove before adding the top cookie dough layer).

Spread the remaining cookie dough evenly on top of the banana ice cream. Freeze for another ~30 minutes.

Cut into 12-16 bars & enjoy!
Notes
* Best kept in a air-tight container in the freezer. Let thaw for a few minutes before enjoying!