I hope you love these Healthy Paleo-ish Lemon Bars as much as I do! *This post may contain affiliate links. Read my disclaimer here.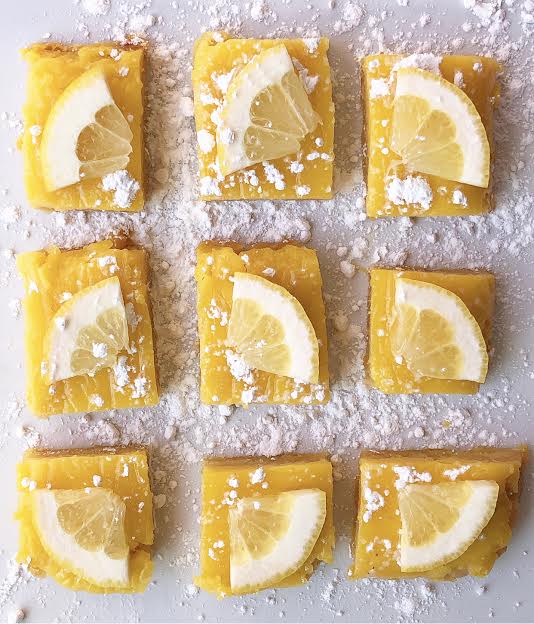 Jump to Recipe
Healthy Paleo-ish Lemon Bars
These healthy paleo-ish lemon bars make for the most perfect refreshing Spring or Summer dessert! They are made with a gluten-free, almond flour shortbread crust and a rich, tart lemon filling on top, sweetened with honey! I've been on a major lemon kick the last few weeks and these are officially my favorite lemon treat EVER.
They taste exactly like classic lemon bars with a soft, buttery shortbread crust and a tangy, slightly sweet lemon filling. The honey in the lemon layer adds the perfect sweetness while keeping the bars light and tangy.
Only 7 simple ingredients, they are gluten-free, dairy-free and refined sugar free! Made with wholesome ingredients like almond flour, fresh lemon & honey. These have the best flavors and are healthy too!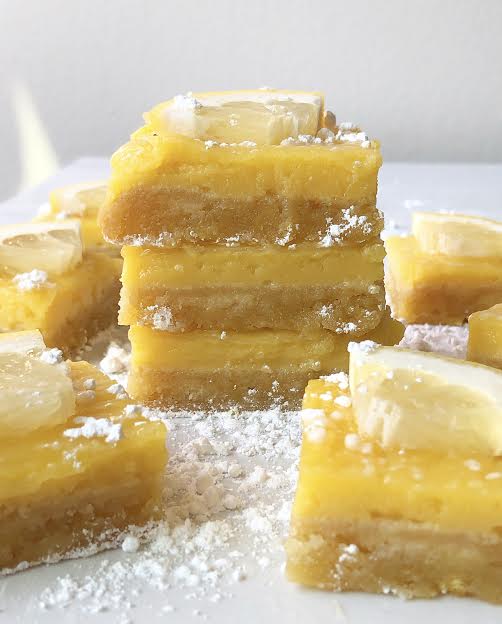 HOW TO MAKE (THE MOST DELICIOUS) HEALTHY LEMON BARS:
There are only a few simple steps in how to make these healthy paleo lemon bars. Basically, you need a handful of real food ingredients and a mixing bowl to make your gluten free lemon bar dreams come true!
Ingredients:
almond flour
butter
coconut sugar
fresh lemon juice
lemon zest
eggs
honey
arrowroot flour
What I used:
Possible Substitutions:
NOTE: I have not personally tried these substitutes for this recipe and can't guarantee they will work. I share substitutions in hopes to help those who need to make substitutions!
If you want to make these dairy-free, you could try to use vegan butter. Coconut oil will not work for these!
in place of arrowroot flour, you could try tapioca flour or cornstarch
instead of coconut sugar, you could use cane sugar or brown sugar
I don't recommend substituting the honey, but you could try to sub maple syrup or another liquid sweetener. The amount will likely need to be tweaked.
Recipes Steps:
This recipe comes together in just a few simple steps. The crust is just 3-ingredients and only needs to be quickly mixed together and baked. Similarly, the lemon filling is whisked together and then baked. Lastly, let the bars cool (honestly the hardest part) & enjoy!
Healthy Paleo-ish Lemon Bars
Ingredients
Shortbread:
1 1/2 cups almond flour
5 tbsp butter melted
3 tbsp coconut sugar
1/4 tsp salt
Lemon Filling:
4 eggs + 1 yolk
2/3 cup fresh lemon juice (about 3 lemons)
zest of 1 lemon
1/3 cup honey
1 tbsp arrowroot flour
Optional: powdered sugar for sprinkling on top
Instructions
Preheat oven to 350 degrees. Line a glass 8×8 pan with parchment paper.

Mix all shortbread ingredients together thoroughly. Spread dough evenly across bottom, pushing up the edges slightly higher to form a crust for the lemon filling. Bake for 15-18 minutes, or until sides are gold brown

While shortbread is baking, make filling. Whisk together eggs and one yolk, then add in honey, lemon juice, and left zest. Whisk together gently. In a small bowl, mix arrowroot flour with 1 tbsp water until no clumps remain, then add to egg mixture.

When shortbread comes out of oven, reduce temperature to 325 degrees and immediately pour lemon filling over top.

Bake for 18-20 minutes. Let cool completely, then refrigerate for at least 3 hours, or overnight.

Cut into 12 bars, sprinkle powdered sugar on top (optional) and enjoy!
Additional Recipes You'll Love:
If you love lemon flavor foods and dessert like I do – you'll also love these Paleo Lemon Blueberry Muffins, Lemon Protein Balls, and Lemon Cake. If you're looking for more Spring/Summer treats, you may love these Strawberry Shortcake Cookies , Strawberry Lemon Cake Bars, Carrot Cake Roll with Cream Cheese Filling, Greek Yogurt Coffee Cake, Vegan Mini Lime Cheesecakes, Cookies & Cream Truffles, Orange Creamsicle Cookies, No Bake Twix Bars
I always love knowing when you guys make (and love) my recipes – so tag me or send me a message on Instagram, or leave a reply below! Also, you can find this recipe, as well as all of my others, on Pinterest (click the photo below to Pin)!