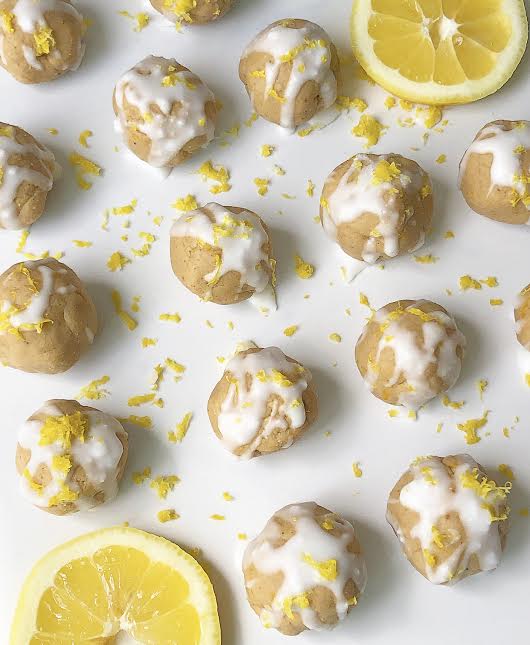 Jump to Recipe
Lemon Protein Balls
These lemon protein balls are the most delightful Spring snack! They are perfect to have as a healthy afternoon snack or to take on the go! You'll get protein and a nice little boost of energy (much needed right now!). Also, they take less than 5 minutes to make, are filled with fresh lemon juice and sweetened with honey!
You may have noticed, but I have been obsessed with all things lemon lately! Lemon bars, lemon cake, lemon protein – give me it all! To me, lemon just screams sunshine and happiness. It's quickly becoming my favorite warm weather flavor (it never used to be) and I know so many of you have the same love for lemon! Anyway, I already know I'm going to be making these protein balls all through Summer!
They are made with delicious, fresh and healthy ingredients that you may already have on hand: oat flour (you can make your own if you don't have any!), coconut oil, fresh lemon juice and lemon zest, honey, and vanilla pea protein.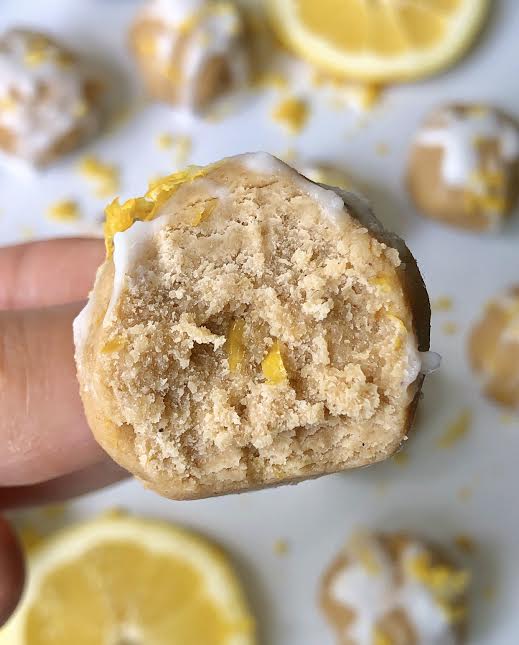 What You'll Need:
To make these Protein Lemon Balls, you'll just need 5 ingredients, a few minutes, and a mix bowl!
Ingredients:
oat flour
vanilla pea protein (I use Nuzest Probiotic Vanilla)
lemon juice
lemon zest
coconut oil
honey
optional toppings: coconut butter drizzle and lemon zest
* Possible substitutes listed below. NOTE: I have not personally tried any of these substitutes for this recipe, however I believe they could work.
almond flour could be used in place of oat flour (1:1 substitute)
coconut flour could be used in place of oat flour – I'd try 3-4 tbsp and you may have to refrigerate batter to let the coconut flour absorb some of the liquid
maple syrup or date syrup could be subbed for honey
How To Make:
These are so beyond simple to make! All you need to do is quickly mix all ingredients together (wet first, then dry). Then, roll them into balls and drizzle with melted coconut butter and a sprinkle of lemon zest. Finally, refrigerate until the coconut butter hardens & enjoy!
Additional Recipes You'll Love
I have so many great protein bars, cookies, donuts and balls recipes! Some of my favorites are: Snickerdoodle Protein Cookies (Paleo & Vegan), Chocolate Protein Donuts (Paleo & Dairy-Free), Almond Joy Protein Balls (Paleo & Vegan), Cookie Dough Protein Bars (Paleo & Dairy-Free), Birthday Cake Protein Bars. If you're looking for other lemon recipes, you may love these: Lemon Bars (Paleo-ish), Lemon Blueberry Muffins (Paleo & Vegan option), & Lemon Cake
Lemon Protein Balls
Ingredients
3/4 cup oat flour
2/3 cup vanilla pea protein powder
1/4 cup coconut oil melted
3-4 tbsp honey
1/4 cup lemon juice (1-2 lemons)
Zest of 1 large lemon
Optional toppings:
3 tbsp coconut butter melted
Zest of 1 additional lemon
Instructions
In a mixing bowl, combine lemon juice, honey, coconut oil and lemon zest. Add in pea protein and flour, and mix until smooth.

Roll into 15 balls

Drizzle with coconut butter and sprinkle zest over top. Refrigerate until coconut butter hardens & enjoy!