Thin Mint Protein Truffles
These thin mint protein truffles are everything you love about a thin mint, in an easy to make and delicious protein snack. Thin mints were always one of my favorite girl scout cookies and I have noo idea why I have never made something like this before. They taste like dessert but are made with real ingredients and packed with protein. Reaching for healthy snacks at home or to bring on-the-go is no problem when they taste this good.
These are only made with only 6 main ingredients, take a few minutes to make, and are vegan & paleo friendly! I love having quick & easy snacks on hand and homemade protein bars/balls have been my go-to the last few years.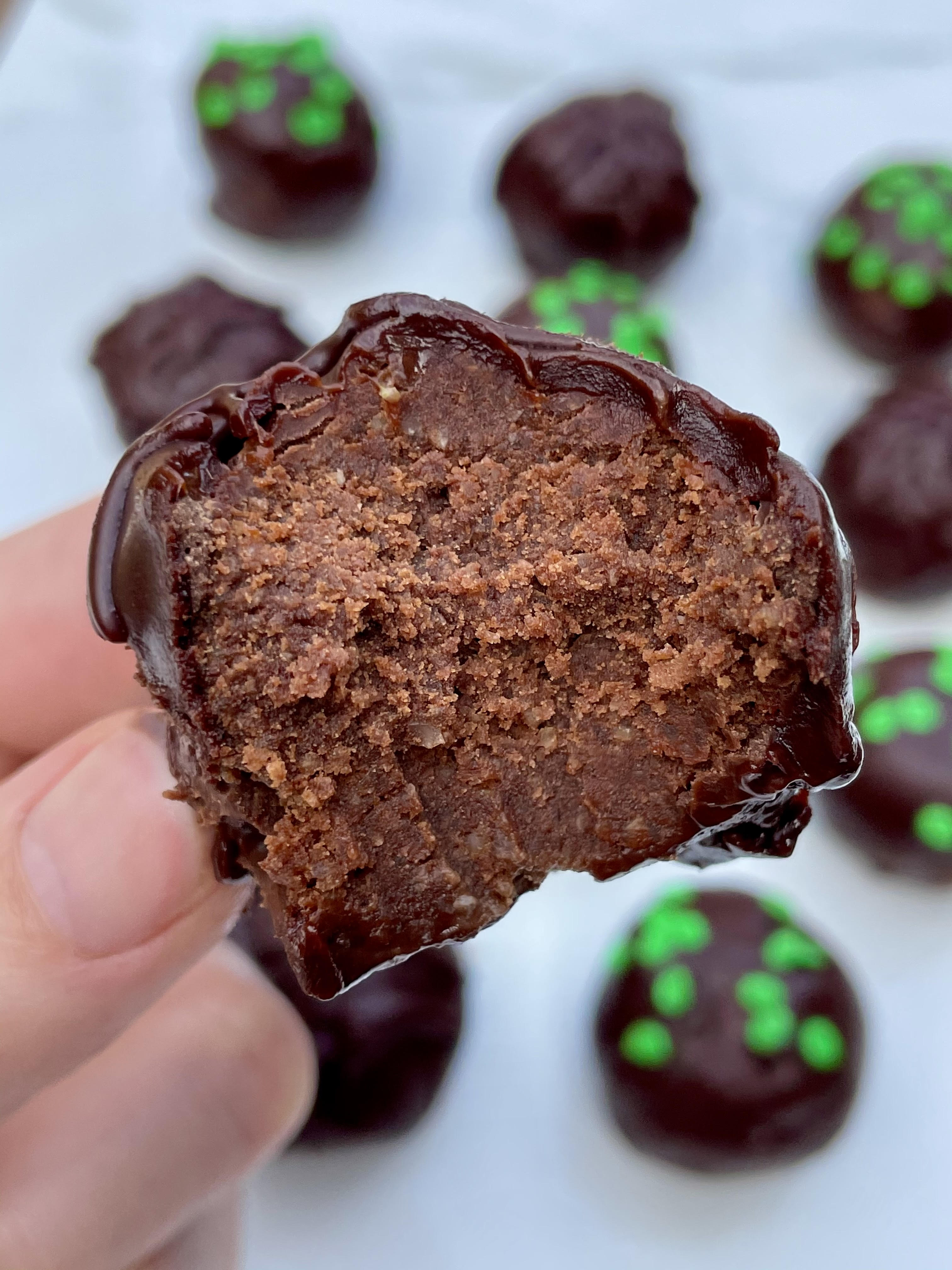 What You'll Need:
To make these Brookie Protein Balls, you'll just need 7 simple ingredients and a few simple steps!
Ingredients:
almond flour
chocolate pea protein (my favorite is Nuzest – code "FIGGINDELICIOUS" for 15% off)
cacao powder
maple syrup
milk of choice
vanilla extract
peppermint extract
chocolate chips
coconut oil
green sprinkles (optional)
* Possible substitutes listed below. NOTE: I have not personally tried any of these substitutes for this recipe, however I believe they could work.
if almond flour isn't your favorite or you have allergies, you could probably substitute with oat flour, however it will likely change the taste and texture
any chocolate protein powder (whey protein, etc) should work, however I have not tried any others and you may have to tweak the amount
to make these truly vegan/paleo, use dairy free or paleo chocolate chips
How To Make:
This recipe comes together in just a few simple steps. First, you'll mix the dry ingredients together (almond flour, cacao powder, and chocolate pea protein). Then, you'll mix in the maple syrup, milk (of choice), vanilla extract and peppermint extract. Next, roll the batter into 16 balls. Melt chocolate and coconut oil together, then dip each protein truffle into the chocolate. Sprinkle with green sprinkles (optional) and freezer until chocolate hardens. Keep in an airtight container in the freezer (best) or refrigerator.
Thin Mint Protein Truffles
Ingredients
1 cup almond flour
1/2 cup chocolate pea protein
1/4 cup cacao powder
1/4 cup milk of choice
1/4 cup maple syrup
1 tsp vanilla extract
3/4 – 1 tsp peppermint extract
Chocolate Coating (melt together)
1/3 cup chocolate chips
1 tbsp coconut oil
green sprinkles optional
Instructions
In a medium bowl, mix together almond flour, chocolate pea protein, and cacao powder. Add in maple syrup, milk (of choice), vanilla extract and peppermint extract and mix until well combined.

Roll into 12-16 balls, then dip each one in the melted chocolate mixture. Top with green sprinkles (optional).

Freeze until chocolate hardens (about 10 minutes) & enjoy!
Notes
* best kept in an airtight container in the freezer.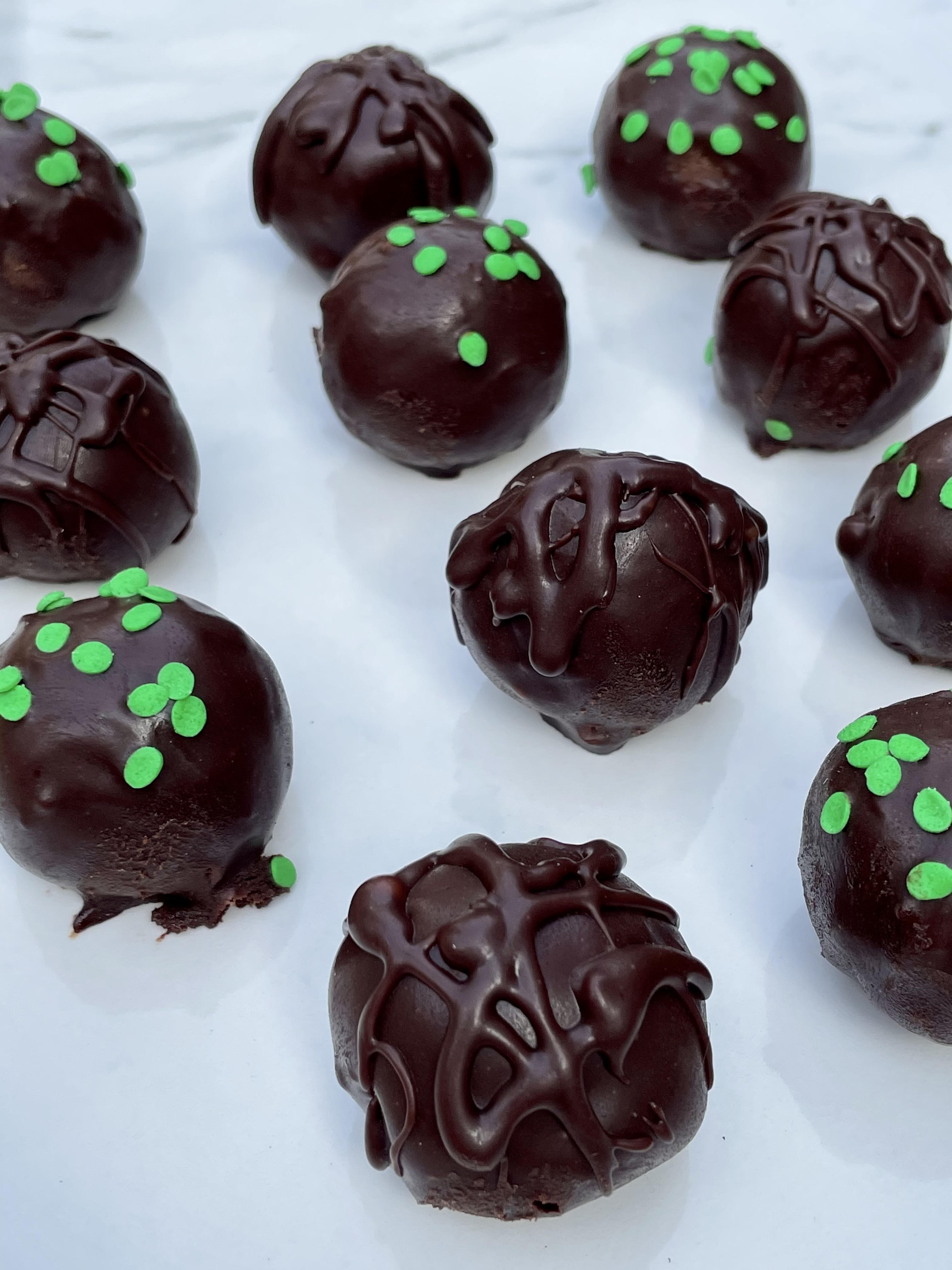 Additional Recipes You'll Love:
I have several delicious snack recipes you may also love: Lemon Protein Balls (gf, df, nut free), Snickerdoodle Protein Cookies (df, gf, paleo), Unicorn Cookie Dough Protein Balls (df, gf, paleo), Chocolate Protein Donuts (gf, df, nut free, paleo), & more snack recipes!
I always love knowing when you guys make (and love) my recipes – so tag me or send me a message on Instagram, or leave a reply/rating below! Also, you can find this recipe, as well as all of my others, on Pinterest (click the photo below to Pin)!