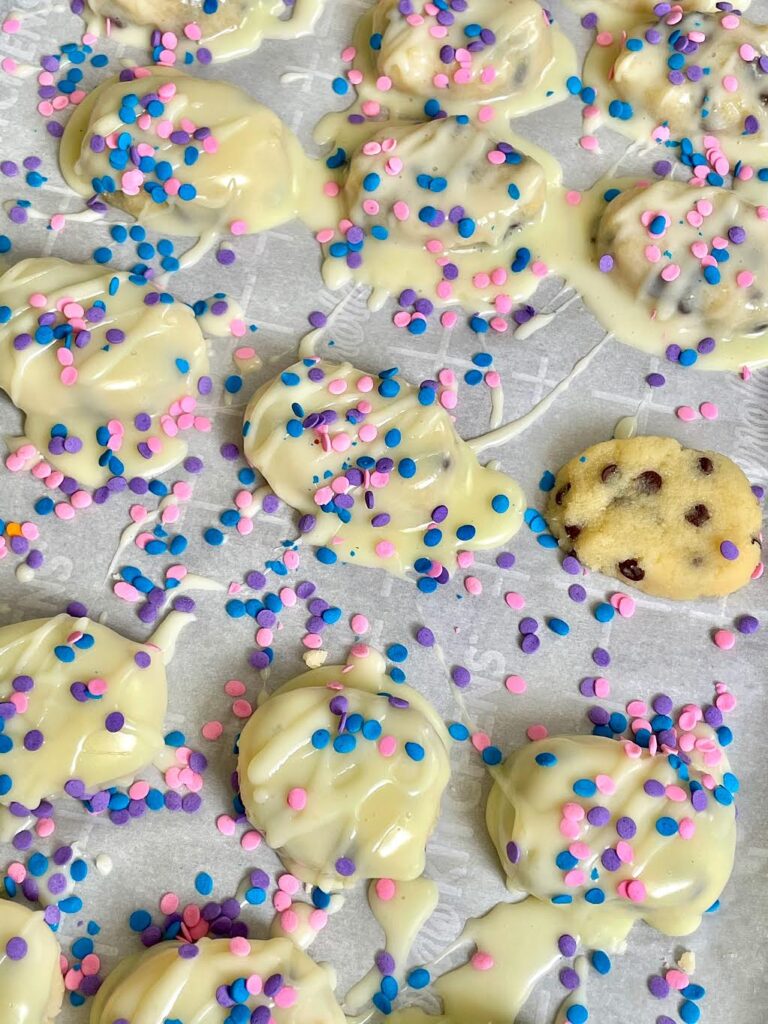 Jump to Recipe
Cookie Dough Easter Eggs
We all know Reese's Easter Eggs are great, but they can't get all the love. These Cookie Dough Easter Eggs are unreal! Soft and delicious cookie dough covered in a white chocolate coating. Yes please!
They are no bake, require one bowl and take minutes to make! Plus, you only 7-ingredients total and they are gluten free and can be make vegan or paleo depending on the chocolate (and sprinkles) used.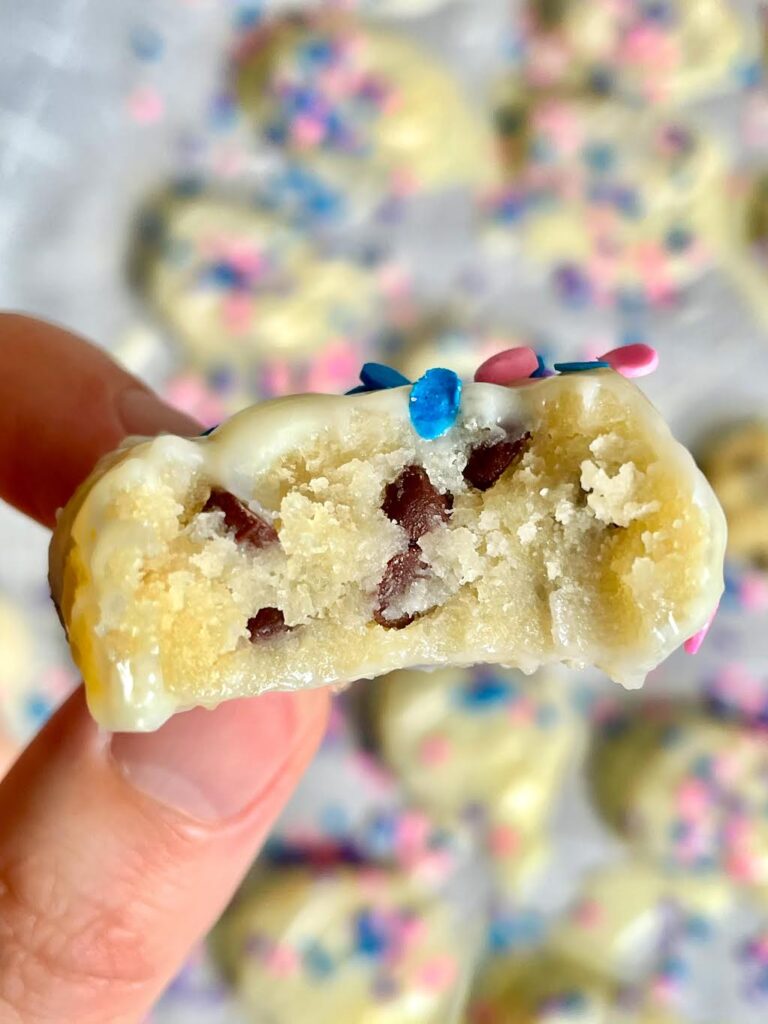 What You'll Need:
You only need a handful of ingredients to make your Cookie Dough Easter Eggs dreams come true!
Ingredients:
almond flour or coconut flour
maple syrup
milk (of choice)
coconut oil (or butter)
vanilla extract
mini chocolate chips
White Chocolate Coating: white chocolate chips & coconut oil (or unsalted butter) + sprinkles
** Possible substitutes listed below. NOTE: I have not personally tried all of these substitutes for this recipe, however I believe they could work.
to make this vegan, use non-dairy milk, coconut oil and vegan chocolate chips/white chocolate chips
in place of almond flour, you can use coconut flour (exact sub in recipe)
instead of maple syrup, you could try to sub for a different liquid sweetener (amount may vary)
you could easily use regular chocolate chips instead of white chocolate chips for the coating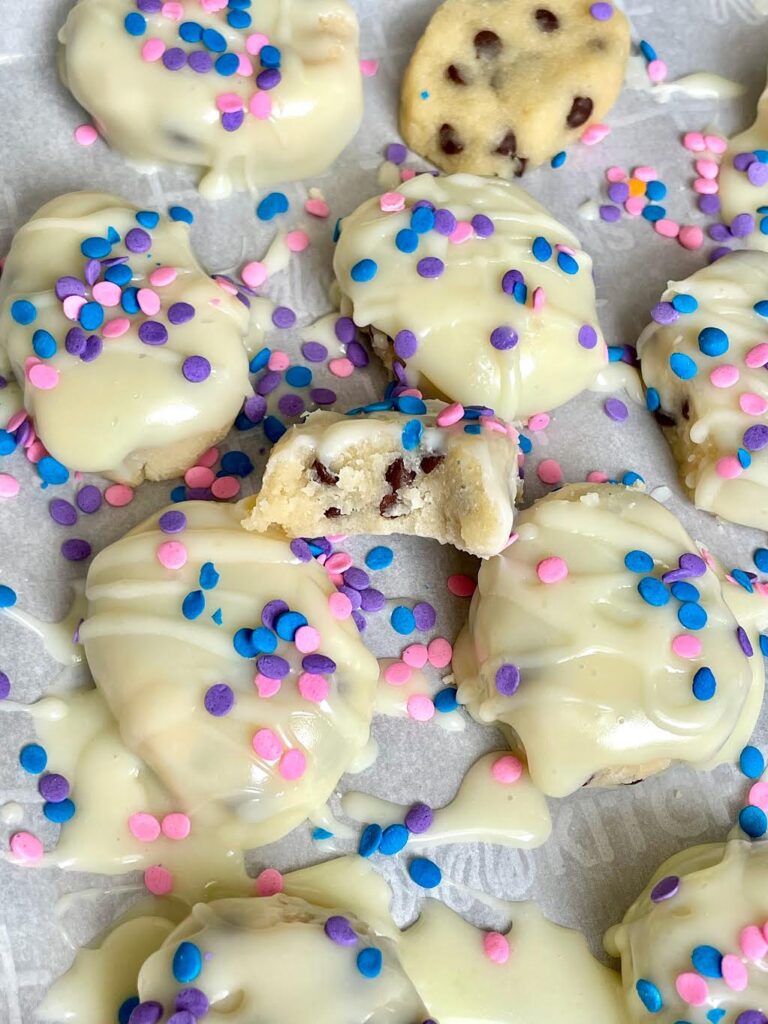 Cookie Dough Easter Eggs
Ingredients
1 cup almond flour or 1/4 cup coconut flour
3 tbsp maple syrup
2 tbsp coconut oil or unsalted butter melted
2 tbsp milk of choice
1 tsp vanilla extract
1/4 cup mini choc chips
White Chocolate Coating (melt together):
1/3 cup white chocolate chips
1 tbsp coconut oil or unsalted butter
Sprinkles optional
Instructions
In a medium mixing bowl, combine maple syrup, coconut oil (or butter), milk and vanilla extract. Mix in almond flour or coconut flour until no clumps remain (*for coconut flour, you may need to add 1-2 tsp more milk). Fold in mini chocolate chips.

Line a baking sheet or large plate with parchment paper. Form the dough into egg shapes (about 1 tbsp each). If using almond flour, you should get 10-12 eggs. For coconut flour, you will get 6-8 eggs. Freeze for 10-20 minutes to make it easier to dip in chocolate.

Using a fork, gently dip each one in the melted white chocolate coating. Add sprinkles on top if desired. Freeze for an additional 10-20 minutes, or until chocolate hardens.
Additional Recipes You'll Love
I have several delicious muffins and desserts that I think you'll also love: No Bake Red Velvet Truffles (paleo, vegan), Lemon Protein Balls (gf, df, nut free), Cookies & Cream Truffles (gf, vegan), Caramel Cookie Dough Bars (vegan, paleo), Rocky Road Fudge Bars (vegan, paleo), Cinnamon Roll Muffins, Coffee Cake Greek Yogurt Muffins, Birthday Cake Chocolate Chip Cookie Skillet (paleo & vegan), Mini Turtle Cheesecakes & more dessert recipes
I always love knowing when you guys make (and love) my recipes – so tag me or send me a message on Instagram, or leave a reply/rating below! Also, you can find this recipe, as well as all of my others, on Pinterest (click the photo below to Pin)!