I hope you love this Greek Yogurt Coffee Cake as much as I do! *This post may contain affiliate links. Read my disclaimer here.
Jump to Recipe
Greek Yogurt Coffee Cake
This greek yogurt coffee cake is a morning MUST. Buttery, delicious cake with a cinnamon sugar layer and topped with the most delicious crumb topping. In addition, it's made with simple ingredients and only requires one mixing bowl for the batter. Do I need to say more?
This just may be the best coffee cake I've EVER had. I love a good slice of coffee cake, so this is saying a lot. Also, I just love how it makes the whole house smell like cinnamon sugar.
Each bite of this cake is packed with cinnamon sugar, and melt in your mouth goodness. I certainly recommend pairing this with your favorite coffee and a relaxing morning.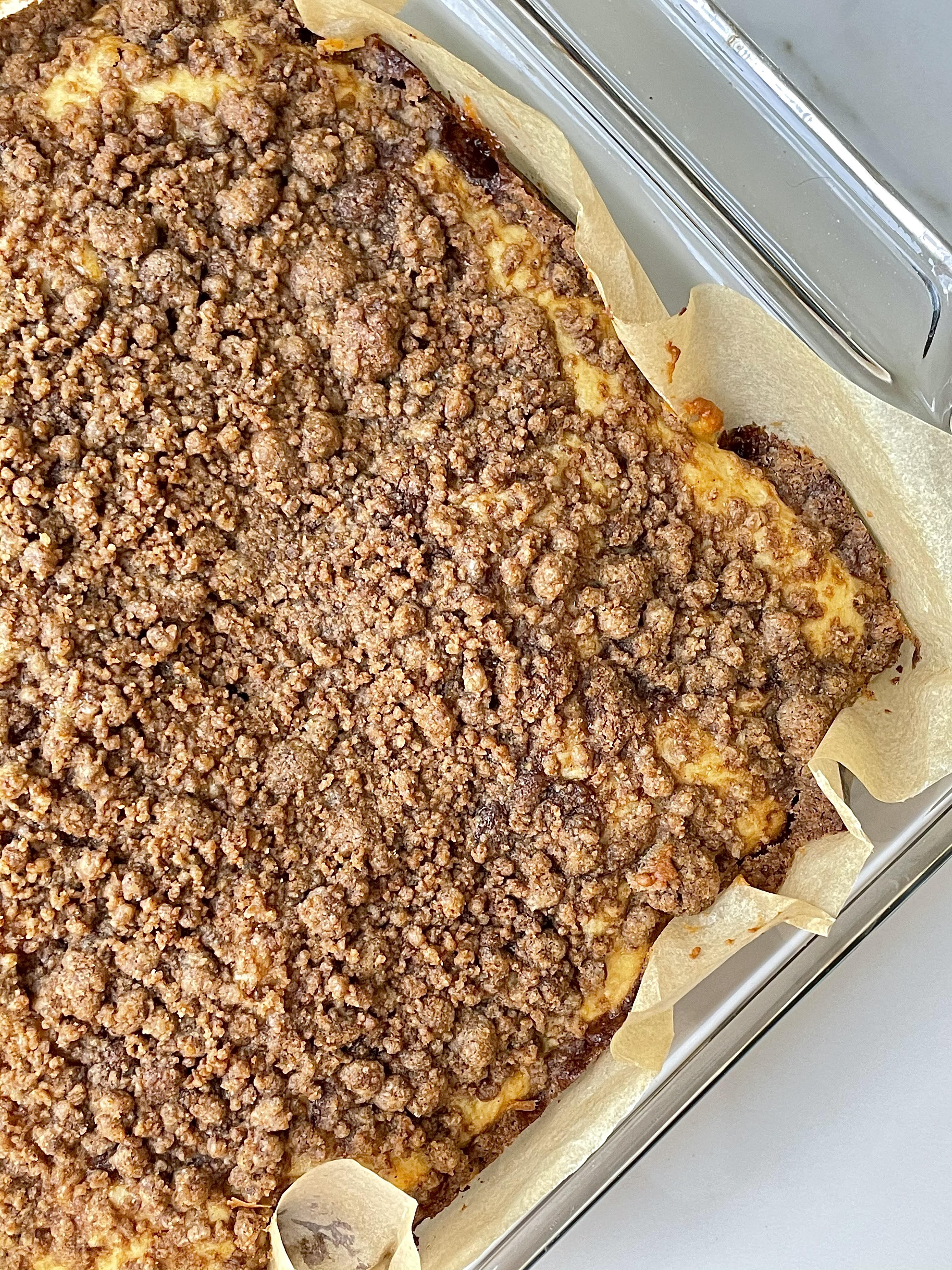 HOW TO MAKE (THE MOST DELICIOUS) GREEK YOGURT COFFEE CAKE:
You only need a handful of ingredients, a mixing bowl and a fork to make your healthy coffee cake dreams come true!
Ingredients:
all purpose flour
plain greek yogurt
brown sugar
cane sugar
eggs
butter
vanilla extract
baking powder
baking soda
cinnamon
What I used:
Glass 8×8 baking dish – I love this one because it is less than $14 and has a lid making it perfect to keep leftovers!
You can use any all purpose flour that you'd like, I personally love this one.
My favorite Greek yogurt is Fage 2%!
Possible Substitutions:
NOTE: I have not personally tried these substitutes for this recipe and can't guarantee they will work. I share substitutions in hopes to help those who need to make substitutions!
If you want to make these vegan, you could try using non-dairy butter, vegan yogurt and an egg substitute of your choice. My favorite egg substitute is flax egg(s), which is 1 tbsp flaxseed meal mixed with 2 – 2 1/2 tbsp water (for 1 egg). You can also try applesauce (1/4 cup per egg and may want to add an extra 1/2 tsp baking powder) or banana (1 small ripe banana = 1 egg). Note: with this recipe, these substitutes may not work very well. Could be worth a try though!
in place of all purpose flour, you could try using gluten-free all purpose flour.
instead of brown sugar and/or cane sugar, you could try monkfruit or another granulated sugar
you could try substituting the regular butter for vegan butter
Recipes Steps:
This recipe comes together in just a few minutes. First, you'll whisk together the wet ingredients (eggs, brown sugar, cane sugar, butter, greek yogurt, vanilla extract), then add in the dry (all purpose flour, baking powder, baking soda, cinnamon). In a separate bowl, you'll mix together the brown sugar, cinnamon and butter. You'll add half of the batter evenly across the bottom of the pan, then half of the cinnamon sugar filling, the remaining batter, and finally the crumble topping. Then, bake! That's it!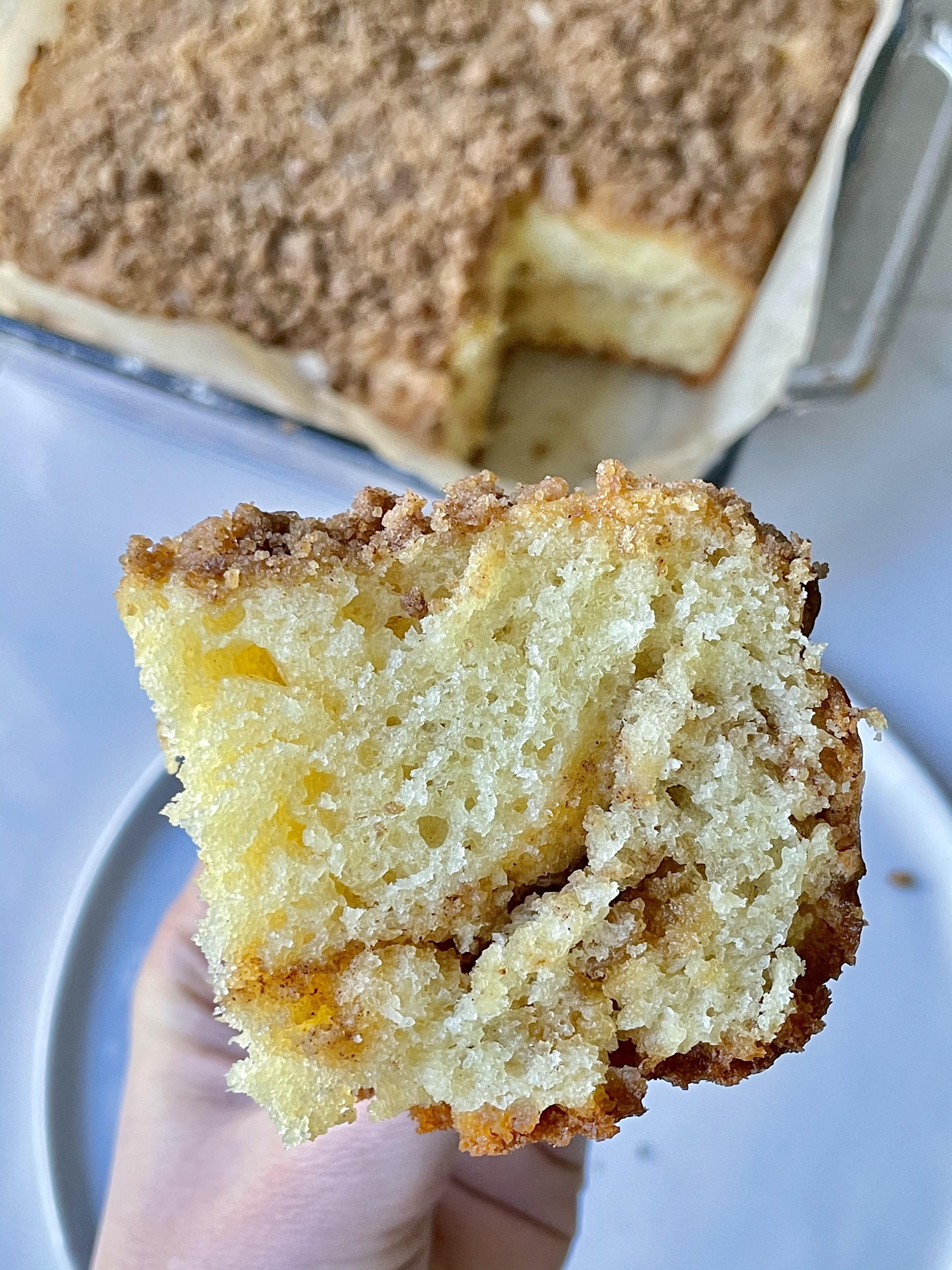 Greek Yogurt Coffee Cake
Ingredients
2 cups all purpose flour spooned and leveled
2 eggs
10 tbsp unsalted butter mostly melted
1 cup greek yogurt
3/4 cup cane sugar
1 tsp vanilla extract
1 tsp baking powder
1/2 tsp baking soda
1/4 tsp salt
Cinnamon Sugar Filling/Topping
1/2 cup brown sugar packed
2 tbsp unsalted butter melted
2 tsp cinnamon
3-4 tbsp flour only for the topping
Instructions
Preheat the oven to 350°F and line a glass 8×8 baking pan with parchment paper.

In a large mixing bowl, whisk together eggs and sugar. Add in butter, greek yogurt and vanilla extract and mix until smooth. Add in flour, baking powder, baking soda, and salt. Mix until well combined.

In a separate bowl, mix together brown sugar, butter and cinnamon.

Add half of the batter into the lined baking pan. The dough is very sticky and the best way to evenly spread it is by adding a little flour to your hands.

Spread half of the cinnamon sugar filling evenly across the bottom layer.

Add the remaining dough and spread evenly.

Mix in the flour to the remaining cinnamon sugar mixture. Mix until it forms small balls/crumbles. Add to the top of the dough.

Bake for 40-45 minutes, or until a toothpick comes out mostly clean.
Additional Recipes You'll Love
I have several delicious muffins and desserts that I think you'll also love: Cinnamon Roll Cupcakes, Cinnamon Roll Muffins, Coffee Cake Greek Yogurt Muffins, Mini Maple Vanilla Scones, Raspberry Yogurt Muffins, Chunky Monkey Muffins, Birthday Cake Chocolate Chip Cookie Skillet (paleo & vegan)
I always love knowing when you guys make (and love) my recipes – so tag me or send me a message on Instagram, or leave a reply/rating below! Also, you can find this recipe, as well as all of my others, on Pinterest (click the photo below to Pin)!