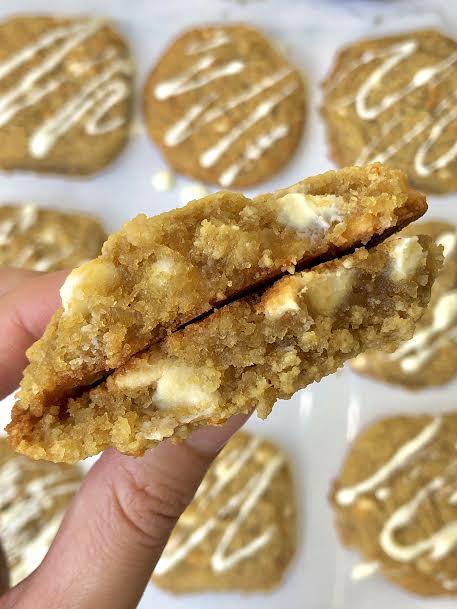 Jump to Recipe
Orange Creamsicle Cookies
These orange creamsicle cookies are a Summer MUST! All the flavors of your favorite ice cream treat, except less mess and you don't have to wait for the ice cream man to come around.
These cookies are truly delightful and I can't wait for you to make them!
What You'll Need:
To make these Orange Creamsicle Cookies, you'll just need 7 main ingredients and a few simple steps!
Ingredients:
almond flour
egg
brown sugar
coconut oil
orange
coconut cream
baking soda
white chocolate chips
* Possible substitutes listed below. NOTE: I have not personally tried any of these substitutes for this recipe, however I believe they could work.
if you don't have almond flour, you could try using regular flour (usually a 1:1 substitute) or possible even oat flour (also often a 1:1 sub)
instead of the brown sugar, you could use coconut sugar or cane sugar
in place of coconut oil, you could use butter or vegan butter
instead of coconut cream, you could use heavy cream (usually a 1:1 substitute)
How To Make:
This recipe comes together in just a few simple steps. All you have to do is mix the wet ingredients together, then add in the dry ingredients and mix until smooth. Lastly, fold in the white chocolate chips and let chill in the refrigerator for at least 30 minutes. Bake them & enjoy!
Orange Creamsicle Cookies
Ingredients
2 cups almond flour
1 egg
1/2 cup brown sugar
1/4 cup coconut oil softened
2 tbsp coconut cream
2 tbsp orange juice juice for ~ 1/2 an orange
Zest of 1/2 an orange for extra orange flavor, you can use zest of 1 orange
1 tsp baking soda
2/3 cup white chocolate chips + more to drizzle on top optional
Instructions
In a medium bowl, mix together egg and brown sugar, then mix in coconut oil, coconut cream, orange juice and orange zest. Add in almond flour and baking soda, and mix until no clumps remain. Finally, fold in white chocolate chips

Refrigerate dough for at least 30 minutes.

Preheat oven to 350 degrees and line a baking sheet with parchment paper.

Using an ice cream scoop, make dough into 12 balls.

Bake for 17-19 minutes, or until edges are golden brown. Let cool, drizzle with melted white chocolate (optional) and enjoy!
Additional Recipes You'll Love:
Here are a few more delicious dessert and cookie recipes you may also love: Strawberry Shortcake Cookies (paleo), Almond Lemon Cookies (by SailorBailey!), Lemon Bars (paleo), Lemon Protein Balls (paleo & vegan),
I always love knowing when you guys make (and love) my recipes – so tag me or send me a message on Instagram, or leave a reply/rating below! Also, you can find this recipe, as well as all of my others, on Pinterest (click the photo below to Pin)!