Jump to Recipe
No Bake Twix Bars
These no bake twix bars are seriously UNREAL. Can we just take a minute to look at those layers!? The star of the show is of course that "caramel" layer, made with simple ingredients but literally has the taste and texture of classic caramel. These bars are the perfect mix of flavors, and rich but not overly sweet. If you love twix bars, caramel or just delicious desserts in general, then you NEED THESE!
No bake twix bars are only made with 8 ingredients total, take little prep and are vegan & gluten-free (depending on chocolate chips used)!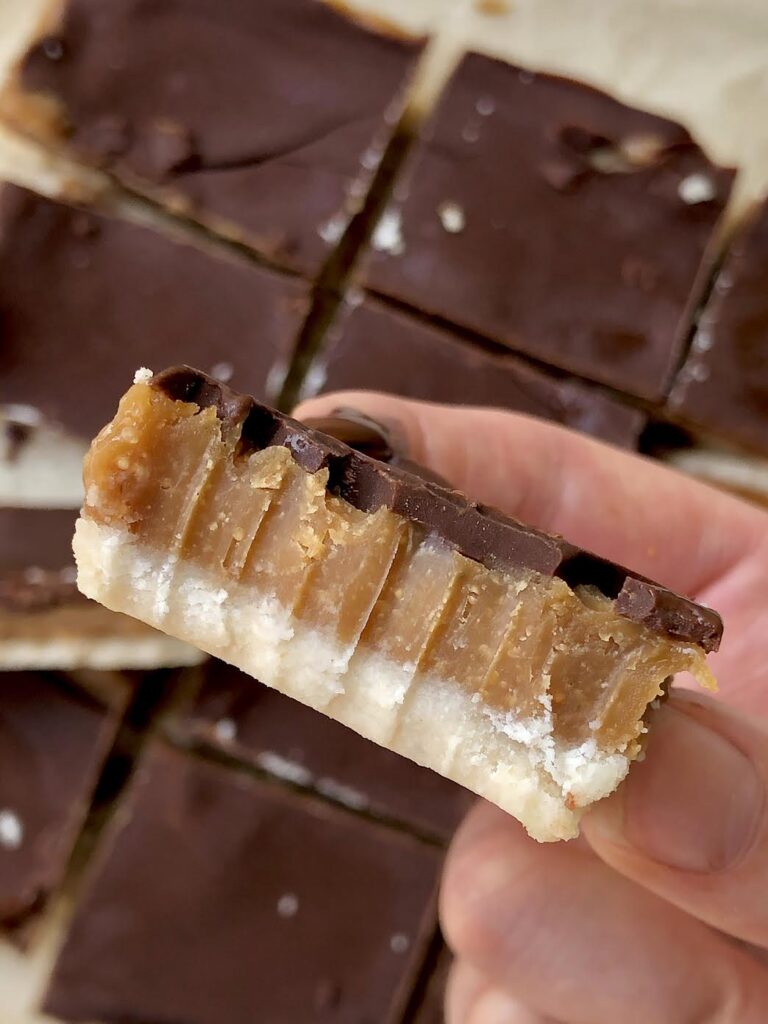 What You'll Need:
To make these No Bake Twix Bars, you'll just need 8 simple ingredients and a few simple steps!
Ingredients:
coconut flour
milk of choice (I used canned coconut milk)
coconut oil
coconut sugar
maple syrup
cashew butter
vanilla extract
chocolate chips
* Possible substitutes listed below. NOTE: I have not personally tried any of these substitutes for this recipe, however I believe they could work.
You could use any nut/seed butter in place of the cashew butter, but it will change the flavor
I do not believe any other flour would work well with these. If you really want to try, you could try using 1 1/2 – 2 cups of almond flour. The texture will definitely be different though and I can't guarantee it will form a solid bottom layer.
for the chocolate coating, you could use make your own dark chocolate by melting coconut oil and cacao powder together.
instead of the maple syrup, you should be able to use a different liquid sweetener of choice (date syrup, agave)
How To Make:
This recipe comes together in just a few simple steps. First, together all ingredients for the bottom layer. Line an 8×8 pan with parchment paper and press down dough evenly across. Place in the refrigerator while you make the caramel layer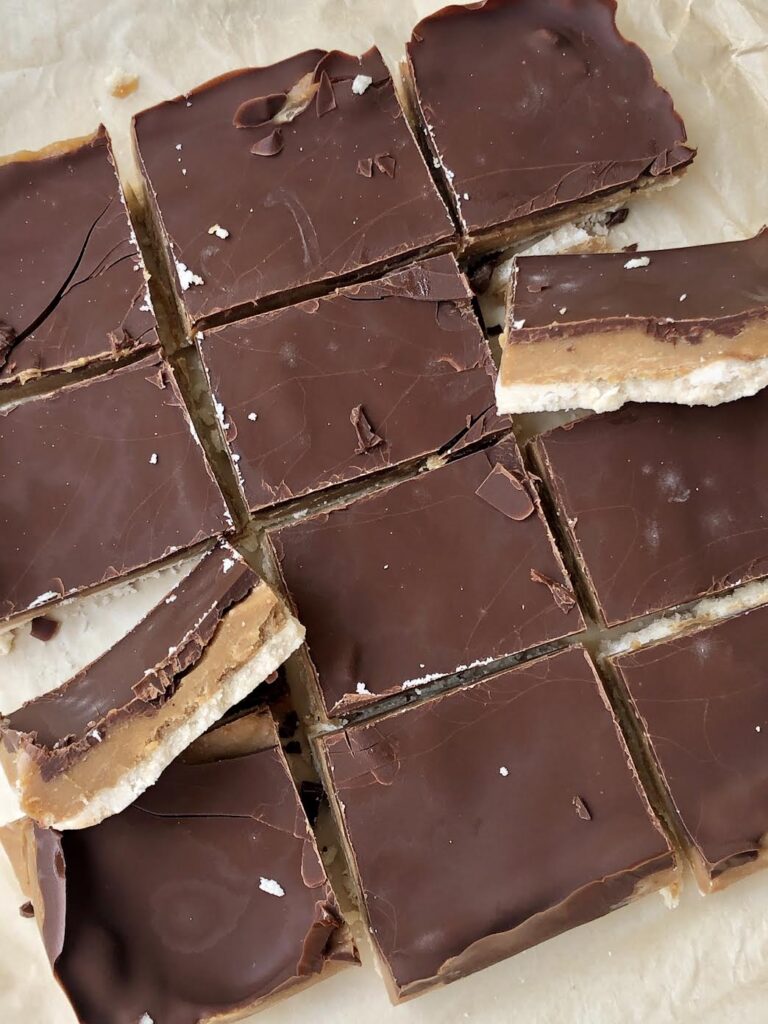 No Bake Twix Bars
Ingredients
Base
1/2 cup coconut flour
1/4 cup coconut oil melted
3 tbsp milk of choice
3 tbsp maple syrup
Caramel Layer
3/4 cup cashew butter
1/2 cup milk of choice I used canned coconut milk
1/4 cup coconut sugar
1 tsp vanilla extract
Chocolate Layer
3/4 cups chocolate chips
1 tbsp coconut oil
Instructions
Mix together all ingredients for the base layer.

Line an 8×8 pan with parchment paper and evenly press down dough across bottom. Refrigerate while making caramel layer

Bring the coconut milk, sugar and vanilla extract to a boil. Cover and simmer for 15 minutes (stirring every few minutes). Combine the liquid with the cashew butter to form the "caramel".

Pour over base layer & freeze for 1 hour

Melt chocolate and coconut oil, pour evenly over caramel & freeze until chocolate hardens.

Cut into 12-16 squares and enjoy! 🙂
Notes
Best kept in an airtight container in the freezer, or refrigerator
Additional Recipes You'll Love:
I have several delicious snack and dessert recipes you may also love: No Bake Red Velvet Truffles (paleo, vegan), Lemon Protein Balls (gf, df, nut free), Snickerdoodle Protein Cookies (df, gf, paleo), Unicorn Cookie Dough Protein Balls (df, gf, paleo), Chocolate Protein Donuts (gf, df, nut free, paleo), & more snack recipes!
I always love knowing when you guys make (and love) my recipes – so tag me or send me a message on Instagram, or leave a reply/rating below! Also, you can find this recipe, as well as all of my others, on Pinterest (click the photo below to Pin)!