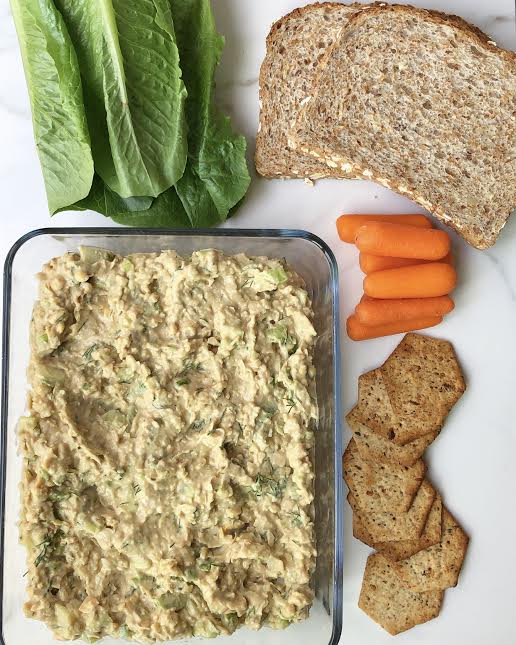 A bunch of the same pre-proportioned meals lined up in a row kind of gives me anxiety. This type of meal prep works wonders for some people (which is amazing), but I am just not one of those people. I've always been someone who needs variety and the ability to have some choice and flexibility in what I'm eating that day or that week. That being said, I also find that when I have some food prepared and ready to eat, my week is overall less stressful, I spend less money, and I make healthier choices.
California Walnuts did a nationwide survey that discovered less than 10% of Americans prep their lunch for the whole week and 45% of Americans don't plan what they are going to eat for lunch at all. This actually didn't surprise me because any level of meal prepping used to seem both boring and overwhelming to me. Anyone else? I thought that meal prepping meant I had to spend ALL day Sunday cooking and then eat the same meal(s) every day. That's definitely not the only way though! Over the years, I've found a style of meal prep that works for me, and allows me to eat a variety of different meals and flavors throughout the week. Everyone's day-to-day life and food preferences are different, so like anything else, it's important to find what works for you!
Personally, I love meal prepping a few things over the weekend – usually a breakfast like egg muffins, chopped vegetables for easy snacks and a bulk lunch recipe or two for the week. This usually doesn't take me longer than an hour or two, but makes me feel so prepared for the week! Having these simple meals ready to go make it so I don't stress about what I'm going to eat during the workday. I don't know about you, but often times if I don't have an easy lunch ready I either just snack all day or am so busy I don't eat lunch until much later.
For lunches, I love making something that can be eaten different ways so I don't feel like I'm eating the same thing over again. One of my new favorite versatile lunch recipes is this walnut chickpea salad, a vegan alternative to a tuna salad. It can be used for a sandwich, lettuce cups/wrap, or eaten with crackers and veggies as a snack. This recipe also works great for couples or families that have different dietary needs or preference. The recipe itself is vegan and gluten-free, and it can stay that way depending on what you pair it with! #ChooseLunch #CAWalnutsPartner #sponsored
Vegan Chickpea Walnut Salad Sandwich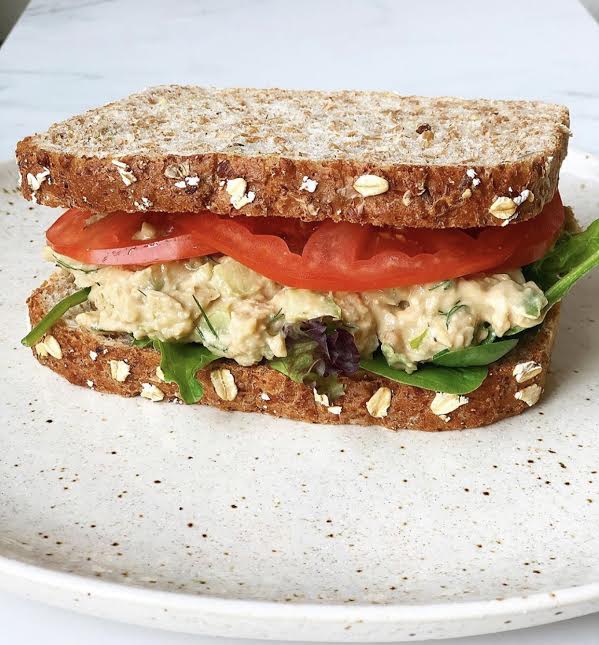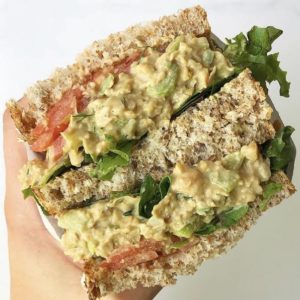 Vegan Chickpea Walnut Salad Sandwich
Ingredients
2 cans chickpeas drained and rinsed
5 stalks celery finely chopped
½ cup walnuts crushed
¾ cup vegan mayonnaise
1/3 cup green onions chopped
1/3 cup fresh dill diced
2 tbsp yellow mustard
Juice from 1 large lemon
Instructions
Mash the chickpeas until there are no full chickpeas or large pieces remaining – for this a potato masher or food processor works great, if you don't have either of those you can also use a fork or the bottom of a measuring cup

Add in mayo, mustard, lemon juice and spices. Once well combined, add in walnuts, celery, dill, green onions. Mix thoroughly.

Serve as desired and enjoy 🙂

*Stays fresh for 3-4 days in the fridge.
Notes
Serving options:
whole grain bread with lettuce and tomatoes
romaine or butter lettuce
carrots, crackers