Salads aren't boring if you make them right, I promise! They are actually one of my favorite things to eat for lunch – not because I think they are the only healthy option, but because I love how many different flavors and textures you can add to them. You can make a variety of different filling, flavorful, and balanced salads by making sure you have a few simple components.
Greens:
Not all salads have to have greens, but starting with a base of dark leafy greens ads tons of nutrients!
Some of my favorites are: arugula, mixed greens, and spinach (not a huge kale fan over here, but you do you!)
Protein:
Ever eat a salad just to be hungry an hour later? Adding adequate protein will help!
You can use plant-based or meat options, and some I recommend are: quinoa, chicken, eggs, and legumes like chickpeas or black beans
Good Fats:
Don't fear fats! Fats have a number of health benefits, are important for brain health, and also help to keep you full longer.
A few of my favorites are: walnuts, avocado, olive oil
Variety of colors:
Eat the rainbow, right? Honestly there are so many great fruits and vegetables that taste amazing in salads. I encourage you to try to add as much color as you can!
Some great options: Apples, sweet potato, onions, avocado, tomato, carrots, cucumber, broccoli, peaches, beets, and more!
Add some crunch:
I love adding various textures to salads because I think it helps to keep them interesting
My favorite way to add crunch is with nuts and seeds. I especially love using California walnuts because they are a significant source of omega-3 fatty acids (2.5g/oz), are also a good, polyunsaturated fat & are incredibly versatile so I can use them in all types of salads
This week, I made two salad recipes that check all these boxes and I know you are going to love them! Recipes below.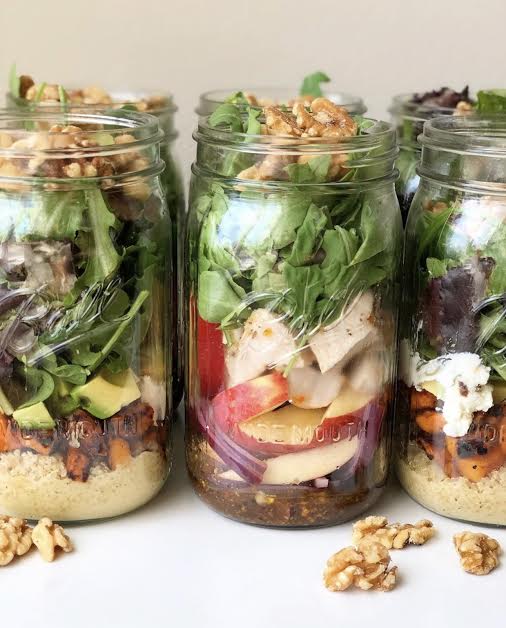 Jar Salads for the win!
Another reason I love salads is because you can easily prep them for the whole week by utilizing mason jars. To make jar salad, you just layer the "wet" ingredients (dressing, cut fruit and vegetables) on the bottom and then the "dry" ingredients (beans, grains, nuts, greens) on top. This makes it so the greens don't get soggy and the salad will last longer (usually 5-7 days depending on the ingredients). Keep them in the fridge and when you are ready to eat just dump it on a plate and enjoy, or shake it up and eat it from the jar.
When you have a delicious lunch ready-to-go, it gives you the ability to actually relax and recharge during lunchtime. I'm guilty of eating lunch at my desk while continuing to work, or scrolling through social media, but I've been trying to change that lately. California Walnuts launched a #ChooseLunch campaign in order to help Americans reclaim their midday break and I'm all for it. They discovered that 78% of Americans want to recharge at lunch, but instead 67% choose to scroll social media and on average eat lunch at their desk 2-3 days/week. In order to change this myself, I've been setting aside 30-45 minutes to actually take a mental break during lunch and get out of the house (I work mostly from home). I've been leaving my phone at home and taking these jar salads to eat at the park. It's amazing how a little bit of fresh air, a nutritious meal, and some time to unwind can recharge you for the rest of the day! I encourage you to try it. #CAWalnutsPartner #ad
Apple Walnut Chicken Salad
Apple Walnut Chicken Salad
Ingredients
4 cups mixed greens
2 chicken breasts (~1 lb total) + salt, pepper, garlic, Italian seasoning for baking
2 gala apples
1 small red onion
1 cup walnuts
¼ cup feta cheese
Balsamic Vinaigrette Dressing
1/3 cup olive oil
¼ cup balsamic vinegar
1 tbsp Dijon mustard
2 tsp honey
1 clove garlic
salt/pepper to taste
Instructions
Preheat oven to 400 degrees and line a baking sheet with aluminum foil.

Toss chicken in a mixture of avocado oil (or olive oil) and salt, pepper, garlic, Italian seasoning

Bake chicken for 24-26 minutes, or until internal temperature reaches 165 degrees F

While chicken is baking, dice apples and red onion

Combine all salad ingredients together & enjoy

*If making into jar salads, layer (from bottom to top) – dressing, red onions, apples, chicken, feta, mixed greens, walnuts
Sweet Potato Quinoa Salad
Sweet Potato Quinoa Salad
Ingredients
4 cups arugula
2 medium sweet potatoes diced into small squares
1 cup quinoa dry
1 cup walnuts
1 ripe avocado diced
¼ cup goat cheese
Lemon Vinaigrette Dressing
1/3 cup olive oil
Juice and zest from 1 large lemon
2 tsp Dijon mustard
1 clove garlic minced
salt/pepper to taste
Instructions
Cook quinoa according to package

Heat 1 tbsp oil in a large frying pan. Add sweet potatoes and cook on medium heat for ~15 minutes, stirring every few minutes.

Combine all salad ingredients together & enjoy

*If making into jar salads, layer (from bottom to top) – dressing, cooked quinoa, sweet potatoes, goat cheese, avocado, arugula, walnuts