Jump to Recipe
Pumpkin Pie Protein Balls
If you love all things pumpkin and pumpkin spice, then you are definitely going to want to make these Pumpkin Pie Protein Balls! Made with simple healthy ingredients like almond butter, pumpkin puree and maple syrup. They are so easy to make, you literally just mix everything together and voila! Also, they are flourless, no bake, can be made vegan (with vegan white chocolate chips), and paleo-ish!
What You'll Need:
You only need a handful of ingredients and a few simple steps to make these Pumpkin Pie Protein Balls!
Ingredients:
almond butter (or peanut butter or cashew butter)
pumpkin puree
vanilla pea protein
maple syrup
pumpkin spice
vanilla extract
milk (of choice)
white chocolate chips
* Possible substitutes listed below. NOTE: I have not personally tried any of these substitutes for this recipe, however I believe they could work.
You could substitute any nut/seed butter for the almond butter – the taste will vary
For the maple, you could honey or date syrup but you may have to adjust the amount a little bit
You could use whey protein or a different vanilla protein powder instead, but again you may have to adjust the amount.
How To Make:
This recipe comes together so quickly! All you have to do is mix together the wet ingredients (almond butter, pumpkin puree, maple, vanilla and milk), then add in the pea protein and pumpkin spice. Finally, fold in the white chocolate chips. Then, roll into balls and enjoy!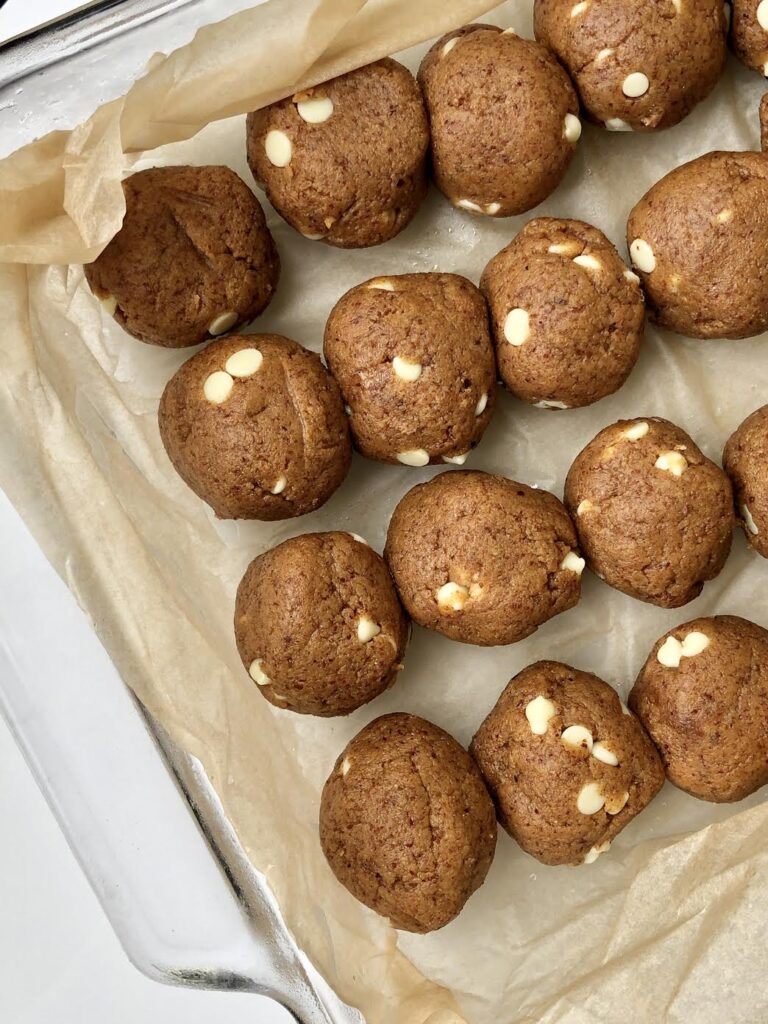 Pumpkin Pie Protein Balls
Ingredients
1 cup natural almond butter
5 tbsp pumpkin purée
1/2 cup vanilla pea protein
3-4 tbsp maple syrup
1 tbsp milk of choice
2 tsp pumpkin pie spice
1 tsp vanilla extract
1/4 cup mini white chocolate chips
Instructions
Mix together almond butter, pumpkin purée, maple syrup, vanilla extract and milk until smooth. Add in pea protein and pumpkin pie spice, and mix until no clumps remain. *If dough is too sticky to roll into balls, add 2-3 tbsp more pea protein.

Fold in white chocolate chips. Roll into 16-20 balls & enjoy!

Store extras in an airtight container in the refrigerator!
Additional Recipes You'll Love:
I have several delicious snack recipes you may also love: Pumpkin Pie Protein Bars (gf, df), Lemon Protein Balls (gf, df, nut free), Snickerdoodle Protein Cookies (df, gf, paleo), Unicorn Cookie Dough Protein Balls (df, gf, paleo), Chocolate Protein Donuts (gf, df, nut free, paleo), & more snack recipes!
I always love knowing when you guys make (and love) my recipes – so tag me or send me a message on Instagram, or leave a reply/rating below! Also, you can find this recipe, as well as all of my others, on Pinterest (click the photo below to Pin)!