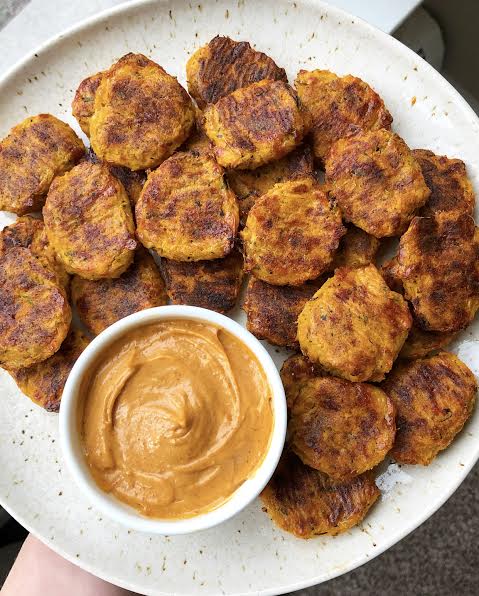 I created this recipe almost exactly two years ago and it has been one of my go-to recipes ever since. I bring it to Summer BBQs or get togethers, holiday parties, and potlucks, as well as make it when we have friends over for sports games or game nights! They are easy to make, and ALWAYS a crowd pleaser.
Ingredients:
Sweet potato
Zucchini
Parmesan cheese
Oat flour (almond flour or regular flour should also work although I have not tried that)
*I have made these vegan before by simply removing the cheese.
I love pairing this with a chipotle mayo (SirKensington's is my favorite) or garlic aioli
Sweet Potato Parmesan Tots
Ingredients
2 medium sweet potato (~2 cups mashed)
1 large zucchini (~1 cup after shredding/squeezing liquid out)
¼ cup oat flour could probably use any gluten-free flour, I haven't tried yet though
1 cup shredded parmesan
salt, pepper, garlic to taste
Instructions
Preheat oven to 400 degrees F

Using a fork, poke a few holes in sweet potato and microwave for ~5-7 minutes, or until soft. Let cool and peel.

Grate the zucchini using a hand grater (the finer the better), then use a dishtowel or nut milk bag to squeeze out as much liquid as possible

Mash sweet potato with a fork and combine in a bowl with zucchini. Add in shredded parmesan, oat flour, and spices, and mix thoroughly.

Using a spoon, scoop out combined mix, form into tots and place on a baking sheet lined with parchment paper.

Continue until all the mix is gone (should make ~ 24+ tots)

Bake for 20-25 minutes at 400F, then flip and bake for another 18-20 minutes. For extra crispiness, turn oven to broil and cook for another 1-2 minutes.