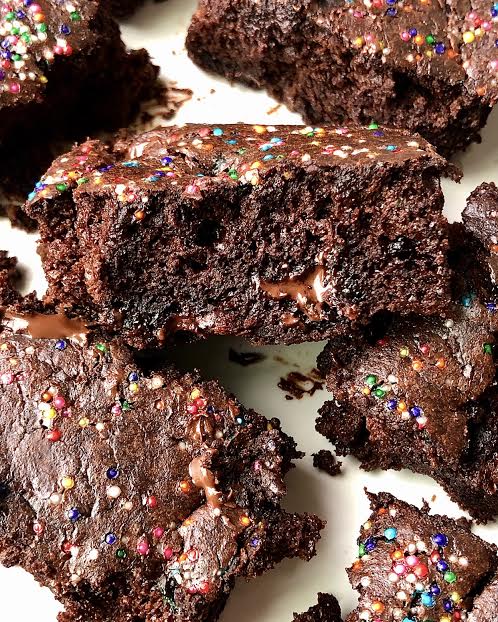 Jump to Recipe
Flourless Zucchini Brownies
Honestly I am amazed at how good these Flourless Zucchini Brownies turned out. I mean, just look at that fudgy texture!
If you are looking for a chocolatey brownie that is rich but not very sweet – you will LOVE these! Also, you can't tell at all that there is zucchini in them! They are only sweetened with maple syrup and the chocolate chips, but there's an option to add coconut sugar or cane sugar for extra sweetness if you prefer.
These flourless zucchini brownies are gluten and grain-free (flourless), dairy-free, and made with overall simple, healthy ingredients like zucchini, almond butter, and cacao powder.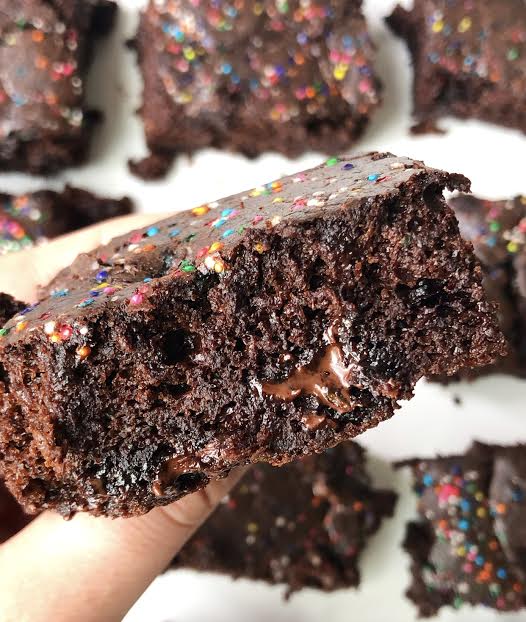 What You'll Need:
To make these Flourless Zucchini Brownies, you'll just need 6 main ingredients, mixing bowls, a blender, and a few minutes of prep!
Ingredients:
almond butter (any nut butter of your choice should work)
zucchini
eggs (could work with flax eggs)
cacao powder
maple syrup
vanilla extract
baking soda
chocolate chips
optional: additional sweetener (coconut sugar or cane sugar)
optional topping: sprinkles
* NOTE: I have not personally tried any of these substitutes listed above for this recipe, however I believe they should work.
How To Make:
My secret to this recipe is blending the zucchini! This makes it so you can't see the zucchini and it has such a smooth, rich texture. First, you grate the zucchini and blend it together with the almond butter until smooth. Then, all the other steps are super simple – whisk together eggs and other wet ingredients, then add in the dry ingredients and chocolate chips!
Additional Recipes You'll Love
If you're looking for other brownie recipes, I've got you covered! My OG favorite are my Ooey Gooey Tahini Brownies. Also, these Fudgy Raspberry Brownies are so good! For a brownie batter flavor that you don't have to bake, I have an amazing Brownie Batter Bites recipe.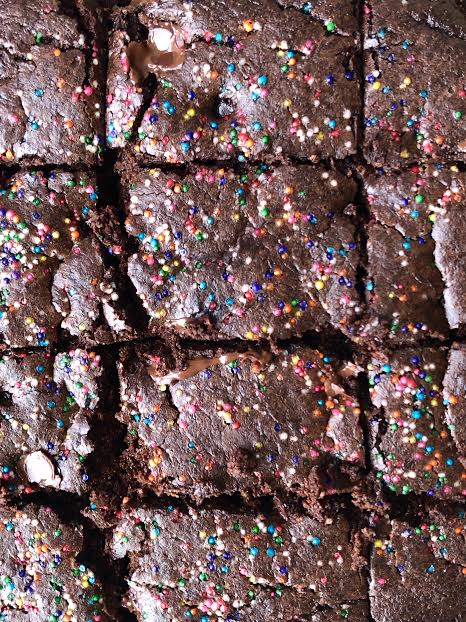 Flourless Zucchini Brownies
Ingredients
2/3 cup smooth almond butter
1 packed cup grated zucchini (about 1 large zucchini or 2 small)
2 eggs
1/2 cup cacao powder
1/3 cup maple syrup
1 1/2 tsp vanilla extract
3/4 tsp baking soda
1/2 cup chocolate chips plus more for topping
optional: 1/3 cup coconut sugar or cane sugar for additional sweetness
Instructions
Preheat oven to 350 degrees F and line an 8×8 glass baking dish with parchment paper.

In a blender, blend together grated zucchini and almond butter until smooth.

In a medium mixing bowl, whisk eggs. Add in zucchini mixture, maple syrup and vanilla extract, and mix until smooth. Then, mix in cacao powder and baking soda. Finally, fold in chocolate chips.

Pour mixture into lined baking dish. Sprinkle more chocolate chips on top & sprinkles (optional).

Bake for 28-30 minutes. Let cool & enjoy!