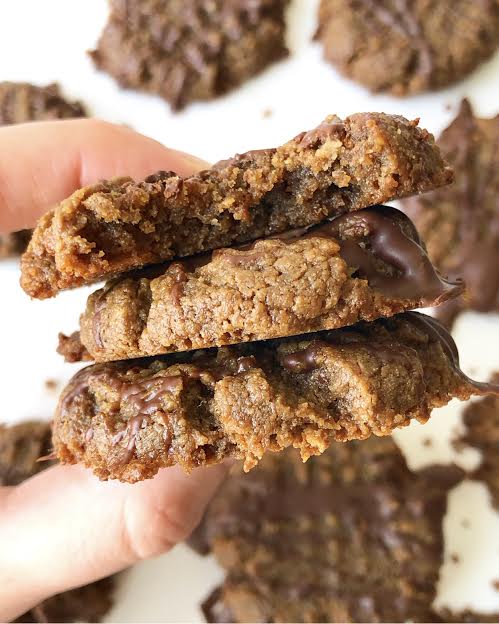 Jump to Recipe
Chewy SunButter Cookies (Vegan & Paleo)
The BEST chewy SunButter cookies that also happen to be vegan & paleo! They are so soft and chewy on the inside with crispy edges and topped with a chocolate drizzle to make them extra delicious!
These Chewy SunButter Cookies are made with real food ingredients like coconut flour, flax seed meal, coconut sugar and of course SunButter. They are vegan, gluten-free, paleo, and can be made refined sugar free (depending on chocolate used). They are also completely allergy-friendly (meaning it is gluten-free, egg-free, dairy-free, and nut-free), so everyone can enjoy these.
What You'll Need:
To make these Chewy Sunbutter Cookies (Vegan & Paleo), you'll just need 4 main ingredients and a few minutes of prep!
Ingredients:
organic SunButter
flax eggs (don't worry, these are super easy to make – I'll teach you how in the recipe! Or you can use regular eggs)
coconut sugar (or brown sugar)
coconut flour (3/4 cup almond flour, regular flour, or oat flour could work)
vanilla extract
salt
optional: chocolate chips and coconut oil for chocolate drizzle
* NOTE: I have not personally tried any of these substitutes listed above for this recipe, however I believe they should work.
How To Make:
This recipe comes together in just a few simple steps. Basically, all you need to do is whisk together the wet ingredients, then add in the dry ingredients. Finally, roll into balls and add to a lined baking sheet (I recommend a silicone baking sheet like this set for $13 on Amazon) Pop in the oven, let cool, and top with an optional chocolate drizzle.
Additional Recipes You'll Love
I have several delicious SunButter recipes you may also love: SunButter Breakfast Cookies , 5 Favorite SunButter recipes . In additional: you should check out some of my cookie recipes including: Peanut Butter Chocolate Chunk Cookies, Healthier Tagalong Cookies, and White Chocolate Cranberry Cookies.
Chewy SunButter Cookies (Vegan & Paleo)
Ingredients
2/3 cup SunButter
2 flax eggs *see note for how to make
1/2 coconut sugar
3 tbsp coconut flour
1 tsp vanilla extract
1/8 tsp salt
Chocolate drizzle (melt together):
2-3 tbsp chocolate chips
2 tsp coconut oil
Instructions
Preheat oven to 350 degrees F and line a baking sheet with parchment paper

Whisk together SunButter, flax eggs, coconut sugar and vanilla extract until smooth. Add in coconut flour and salt.

Roll into 15 balls and place on baking sheet. Press down with the back of a fork and then press again from the opposite direction, to form the criss-cross pattern on top.

Bake for 11-13 minutes. Let cool. Drizzle with melted chocolate, refrigerate until hardens (about 10 minutes), and enjoy!
Notes
*Flax eggs: 2 tbsp flax seed meal + 1/4 cup and 1 tbsp water. Mix together and let sit for 5-10 minutes.