Homemade Tagalongs. Do I need to say more? Well, they are made with just 5 ingredients and a few simple steps!
After the samoa cookie bars that I made a few weeks ago turned out so well, I knew I needed to try making more girl scout cookies! Tagalongs have always been one my top favorites – you can't go wrong with nut butter and chocolate.
Ingredients:
almond flour
butter (or vegan butter)
coconut sugar
peanut butter (or preferred nut butter)
chocolate chips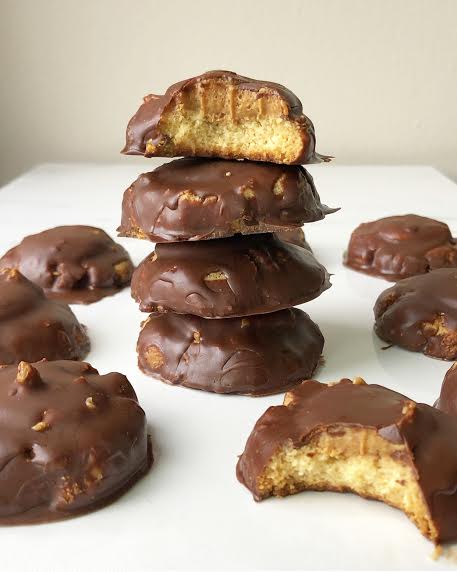 Healthier Tagalong Cookies
Ingredients
1 1/2 cups almond flour
5 tbsp butter (or vegan butter) melted
3 tbsp coconut sugar
dash of salt
Peanut butter filling (mix together):
1/3 cup natural peanut butter or preferred nut butter
3 tbsp coconut sugar
Chocolate (melt together):
1/2 cup chocolate chips
1 tbsp coconut oil
Instructions
Preheat oven to 350 degrees F. Line a baking sheet with parchment paper.

Mix together crust ingredients. Form into 12 cookies (~ 1 tbsp each) and press a thumbprint into the center of each cookie.

Bake for 10-12 minutes.

Let cookies cool, then add ~1 tsp peanut butter mixture to the center of each cookie. Freeze for 10-15 minutes.

Dip each cookie in melted chocolate. Freeze again for ~10 minutes, or until chocolate hardens.

Enjoy!