What's your favorite girl scout cookie? Mine has always been a tie between samoa cookies and thin mints (in the freezer, always!), with tagalongs as a close second. I've thought about recreating these for so long, and finally did! These turned out so well that I'm thinking I need to make a thin mint and tagalong recipe asap!
These samoa bars have all the flavors you love in the traditional samoa cookies, but have an even thicker layer of the toasted coconut caramel (which I lovee!). They are also easy to make, require only a handful of ingredients, and are paleo and vegan friendly! I seriously can't wait for you all to make these and to hear your thoughts.
What you'll need:
A baking sheet & 8×8 glass baking dish
Almond flour
Grass fed butter (* coconut oil will not work for this recipe, vegan butter might but I have not tried it)
Cashew butter (cashew butter works the best, but any nut/seed butter will work)
Full fat coconut milk (recommend using coconut, but any milk should work)
Maple syrup
Vanilla extract
Unsweeted coconut flakes (thinner the better)
Chocolate chips (dairy-free if vegan)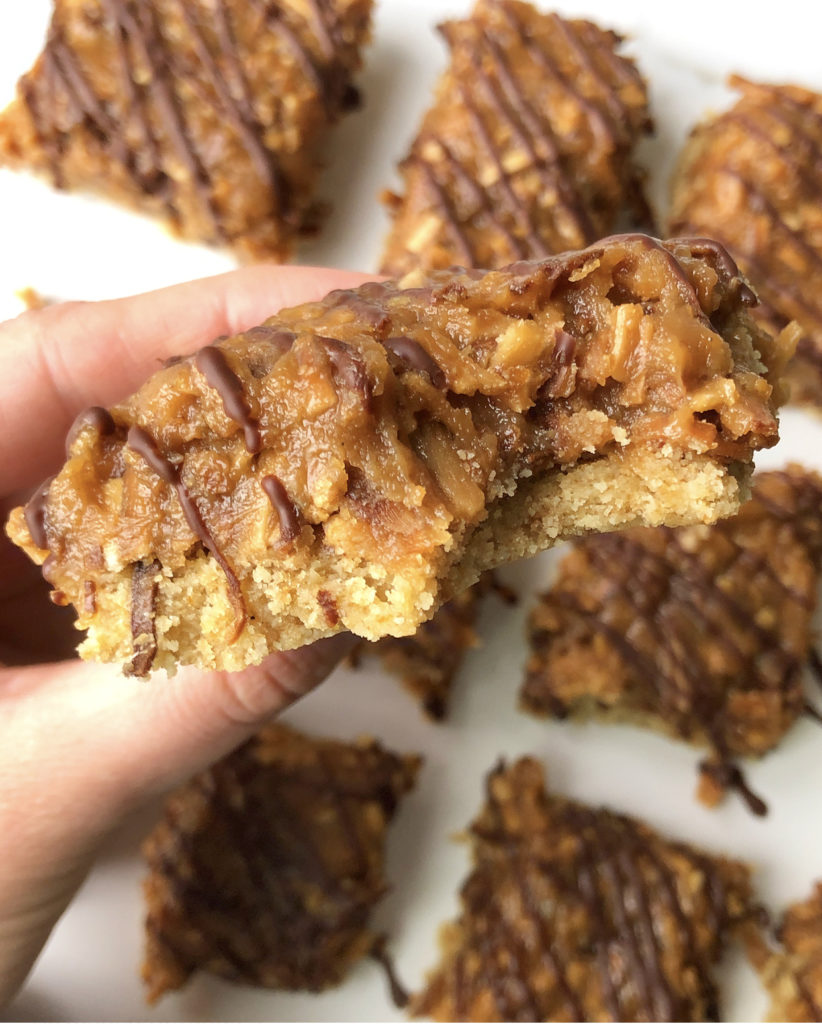 Samoa Cookie Bars
Ingredients
Shortbread layer:
1 1/2 cups almond flour
5 tbsp unsalted butter melted
3 tbsp coconut sugar or granulated sugar of choice
dash of salt
Toasted coconut caramel layer:
3/4 cup cashew butter
3/4 cup full-fat coconut milk
1/4 cup maple syrup
1 tsp vanilla extract
1 1/2 cup unsweetened coconut flakes the thinner the better
Chocolate layer:
1/4 cup chocolate chips
2 tsp coconut oil
Instructions
Preheat oven to 350°F

Line baking sheet with parchment and spread coconut flakes throughout. Bake for 8 minutes, or until golden brown

Mix all shortbread ingredients together. Line an 8×8 pan with parchment paper. Spread dough evenly across bottom. Bake for 15-18 minutes. Let cool for 20 minutes while you make the next layer

In a small saucepan, bring the coconut milk, maple syrup, and vanilla extract to a light boil. Cover and simmer for 10-15 minutes, stirring frequently. In a separate bowl, combine the "caramel" and cashew butter until smooth. Then mix in toasted coconut flakes

Pour coconut caramel mixture over shortbread and spread evenly. Freeze for 1-2 hours, or until hard enough to cut.

Cut into 16+ bars and spread out on a parchment paper lined baking sheet. Melt chocolate and coconut oil (in microwave or on stove). Drizzle chocolate over top of each bar. Freeze for another 5-10 minutes.

Best kept in the freezer or refrigerator.
Notes
*the "caramel" will not be thick like normal caramel before you add the cashew butter. * full-fat canned coconut milk is recommended, but any milk should work * cashew butter tastes amazing in this, but can sub for any nut/seed butter