I'm hosting a SunButter giveaway on my instagram, which made me think of some of my favorite SunButter recipes of 2019. I love using SunButter in so many types of recipes – sweet, savory, breakfast, dinner, etc! It's nut free (so safe for schools, parties, etc) and packed with nutrients and flavor. They have 5 different flavors that range from smooth to crunchy, as well as organic and no sugar added. Any of them work in these recipes!
My 2019 SunButter favorites:
1. Brownie Batter Bites
2. Thai Cauliflower "Wings"
3. Banana SunButter Crepes
4. Cookie Dough Freezer Bars
5. Spicy Thai Quinoa Salad
            All of these (printable) recipes are below! Enjoy!
For more nut free and SunButter recipes, you can click here or go to the "nut free" section under Recipes –> Special Diets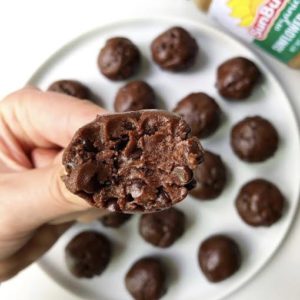 Brownie Batter Bites
Ingredients
3/4 cup organic SunButter
3 tbsp cacao powder
3-4 tbsp maple syrup depending on sweetness preference
1 tbsp coconut flour
1/2 cup mini chocolate chips
Optional: scoop of collagen peptides for additional protein
Instructions
Mix together SunButter and maple syrup until smooth. Add in cacao powder and coconut flour, mix until dough-like.

Mix in chocolate chips. Refrigerate for 20-30 minutes, so the batter becomes easier to make into balls

Roll into 16-18 balls & enjoy 🙂 or if preferred, place back into the refrigerator for 1+ hours for more solidified texture.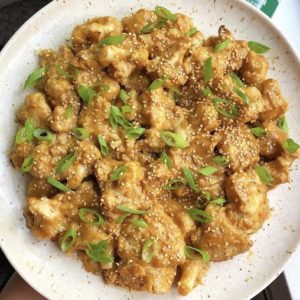 Thai Cauliflower "Wings"
Ingredients
1 head cauliflower cut into florets
1 cup brown rice flour
2/3 cup milk of choice
1/2 cup water
Sauce
1/2 cup organic Sunbutter
1/3 cup water
2 tbsp coconut sugar
2 tbsp maple syrup
juice from 1 lime
1 tsp garlic
1 tsp ginger
Optional: hot sauce to taste
Toppings: green onions & sesame seeds
Instructions
Preheat oven to 400 degrees F & line a baking sheet with parchment paper

Combine flour, milk, and water. Either individually or several at a time, coat cauliflower florets in flour mixture. Spread evenly across baking sheet.

Bake for 30-32 minutes, or until golden brown. Broil for 1-3 minutes if you want them extra crispy.

While in oven, combine all ingredients for the sauce.

Let cauliflower cool for a few minutes, coat with sauce & top with green onions and sesame seeds
SunButter Banana Crêpes
Ingredients
5 eggs
1/3 cup water
3 tbsp coconut flour
2 tbsp arrowroot flour
1 tbsp coconut oil melted
dash of salt
coconut oil, butter or ghee for cooking
Fillings & Toppings
1/4 cup natural Sunflower Butter SunButter
1/4 cup yogurt of choice I used organic greek yogurt
1 banana thinly sliced
3/4 cup strawberries diced
2-3 tbsp cacao nibs and/or mini chocolate chips
Instructions
Whisk eggs together, then add in water and coconut oil.

In a separate bowl, combine dry ingredients (coconut flour, arrowroot flour, salt)

Slowly add dry ingredients to wet and whisk thoroughly until no clumps remain, this will take a minute or two. Let batter sit for 10-15 minutes at room temperature.

Warm pan over medium-low heat, add oil or butter and make sure it is evenly coating the entire pan.

Pour ~1/2 cup mixture in the middle of the pan and tilt back and forth in order for the batter to spread thinly across the entire pan.

Cook for 2-3 minutes, flip, and cook for 1-2 more minutes. Repeat process (adding more butter or oil before each crepe) until batter is gone. Mine made 5 large crepes.

Fillings & Toppings – Spread a thin layer of natural Sunbutter on the crepe, followed by a thin layer of yogurt. Place 6-8 banana slices throughout. Roll the crepe. Repeat process for each crepe. Top with strawberries, cacao nibs and/or chocolate chips and Sunbutter drizzle
Cookie Dough Freezer Bars
Ingredients
Crust:
3/4 cup oat flour
1/3 cup no sugar added Sunbutter or nut butter of choice
1/4 cup maple syrup
Filling:
1 cup unsweetened coconut milk or preferred milk
1/3 cup maple syrup
1/4 cup oat flour
1/4 cup no sugar added Sunbutter or nut butter of choice
1/2 cup chocolate chips
Instructions
Line a bread pan with parchment paper

In a medium bowl, mix together all ingredients for the crust. Spread evenly across lined bread pan

Blend together all ingredients (besides chocolate chips) for the filling. Pour mixture over crust.

Sprinkle chocolate chips evenly throughout – they will mostly sink to the bottom and that's ok!

Freeze for 2-3+ hours, or until the filling hardens. Cut into 8-12 bars & enjoy 🙂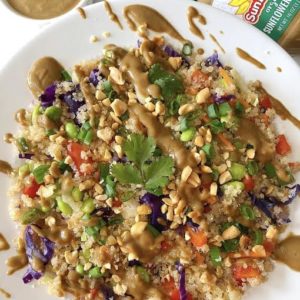 Thai Quinoa Salad w/Spicy SunButter Dressing
Ingredients
1 cup white quinoa dry
1 cup frozen edamame shelled
1 cup red cabbage chopped
1 cup shredded carrots
1 red bell pepper diced
1/2 cup peanuts crushed
1/4 cup green onions chopped
Cilantro for garnish
SunButter Sauce (mix all ingredients together):
1/2 cup SunButter
1/4 cup water
2 tbsp coconut aminos or soy sauce
2 tbsp maple syrup
1 tsp hot sauce more/less depending on desired spice
1/4 tsp garlic powder
1/4 tsp ginger powder
Instructions
In a saucepan, boil quinoa with 2 cups water. Once boiling, immediately turn temperature to simmer and cook covered for 15-20 minutes (or until quinoa is completely fluffy)

In a pan on medium heat, sauté the edamame, red pepper, carrots, and cabbage for 5-8 minutes (or until softened)

Add in quinoa, mix thoroughly and simmer for ~5 minutes

Take off heat and top with peanuts, green onions, cilantro & sauce