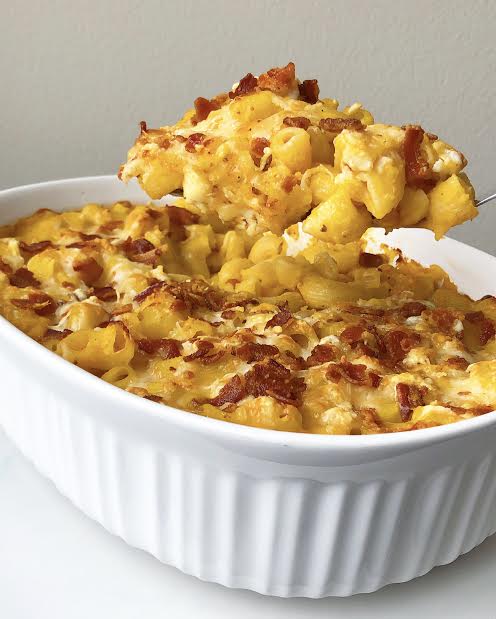 Nothing says I love you like macaroni and cheese, am I right? When I thought of what I wanted to make for Valentines Day, I knew this was it right away. I love using butternut squash to make a super thick and creamy sauce, but also adding cheese to give that classic mac n cheese taste – it's a win win!
Below is the full printable recipe, as well as a list of substitutions to make this: gluten-free, vegetarian, or vegan! Everyone can (and should) enjoy this dish!
Ingredients:
macaroni noodles (or pasta of choice)
butternut squash
onion
garlic
milk (of choice)
butter
arrowroot flour
goats milk gouda
parmesan cheese
bacon (optional)
spices: salt, pepper, red pepper flakes
Substitutions:
Make this gluten-free by using any gluten-free pasta
Vegetarian by removing bacon
Vegan by using vegan butter and vegan cheese (of choice), or you could remove the cheese and use nutritional yeast.
If you don't have arrowroot flour, you can substitute potato starch or corn starch, or you could use 3 tbsp flour.
Butternut Squash Mac N Cheese Bake
Ingredients
12 oz macaroni noodles or pasta of choice
4 cups diced butternut squash
1 small onion diced
3-4 cloves garlic minced
1 1/2 cup milk of choice
2 tbsp butter
1 tbsp arrowroot flour
1 cup goats milk gouda or regular gouda cheese
1/2 cup parmesan cheese
4-6 strips of bacon cooked and crumbled (optional)
salt, pepper, red pepper flakes, to taste
Instructions
Make pasta according to package & preheat oven to 350 degrees F.

In a large skillet, add butternut squash and 2 cups of water. Bring to a low boil, cook covered for 5-7 minutes, or until butternut squash soften. Drain any water, add 1 tbsp oil, onion and garlic. Saute until onion is translucent.

Blend together butternut squash/onion mixture with milk until smooth.

In the same skillet, melt butter over medium low heat. Add arrowroot flour and stir until combined. Add in butternut squash sauce and salt, pepper, red pepper flakes. Simmer and stir until the sauce begins to thicken. Add 1/2 cup goats milk gouda and stir until melted.

In a 2 qt casserole dish (or baking dish of similar size), mix together cooked pasta and butternut squash sauce. If using bacon, add about 1/2 to the pasta.

Sprinkle with remaining cheese and bacon. Bake for 25-30 minutes or until cheese is golden brown.