I used to think I would never be someone who meal prepped for the week, but now that I found what works for me/us – I love it! Personally, I don't love eating the same meal every day or creating meals based on mixing and matching proteins and vegetables. Nothing wrong with any of that, just not my jam.
I've found that making a handful of easy recipes gives us a great variety and still doesn't take very long to prep. For us, I typically make a breakfast (like egg muffins or an oatmeal bake), a snack/treat to have on hand, and 3-4 dinners that can also be used for lunches (this week I made a little less). I love recipes that don't have too many ingredients or steps, like one pan or sheet pan meals, soups or crockpot meals, etc. Each recipe I make is about 4-6 servings, so there is enough for both of us to enjoy, but not too much where we feel like we are eating the same thing all week. All of this takes me about 2 hours to make and costs ~$80-100 (varies weekly and depends on where you shop!)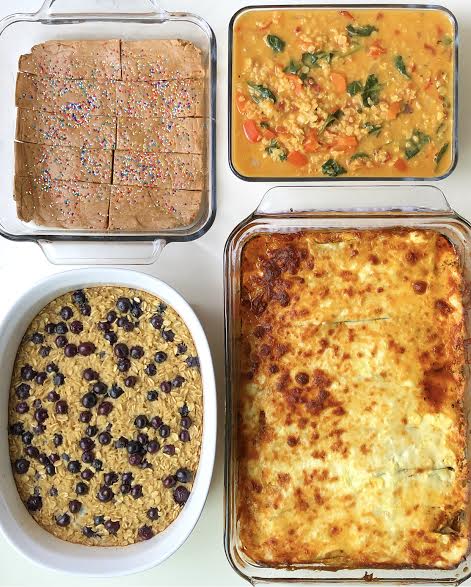 This week, I made one of my typical protein bar recipes as well as three new (to you guys) recipes – blueberry oatmeal bake, coconut red lentil curry, and zucchini lasagna. I also made "teriyaki" salmon bowls for dinner tonight but didn't photograph them. The protein bars, curry, and oatmeal bake all take less than 10 minutes to prep! The zucchini lasagna was a little more labor intensive than the others, but still only took about 15-20 minutes to prep. All (printable) recipes below! Hope you enjoy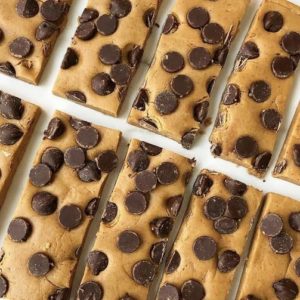 Peanut Butter Perfect Bar Copycat
Ingredients
1 cup natural peanut butter or preferred nut butter
3-4 tbsp honey vegan alternative: date syrup also works great
1/3 cup pea protein powder I use Nuzest "just natural"
2 tsp milk of choice
1 tsp vanilla extract
1/4 tsp salt
Toppings: chocolate chips or sprinkles
Instructions
Mix all ingredients (besides chocolate chips) together.

Line a 8×8 dish with parchment paper and evenly spread mixture across bottom

Sprinkle chocolate chips (or sprinkles) over the top and press down with a spatula

Refrigerate for 2-3 hours, cut & enjoy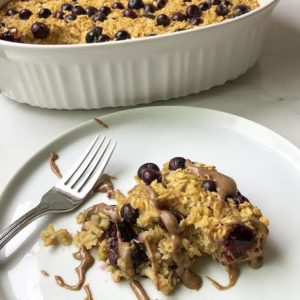 Blueberry Oatmeal Bake
Ingredients
2 cups rolled oats
2 cups milk of choice
1 cup blueberries
½ cup unsweetened applesauce
2 eggs
1 tsp baking powder
1 tsp cinnamon
¼ tsp salt
Instructions
Preheat oven to 350 degrees

Mix together dry ingredients (oats, baking powder, cinnamon, salt)

In a separate bowl, whisk together eggs, then mix in milk and applesauce.

Combine wet and dry ingredients. Mix in blueberries. Pour into 8×8 baking pan or 2.5 quart oval casserole dish

Bake for 30-32 minutes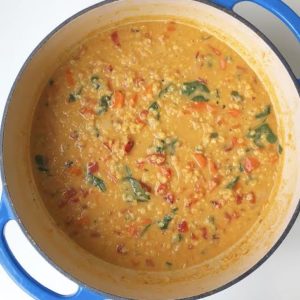 Coconut Red Lentil Curry
Ingredients
1 ½ cups dry red split lentils
3 cups vegetable broth
1 (13.5 oz) can coconut milk
1 (6 oz) can tomato paste
2 tbsp red curry paste
½ yellow onion chopped
3-4 large carrots peeled and diced
1 red pepper diced
3-4 cloves garlic minced
2-3 tsp ginger minced
2 cups spinach chopped
Instructions
In a large saucepan, sauté onions with oil of choice (I used avocado oil) until translucent. Add in ginger, garlic, carrots and red pepper, and cook until vegetables start to soften (about 3-5 minutes).

Add in vegetable broth, coconut milk, red curry and tomato paste. Stir well and bring to a low boil.

Add in red split lentils. Reduce to low heat. Cover and cook for 25-30 minutes, or until red lentils are fluffy.

Stir in spinach. After 1-2 minutes, remove from heat & enjoy!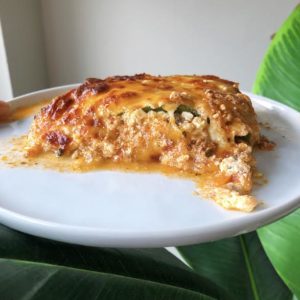 Zucchini Lasagna
Ingredients
1 lb grass fed ground beef or ground turkey
3 large zucchini
½ yellow onion
1 (28 oz) can tomato sauce
1 1/2 cups mozzarella cheese shredded
Ricotta mixture:
16 oz container ricotta cheese
¼ cup parmesan cheese shredded
1 egg
3 cloves garlic
½ tsp salt
¼ tsp pepper
Instructions
Preheat oven to 375 degrees

Slice zucchini into long, thin strips. Lay them out, sprinkle with salt & cover with a paper towel and let them sit for 5-10 minutes. This helps to eliminate some of the excess moisture.

* I cut off ½ inch from each end of the zucchini so it can stand up. Then use a sharp knife to carefully cut down. You could also use a mandolin slicer for this if you have one.

In a frying pan, sauté onions until translucent. Add in ground beef and cook for 8-10 minutes. Pour in tomato sauce and let simmer for 3-5 minutes.

Combine all ingredients for ricotta mixture

Push down paper towel on top of zucchini to soak in as much liquid as possible.

In a 9×13 glass baking dish, add 1 – 1 ½ cup layer of meat sauce to the bottom. Top with one layer of zucchini, then ~¾ cup ricotta mixture, then ~1/3 cup mozzarella cheese.

Repeat these layers two more times, ending with mozzarella cheese (I did a thicker layer on top, ~1/2 cup).

Bake for 35-40 minutes. For extra crispy cheese, broil for an addition 1-3 minutes (watching closely so it doesn't burn)