Easy recipes are always a must in my mind, but especially right now! During these stressful and uncertain times, I wanted to compile easy recipes to help make mealtime a little bit easier for you. Below are 50+ recipes that do not require a lot of ingredients (most are 10 ingredients or less) or time to make. I've included a variety of recipes for breakfast, lunch, dinner and snacks/treats. Many of these recipes are reliant mainly on pantry or freezer items, but there are also several recipes that utilize fresh produce. I hope this takes some of the stress out of deciding what to make for you/your family over the next few weeks.
Ingredients are listed for each recipe and I tried to include plenty of options of all dietary needs/types (gluten-free, vegetarian/vegan, dairy-free, etc).
A few other resources that might be helpful right now – work from home tips & items to stock your fridge/freezer with, from my friends Emma & Charlotte.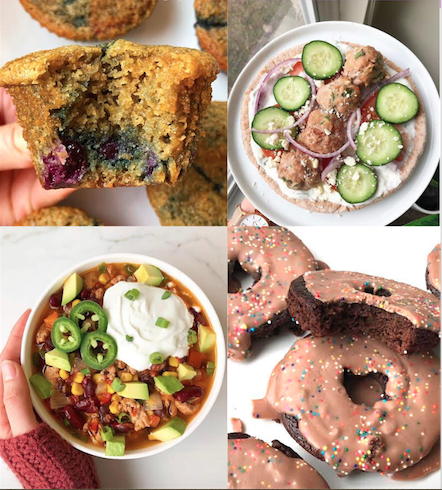 Breakfast
Oatmeal

Blueberry Oatmeal Bake

rolled oats, unsweetened apple sauce, milk (of choice), blueberries (fresh or frozen), eggs
Lunch
Bowls

One Pan Mexican Quinoa

quinoa, black beans, corn, vegetable broth, diced tomatoes, lime, avocado, jalepeno

Tempeh Taco Salad Bowls

tempeh, onion, taco seasoning, lettuce, black beans, mango, avocado lime sauce (avocado, lime, cilantro, olive oil)

Paleo Orange Chicken

chicken, coconut aminos, arrowroot starch, orange, rice vinegar, garlic, ginger, sesame oil
Sandwiches/wraps

Greek Turkey Meatball Pita Wraps

ground turkey, tomato, dill, spinach; whole wheat pita; toppings – cucumber, red onion, tomato and greek yogurt tzatziki sauce (yogurt, dill, garlic, lemon)

Vegan Chickpea Salad Sandwiches

chickpeas, vegan mayo, celery, green onions, dill, walnuts (optional), lemon, mustard

Spicy Black Bean Burgers

black beans, red pepper, onions, breadcrumbs (or oat flour), feta, eggs, cayenne
Dinner
Pasta

Southwestern Pasta Salad

pasta, black beans, diced tomatoes, red onion, corn, cilantro; southwestern sauce (yogurt, lime, garlic, sriracha, spices)

Vegan Garlic & Mushroom One Pot Pasta

spaghetti, onion, mushroom, peas, spinach, garlic, vegetable broth, non-dairy milk,
Protein Snacks
Bars

Cookie Dough Protein Bars

almond flour, cashew butter, pea protein, honey, milk (of choice), mini chocolate chips

Birthday Cake Protein Bars

cashew butter, pea protein, honey, milk (of choice), sprinkles

Chocolate Peanut Butter Protein Bars

peanut butter, pea protein, honey, milk (of choice), chocolate chips

Other

Chocolate Protein Donuts & Birthday Cake Donuts

eggs, unsweetened apple sauce, cacao, coconut flour, maple syrup, pea protein powder

Almond Joy Protein Balls

almond butter, pea protein powder, cacao, maple, milk (of choice), vanilla extract, coconut flakes

Unicorn Cookie Dough & Snickerdoodle Protein Balls

nut butter, pea protein, maple, coconut flour, vanilla extract, milk (of choice)