Even though I meal prep for clients every week, I just started prepping for Tom and I again recently. It truly is a timesaver during the week and so nice to have a fridge full of delicious meals!
This week I made two breakfast options (frittata and potato "bagels") and three lunch/dinner options (pita wraps, casserole, tempeh taco salad). We also have some leftover protein bars that I made last week for snacks. All of this took me under 2 hours to make and will last us the whole week. Below is the order in which I made the food, a list of the main ingredients, and the time each takes.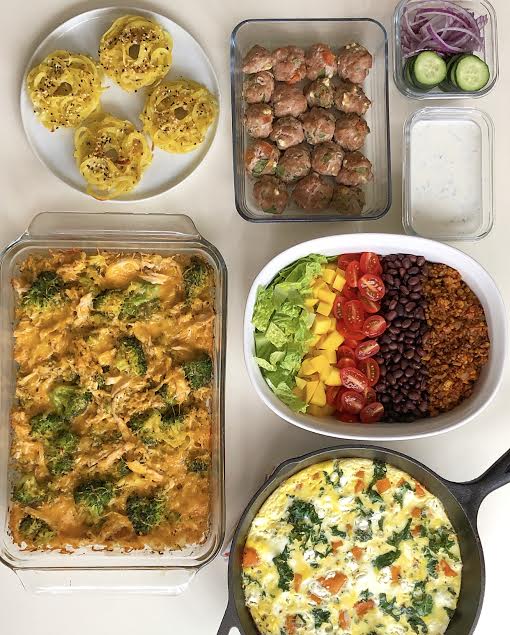 Greek Turkey Meatball Pita Wraps (5 min prep, 20 min bake)
Meatballs – ground turkey, tomato, dill, spinach
Cucumber, tomato, red onion
Greek yogurt tzatziki sauce (yogurt, dill, garlic, lemon)
Whole wheat pita bread
Broccoli Cauliflower Rice Chicken Casserole (10 min prep, 30 min bake)
Cooked chicken (can be rotisserie, diced, shredded)
Broccoli, cauliflower rice, onion
Cheddar cheese, greek yogurt
Bone broth (or chicken broth)
Tempeh Taco Salad Bowls (5 min prep, 10 min cook)
Tempeh (with onion and taco seasoning)
Black beans, tomato, mango, romaine
Avocado lime sauce (avocado, cilantro, lime, garlic, olive oil)
Potato "bagels" (15 min prep, 15 min bake)
* recipe is from https://inspiralized.com/spiralized-potato-everything-bagels/
– I used gold potatoes instead of russet & Trader Joes "Everything but the bagel seasoning" instead of her mix. They don't stick together as well as I was hoping – not sure if I did something wrong.
Ingredients: gold potatoes, eggs, EBTB seasoning
Butternut squash kale frittata (15 min prep/cook, 10 min bake)
Butternut squash, kale, goat cheese
Eggs, milk of choice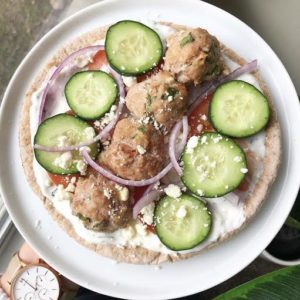 Greek Turkey Meatball Pita Wraps
Ingredients
1 lb ground turkey
1/3 cup tomato diced
1/2 cup spinach diced finely
1/4 cup feta cheese
2 tbsp fresh dill
Greek Yogurt Tzatziki Sauce (mix all together)
1 cup greek yogurt
2 tbsp fresh dill
Juice from 1 small lemon
2-3 cloves garlic minced
Salt & pepper to taste
Toppings:
1 medium cucumber sliced
1 small red onion sliced
1 large tomato sliced
4 + whole wheat pita wraps
Instructions
Preheat oven to 375 degrees. Line a baking sheet with parchment paper

Combine meatball ingredients together. Roll into 18-20.

Bake for 20 minutes, or until internal temperature reaches 165 degrees F

For serving: add meatballs, tzatziki sauce and desired toppings to a pita wrap & enjoy!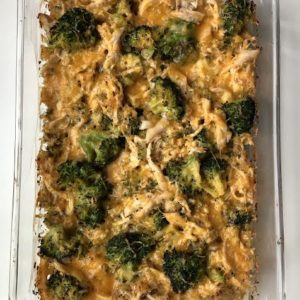 Broccoli Cauliflower Rice Chicken Casserole
Ingredients
1 lb chicken cooked (can be rotisserie chicken, diced, shredded)
12 oz broccoli florets steamed
2 cups cauliflower rice
1/2 yellow onion diced
3/4 cup greek yogurt
1 1/2 cup cheddar cheese + 3/4 cup more for topping
1 cup bone broth or chicken broth
3-4 cloves garlic minced
2 tsp "21 seasoning salute" from Trader Joes or all-purpose seasoning
salt & pepper to taste
Instructions
Preheat oven to 350 degrees.

In a frying pan, saute onion until translucent. Add in cauliflower rice and bone broth. Simmer for 5 minutes.

Mix together greek yogurt, cheddar cheese, garlic, and seasoning.

In a 9×13 baking dish, combine cheese mixture, cooked chicken, steamed broccoli, and cauliflower mixture.

Bake for 30-32 minutes.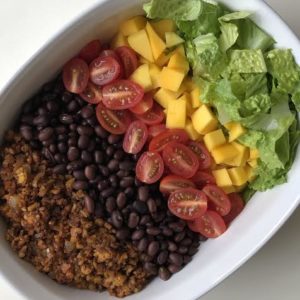 Tempeh Taco Salad Bowls
Ingredients
8 oz tempeh block
1/2 yellow onion diced
2-3 tbsp taco seasoning I love primal palates
Bowl ingredients:
3 heads romaine lettuce chopped
1 can black beans drained and rinsed
1 cup cherry tomatoes diced
1 large mango diced
Avocado lime sauce (blend all together):
2 avocados
1/3 cup cilantro
1/3 cup olive oil
1/4 cup water add 2-3 tbsp extra water for thinner sauce
juice of 2 limes
2 cloves garlic
salt & pepper to taste
Instructions
Cut tempeh into small cubes. Add to a frying pan with enough water to mostly cover the tempeh.

Bring to a boil and then simmer for 5-7 minutes, or until tempeh is soft enough to break up.

Drain water, add diced onion and 2 tsp oil of choice. Set to medium heat and use a cooking spatula to break up the tempeh so it begins to look like ground meat. After ~2 minutes, add in taco seasoning. Cook for another 3-4 minutes.

Serve with romaine, black beans, cherry tomatoes, mango, and avocado lime dressing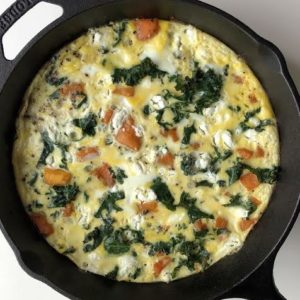 Butternut Squash Kale Frittata
Ingredients
8 eggs
1/2 cup milk of choice
1 1/2 cups butternut squash diced
2 cups kale chopped
1/4 cup goat cheese
salt pepper, garlic to taste
Instructions
Preheat oven to 400 degrees F.

In a cast iron skillet (or other oven safe skillet), saute butternut squash for 5-7 minutes, or until cooked fully. Add in kale and stir until softened, 1-2 minutes.

Whisk together eggs, milk, and spices. Add egg mixture to skillet & sprinkle goat cheese over top. Cook for 5 minutes, or until eggs start to set and bottom is cooked.

Bake for 8-10 minutes.