I've been wanting to make risotto ever since we went to Italy and Spain last September. People kept telling me how difficult it is to make correctly, so to be honest I was a little nervous to try. I assumed that I wouldn't be able to make something as good as what we had in Europe. Although I can't say this is better than Italian risotto, it can definitely compete! It is so rich and creamy, and has the perfect mix of flavors! The best part is that it actually was not hard to make at all. It does take some love and constant stirring (for about 20 minutes), but the steps are easy to follow & you'll have delicious risotto in the end.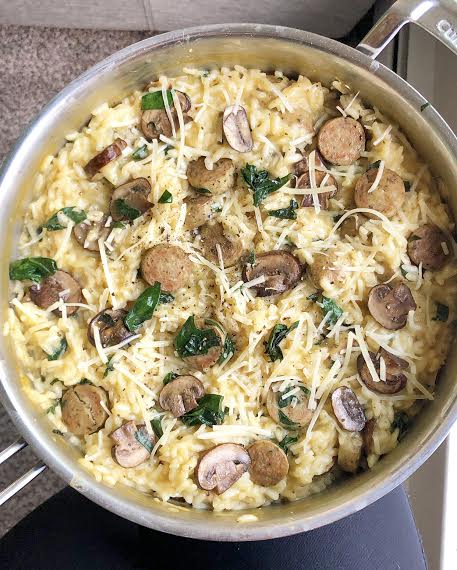 Ingredients:
Arborio Rice (best for risotto)
Sausage (I used roasted garlic chicken sausage from Trader Joes)
Cremini Mushrooms
Spinach
Shallot
Garlic
Parmesan Cheese
Chicken Broth
Dry White Wine (or more chicken broth)
The risotto is made separately from the sausage, mushroom & spinach, so feel free to change up the ingredients to your liking! You could make it vegetarian by removing the sausage, or completely change up the add-in ingredients (a few ideas: salmon or shrimp, butternut squash or tomatoes)
Sausage, Mushroom & Spinach Risotto
Ingredients
2 1/4 cups arborio rice
6 cups chicken broth warmed
1/3 cup dry white wine or more broth
1 large shallot diced
3-4 cloves garlic minced
2 tbsp avocado oil or oil of choice
1/2 cup parmesan cheese + more for topping
8 oz cremini mushrooms sliced
1 lb sausage of choice sliced
2 cups spinach
salt and pepper to taste
Instructions
In a skillet, sauté sausage over medium heat until almost fully cooked (time will depend on sausage used), then add in sliced mushrooms. Cook for 4-5 minutes, or until mushrooms are tender and lightly browned. Finally, stir in spinach until cooked. Remove from heat.

In a large sauté pan, heat oil over medium heat, then add in garlic and shallots. Cook until translucent

Add rice, stir to coat with oil, sauté for 1-2 minutes

Pour in wine, stirring consistently until the wine is fully absorbed. Add 1/2-3/4 cup warm broth and continue stirring (about every 30 seconds) until broth is absorbed. Continue this step – adding 1/2-3/4 cups broth and stirring until liquid is absorbed – until no more broth remains and rice is creamy and al dente. This will take about 18-20 minutes.

Mix in parmesan cheese, cooked sausage, mushrooms and spinach to risotto. You can also add in 2 tbsp butter and salt + pepper (to taste) if you'd like!

Serve with additional parmesan cheese & enjoy!
Notes
For a soupier risotto, add more broth until desired texture.