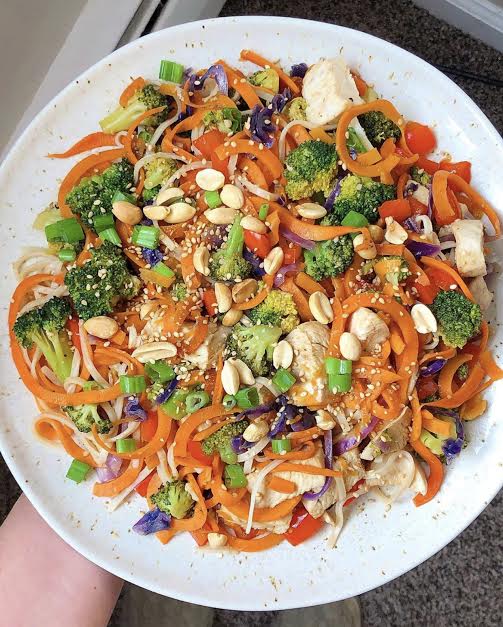 I don't have a set recipe for this sweet potato noodle pad thai, but honestly you don't need one!
What you'll need:
A spiralizer & larget frying pan
1 large sweet potato (makes 2-3 servings)

could use more sweet potatoes depending on how many servings you want

Vegetables: I used broccoli, red pepper, shredded purple cabbage
Protein: chicken or tofu
Spices, sauces & toppings: I keep it pretty simple with coconut aminos (or soy sauce), sesame oil, lots of garlic & sesame seeds, crushed peanuts, and green onions for toppings!
How to make:
Spiralize sweet potato and set aside
Steam or saute vegetables
In a large frying pan, combine sweet potato noodles, cooked vegetables, 3 tbsp coconut aminos, 1 tbsp sesame oil, 3-4 cloves garlic. Cooked covered for 5-7 minutes.
Top with crushed peanuts, green onions, sesame seeds & enjoy!