Chocolate for breakfast? Yes please. Especially when it's in muffin form and packed with tons of other nutrients. These chocolate zucchini muffins are definitely a new favorite over here! The perfect breakfast or on-the-go snack option. They are light and fluffy, not very sweet, but have melty chocolate bites throughout. I made them a few days ago and both Tom and I have been loving them. Also, you would honestly never guess there was zucchini in them. The secret trick is blending the zucchini so there are no large chunks.
Ingredients:
Oat flour – you can make your own by blending oats, or buy (I prefer buying because it is pretty inexpensive and insures the perfect flour texture)
Zucchini
Organic SunButter – any SunButter will work, but this one is a favorite of mine since it is organic and made with just one ingredient (organic roasted sunflower seeds)
Eggs – I have not tried subbing for a flax egg, but it should work
Milk (of choice)
Maple syrup
Coconut oil, melted
Cacao powder
Vanilla extract
Baking powder
Mini chocolate chips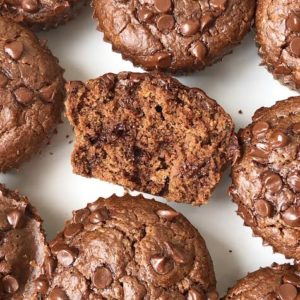 Chocolate Zucchini Muffins
Ingredients
1 cup oat flour
1 large zucchini grated
1/3 cup organic SunButter
2 eggs
½ cup milk of choice
¼ cup maple syrup
¼ cup coconut oil melted
1/3 cup cacao powder
1 tsp vanilla extract
1 tsp baking powder
1/3 cup mini chocolate chips
Instructions
Preheat oven to 350 degrees F

Using a towel or cheese cloth, squeeze as much liquid as possible out of the grated zucchini.

Blend together zucchini, sunbutter, milk, maple syrup, coconut oil and vanilla extract. Whisk eggs in a separate bowl, then mix in the blended mixture.

Combine oat flour, cacao powder, and baking powder.

Add dry ingredients to wet and mix until smooth. Finally, mix in chocolate chips (saving a few to sprinkle on top, if desired)

Fill 12 muffin slots with liners (I love the re-usable silicone muffin cups). Fill each one up about ¾ fill with batter.

Bake for 25 minutes.