Gut health has been such a hot topic during the last few years. Like a lot of other popular topics, it can get confusing or feel overwhelming to navigate. One thing to remember is that just like diets, there is no one-size-fits-all solution to "gut health". Below are 6 tips that have worked for me in maintaining a healthy gut. I hope they help, but I encourage you to ultimately find what works best for YOU!
1. Prebiotics & Probiotics (Food Sources & Supplement)
I try to eat prebiotic and probiotic rich foods, but I have found that I feel my best when also taking a supplement daily. I've tried several, but I have stuck with Silverfern's Ultimate Probiotic for several years now because I've noticed the most benefits from them. They have been such a game changer for my digestive issues, skin, and anxiety! I encourage you to find what works for you, but it's important to look for a high-quality probiotic that is 100% survivability (meaning it will actually survive all the way through the digestive tract and you aren't just throwing away your money!) and is DNA verified (so you know exactly what probiotic strains you are taking… quality > quantity).
Prebiotic foods: garlic, onions, leeks, asparagus, green bananas, barley, oats, chicory root
Probiotic foods: sauerkraut, kimchi, kefir, some yogurts, kombucha
2. Learn What Foods Make YOU Feel Your Best
Don't focus on what your friends or people on social media are eating. Figure out what works for you and your body (this includes diet, exercise, routine, etc). I know this can be harder than it sounds, especially because our lives and needs are constantly changing, but I promise you it's worth it. Social media and friends can be great ways to learn about new products or diets that you want to try, but you should: 1. Do your own research or ask a professional before taking supplements or going to extremes in diet/exercise and 2. Ask yourself if is really a good fit for you (sustainable long term, financially doable, you'd enjoy it, etc).
Everyone is so different, but there are several foods that are commonly harder to digest or can cause digestive issues. Not saying everyone needs to eliminate these foods, but if you are having digestive issues these foods could be part of the problem – ie: raw foods, corn, artificial sweeteners, acidic foods, fried foods, too much fiber (especially without adequate water), high fructose foods, dairy products.
3. Chew Your Food!
No matter what foods you are eating, make sure you are taking your time and adequately chewing your food! It may sound a little silly or simple, but chewing your food properly has so many benefits. Eating too fast (I'm total guilty of this btw) puts a lot of stress on the digestive system and can cause various digestive issues.
4. Manage Stress
This is a constant work in progress for me, but I know that when my stress is lower my gut is always better. Some things that have helped me a lot are meditation (I use the Headspace app and love it), physical activity (but not overdoing it), setting a schedule that allows for time to unwind (I have a tendency to always be thinking/working/doing), & spending quality time with friends and loved ones.
5. Bone Broth
Bone broth is filled with tons of nutrients and can be very beneficial to improving digestion and repairing the gut lining. You can drink bone broth on it's own (if you like the taste – I do!) or add it to soups/stews, stir fry, and so much more! You can make bone broth yourself (it's a pretty intensive process in order to make it correctly) or buy it from pretty much any grocery store. There are also several brands that make bone broth powder
Bone broth: Kettle & Fire, Bonafide, Bare Bones, and more
Bone broth powders: Vital Proteins, Ancient Nutrition

6. Digestive Enzymes
I incorporated a digestive enzyme supplement (Silverfern) into my routine over a year ago & they have made a huge difference for me when I travel and/or eat foods that I know are not the easiest for me to digest. Digestive enzymes are naturally occurring enzymes that help break down food and absorb the nutrients, and unfortunately the number our body produces decreases as we age. Just like probiotic supplements, it's important to look for a high-quality digestive enzyme that has 100% intestinal coverage & a high potency (meaning they're efficient at breaking down food for digestion).
Digestive enzymes can also be found in food sources (ex: pineapple, raw honey, papaya, & mango) and eating these foods can also help aid digestion!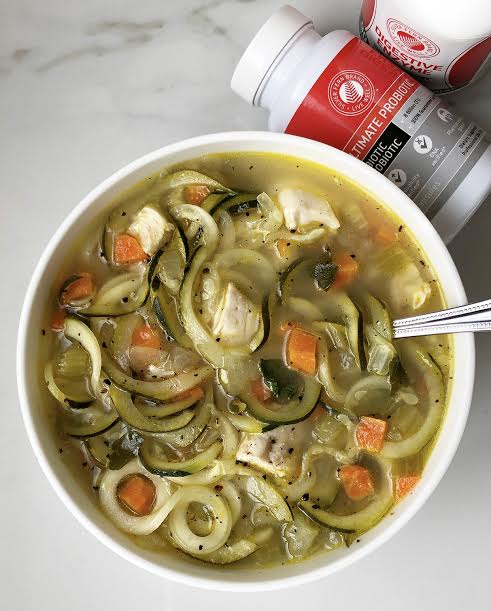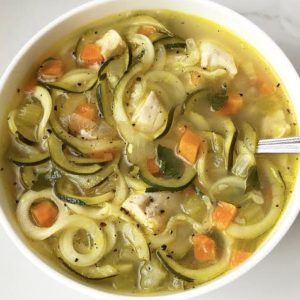 Chicken Zoodle Bone Broth Soup
Ingredients
1 lb chicken diced into small cubes
2 medium zucchinis spiralized
1 small onion chopped
2 cloves garlic
3-4 large carrots diced
2-3 stalks celery diced
4 cups chicken bone broth
Juice from 1 small lemon
2 tbsp fresh parsley
salt/pepper to taste
Instructions
In a dutch oven or large pot, add 1 tbsp oil of choice. Over medium-low heat, sauté onions, carrots, celery, garlic for 2-3 minutes.

Add in chicken, salt, and pepper, and cook for 5-7 minutes, or until chicken is fully cooked (internal temperature of 165 degrees F).

Add in bone broth, bring to a boil then cover and simmer for 10 minutes.

Remove from heat, add in zucchini noodles, lemon and parsley. Stir well and cover for 5 minutes. Serve & enjoy!
Notes
* if you want the zoodles to be more soft/cooked, add them in with the bone broth