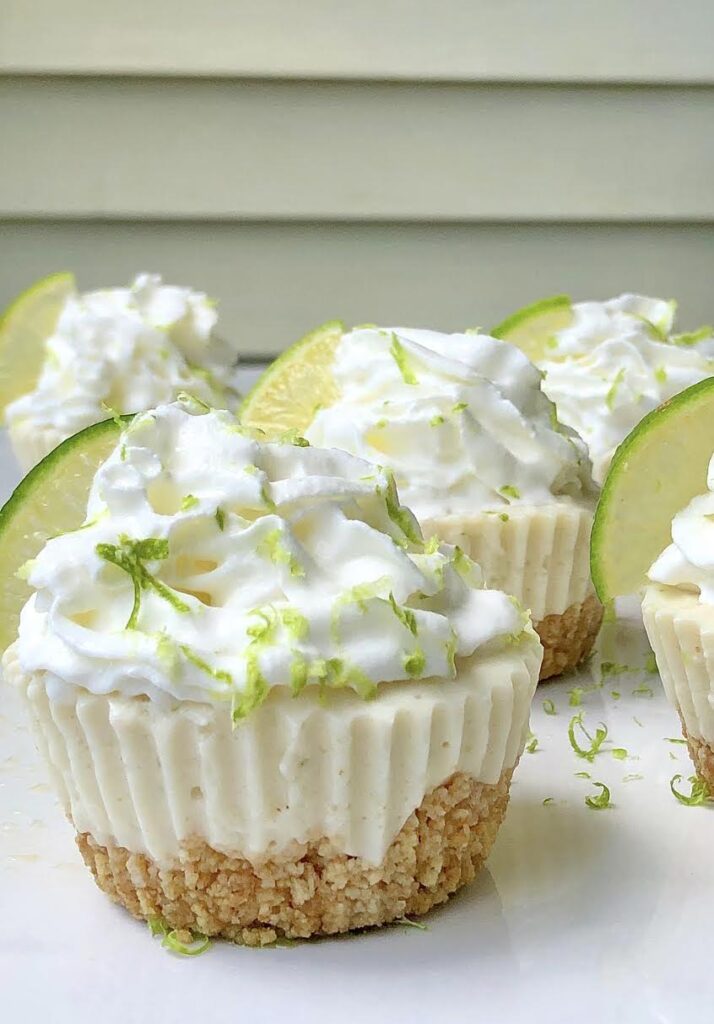 Vegan Mini Lime Cheesecakes
Jump to Recipe
These Vegan Mini Lime Cheesecakes are the perfect year round treat! They are light, refreshing and made with the most simple ingredients! In addition, they are no bake and come together in only 20 minutes (plus refrigeration time).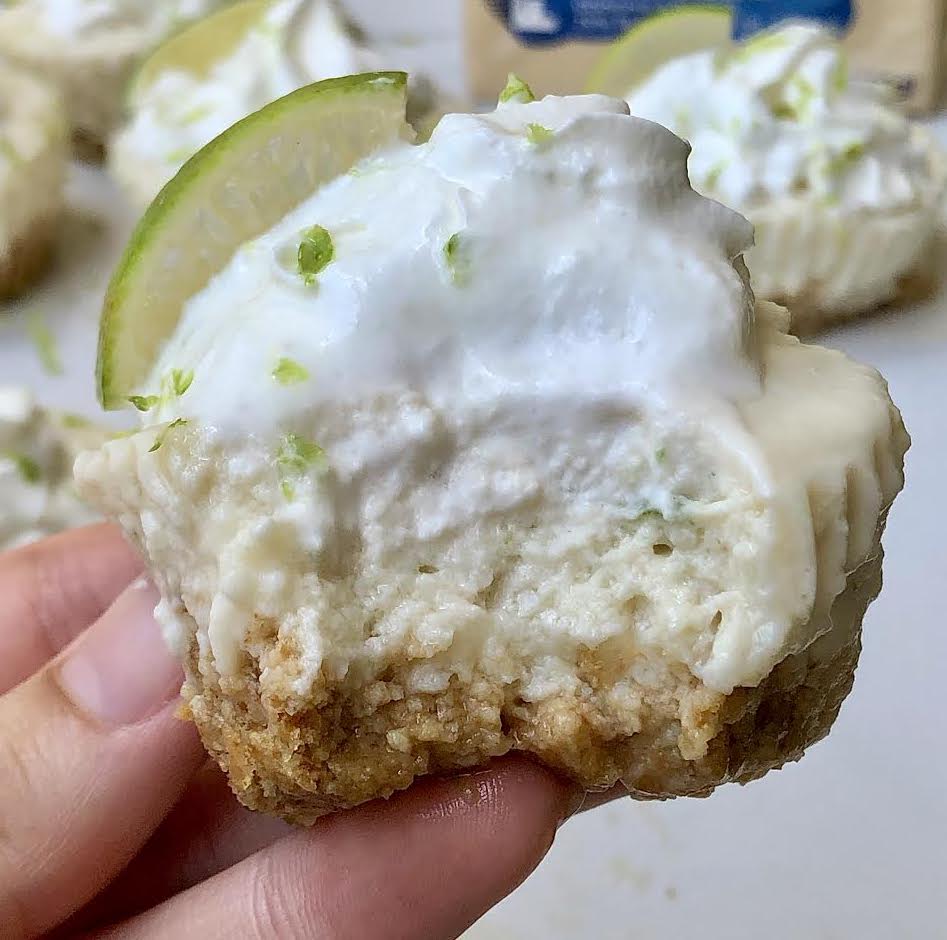 What You'll Need:
You only need a handful of ingredients and a few simple steps to make these Vegan Mini Lime Cheesecakes!
Ingredients:
vegan graham crackers
vegan butter
brown sugar
silken tofu
coconut milk
limes
vanilla extract
agar agar powder (linked one here!)
sugar
* Possible substitutes listed below. NOTE: I have not personally tried any of these substitutes for this recipe, however I believe they could work.
you could substitute coconut sugar for the brown sugar
any milk should work in place of the coconut milk
How To Make:
This recipe seems more complicated than it is. You only need a few steps. First, mix together the crust ingredients and push down on the bottom of each muffin liner. Then, bring the coconut milk, sugar and agar agar powder to a mild boil, keep stirring until fully dissolved. Let sit for 5 min. Then, blend with the other filling ingredients. Pour 1/4 cup into each muffin tin (over the graham cracker), and then refrigerate for 4 hours, or overnight. Top with vegan whipped cream & lime zest (optional).
Vegan Mini Lime Cheesecakes
Ingredients
Crust:
1 cup graham cracker crumbles *see note for how to make
3 tbsp vegan butter melted
1 tbsp brown sugar
Cheesecake:
1 16 oz block silken tofu, drained
1 cup canned coconut milk
1/2 cup sugar
2.5 tsp agar agar powder
1/2 cup lime juice about 3-4 limes
Zest of 1 lime
1 tsp vanilla extract
Toppings (Optional):
coconut whipped cream
lime zest
Instructions
Line 12 slots of a muffin tin with silicone liners.

Mix together crust ingredients. Push down 1 1/2 tbsp in the bottom of each cup.

In a small saucepan, whisk together coconut milk, agar agar powder and sugar. Bring to a mild boil and continue stirring until the sugar and agar agar are dissolved. Remove from heat and let sit for 5 minutes.

In a blender, blend together coconut milk mixture with silken tofu, lime juice, lime zest and vanilla extract.

Pour 1/4 cup "cheesecake" mixture in each muffin cup.

Refrigerate for 4 hours, or overnight.

Top with coconut whipped cream and additional lime zest & enjoy!
Notes
To make the graham cracker crumbs, either use a food processor or place the graham crackers in a large zip lock bag and use a rolling pin to crumble. For one cup, you will need ~6-7 graham crackers.
Additional Recipes You'll Love:
I have several delicious snack and dessert recipes you may also love: No Bake Red Velvet Truffles (paleo, vegan), Lemon Protein Balls (gf, df, nut free), Cookies & Cream Truffles (gf, vegan), Cookie Dough Fudge Bars (vegan, paleo), Rocky Road Fudge Bars (vegan, paleo), & more dessert recipes
I always love knowing when you guys make (and love) my recipes – so tag me or send me a message on Instagram, or leave a reply/rating below! Also, you can find this recipe, as well as all of my others, on Pinterest (click the photo below to Pin)!