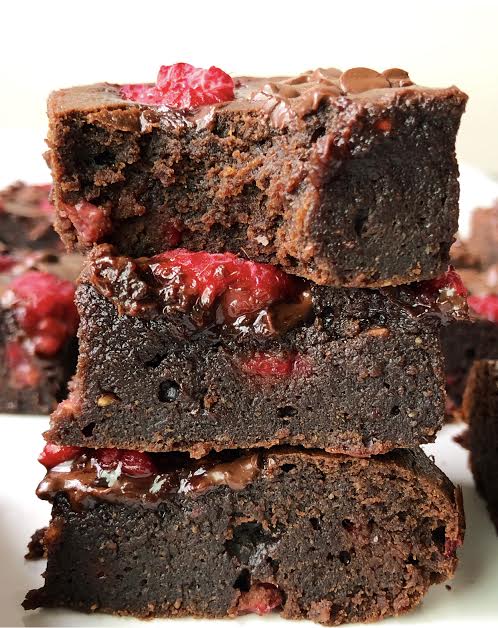 Fudgy Raspberry Brownies
Jump to Recipe
My go-to brownie recipe for the last two years has been my Ooey Gooey Tahini Brownies , they are just so delicious I never needed anything else. Today, I decided to spice 'em up by adding raspberries and tweaking a few other ingredients and wow – these may have taken the #1 spot! Don't you think there's something magical about the combination of fresh raspberries and rich chocolate? I do, and these fudgy raspberry brownies are definitely something special.
These raspberry brownies are made with real dark chocolate, fresh raspberries, nutrient-dense cacao powder and wholesome ingredients like almond butter. Each bite is filled with bursts of fresh raspberries and melty chocolate, making this a truly decadent dessert that is sneakily healthy.
There's not much better than a delicious brownie, and these are just that! They are also paleo, gluten-free, dairy-free and could be made vegan by using a flax egg or other vegan substitute (like banana or applesauce).
Ingredients:
almond butter
eggs
coconut flour (or almond flour)
chocolate chips
cacao powder
coconut sugar (or brown sugar)
vanilla extract
coconut oil
raspberries
What you'll need:
mixing bowl
small saucepan
8×8 baking dish
parchment paper
Fudgy Raspberry Brownies
Ingredients
2/3 cup almond butter
2 eggs
2/3 cup coconut sugar
2 tbsp coconut flour or sub 1/2 cup almond flour
¼ cup coconut oil
1/2 cup chocolate chips
3 tbsp cacao powder
2 tsp vanilla extract
1 cup raspberries
Instructions
Preheat oven to 350 degrees and line an 8×8 baking dish with parchment paper.

Whisk together eggs, coconut sugar, vanilla extract and almond butter until smooth.

In a saucepan over medium heat, melt coconut oil. Remove from heat and mix in chocolate chips until melted. Add in cacao powder and coconut flour and mix until smooth.

Combine chocolate and almond butter mixtures. Gently mix in raspberries.

Pour into baking dish. Top with extra chocolate chips and raspberries, if desired. Bake for 28-30 minutes.

Let cool. Cut into 16 squares and enjoy!
Additional Recipes You'll Love:
I have several delicious snack and dessert recipes you may also love: No Bake Red Velvet Truffles (paleo, vegan), Lemon Protein Balls (gf, df, nut free), Cookies & Cream Truffles (gf, vegan), Cookie Dough Fudge Bars (vegan, paleo), Rocky Road Fudge Bars (vegan, paleo), & more dessert recipes
I always love knowing when you guys make (and love) my recipes – so tag me or send me a message on Instagram, or leave a reply/rating below! Also, you can find this recipe, as well as all of my others, on Pinterest (click the photo below to Pin)!