When we have a party or even small get together at our place, one of the first things I plan is what I'm going to put on my charcuterie board. Does that make me an adult? But really, everyone loves a good charcuterie board! So, to make it a little more fun this holiday season, I made this Christmas tree charcuterie board. Let me tell you, it is just as fun to make as it is to look at (and eat!). It is also the perfect way to add color and a festive touch to your holiday spread! I kept mine pretty simple with cheese, fruit, veggies and Harvest Snaps pea snack crisps. It was surprisingly easy to put together and there were plenty of options that everyone could enjoy.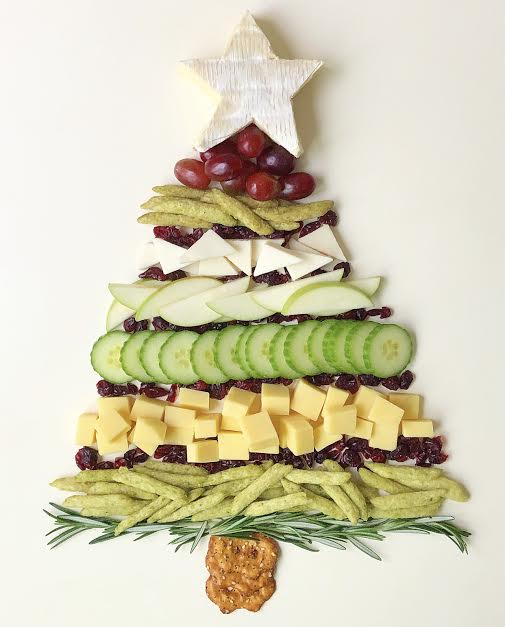 What you'll need for this Christmas Tree Charcuterie Board:
I wanted a variety of different flavors and textures, while maintaining the red/green/white colors. Below is what I used, as well as other options that you could add or mix and match with!
Harvest Snaps – we absolutely love these as a snack and they were perfect for this charcuterie board. They are made from green peas with 5g of both protein and fiber per serving, but also are light & crunchy – making them such a crowd pleaser! You can find Harvest Snaps in the produce aisle of your local grocery store & on Amazon
For this board, we used the lighty salted & black pepper, but Harvest Snaps have tons of amazing flavors like: white cheddar, parmesan garlic, wasabi ranch, habanero & more!
Cheese – I chose (from bottom to top): white cheddar cheese, goat's milk gouda, & camembert to cut out the star on top! These are all white or off-white in color & the flavors go well with the various fruits/veggies I have!
other great options: brie, gruyere, comte, parmigiano-reggiano
Fruit – I used driedcranberries, sliced granny smith apple & red grapes
other great options: green grapes, red apple, kiwi, strawberries, pomegranate, cherries, raspberries, pear
Vegetables –I used sliced cucumbers because they can be enjoyed on their own, or with cheese!
other great options: celery, broccoli, cauliflower, bell peppers, olives
Garnish – rosemary made for the perfect garnish to make the Christmas tree look more like a tree! Next time I would consider adding more to frame the whole "tree".
Additions I didn't include: nuts & seeds, meats, dips, or chocolate
Assembling your Christmas Tree Charcuterie Board
Now that you have all the goods, it's time to assemble! Before you start, I recommend planning out your layers based on quantity (the bottom layers will obviously be more plentiful than the top) & color (if you want the red/green/white look for Christmas).
First, start a few inches above the bottom of your board with the rosemary (you can add the pretzels or crackers for the "tree trunk" after). This way, you can make sure you are starting with a straight, centered line at the bottom. Then, add your favorite flavor of Harvest Snaps, followed by cranberries. I didn't have as many red items, so I loved adding the cranberries for a pop of color and flavor. For the second layer, add the cheese you think will be most popular (or the one you like the best!) and make it just slightly shorter in length than the first layer. Follow this method to add the cucumbers, then green apple, more cheese, more Harvest Snaps, grapes & a cheese star to top it all off. That's it! Hope you enjoy & have a wonderful holiday!