I hope you love these Brookie Protein Balls as much as I do. *This post may contain affiliate links. Read my disclaimer here.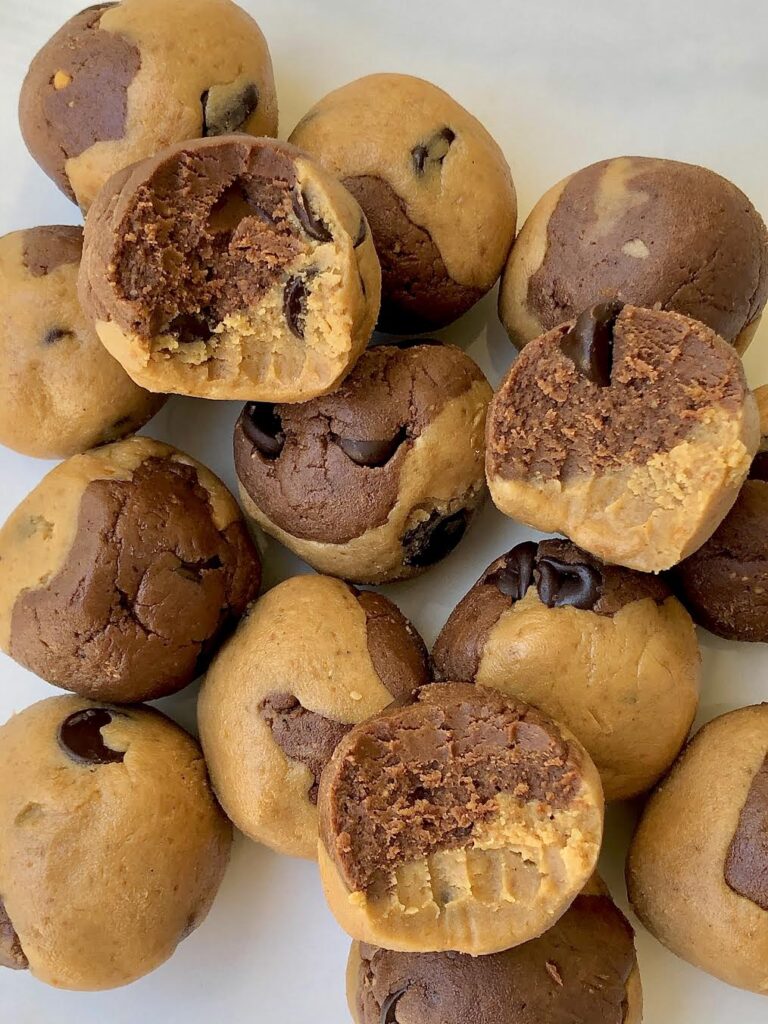 Jump to Recipe
Brookie Protein Balls
These brookie protein balls are hands down the best protein balls I've ever made. They literally tastes like cookie dough and brownie batter wrapped into a perfect little bite. Not to mention, they are made with real ingredients and packed with protein. Reaching for healthy snacks at home or to bring on-the-go is no problem when they taste this good.
These are only made with 7 ingredients total, take a few minutes to make, and are vegan & paleo friendly! I love having quick & easy snacks on hand and homemade protein bars/balls have been my go-to the last few years.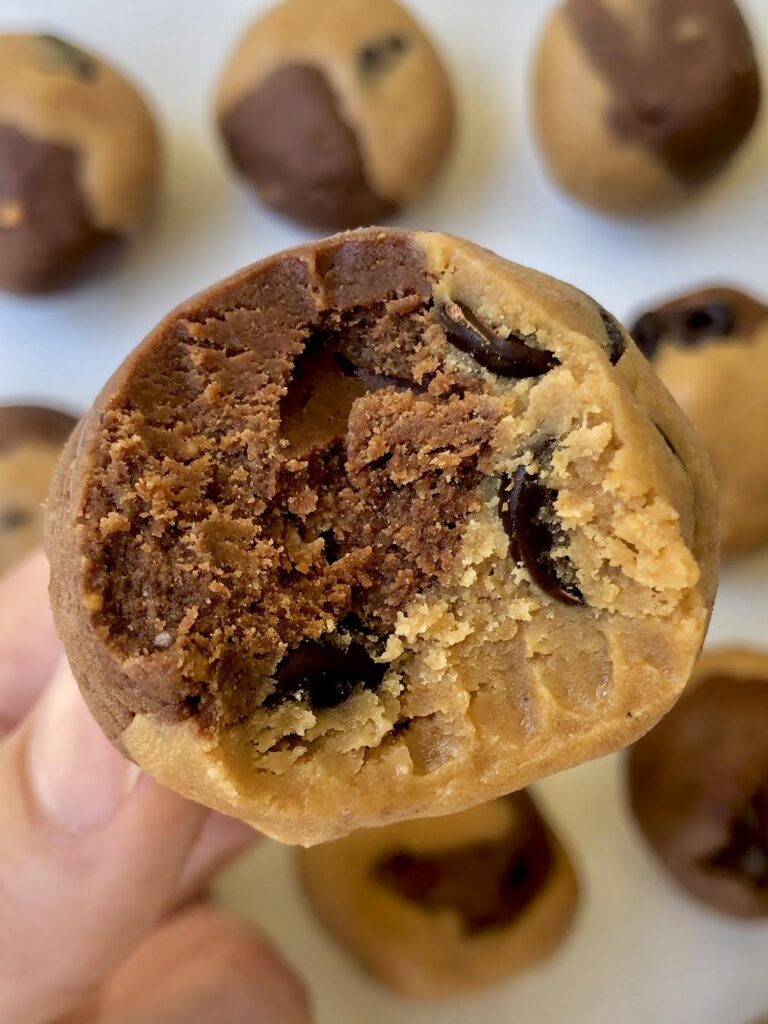 HOW TO MAKE THE MOST DELICIOUS HEALTHY BROOKIE PROTEIN BALLS:
All you'll need is a few simple ingredients and a mixing bowl. You'll be amazed at how delicious these cookie brookie protein balls are!
Ingredients:
cashew butter
vanilla pea protein powder
maple syrup
vanilla extract
milk of choice
(dairy-free) mini chocolate chips
cacao powder
What I used:
My absolute favorite protein powder and the one I have used for almost 3 years is Nuzest. Specifically I love the Nuzest Probiotic Vanilla & the Nuzest Probiotic Cacao. For 15% off anything on the site, you can use code "FIGGINDELICIOUS". It works perfectly in baked goods, smoothies, protein bars and balls and more!
Any cashew butter can be used, but I love buying mine at Trader Joes or Whole Foods 365 brand
Possible Substitutions:
NOTE: I have not personally tried these substitutes for this recipe and can't guarantee they will work. I share substitutions in hopes to help those who need to make substitutions!
if cashew butter isn't your favorite or you have allergies, you could substitute any nut or seed butter, however it will change the taste
any vanilla protein powder (whey protein, etc) should work, however you may have to tweak the amount
to make these truly vegan/paleo, use dairy free or paleo chocolate chips (examples above)
Recipe Steps:
This recipe comes together in just a few simple steps. First, you'll mix the cashew butter, maple, vanilla, mix and pea protein. Then separate the batter, add the cacao powder to one half, and then add the chocolate chips to both! Finally, make 16 balls of the cookie dough and 16 of the brownie batter (they will be about 2 tsp for each of the batters – 4 tsp when combined). Gently roll together the two batters to form a brookie ball! Keep in an airtight container in the refrigerator.
Brookie Protein Balls
Ingredients
1 cup drippy cashew butter
1/2 cup vanilla pea protein
1/4 cup maple syrup
2 tbsp milk of choice
1 tsp vanilla extract
1/4 + cup chocolate chips
3 tbsp cacao powder
Instructions
Mix together cashew butter, maple syrup, milk, and vanilla extract until smooth. Add in pea protein and combine until no clumps remain.

Separate the batter in two bowls (about 3/4 cup for each). Mix 2-3 tbsp chocolate chips into one batter. For the other batter, mix in cacao powder and then add in the remaining 2-3 tbsp chocolate chips.

Portion out 16 (about 2 tsp) balls for each batter. Then, gently roll together one cookie dough and one brownie batter to form the brookie balls. Continue until all are combined.

* Keep protein balls in an airtight container in the refrigerator.
Additional Recipes You'll Love:
I have several delicious snack and dessert recipes you may also love: No Bake Red Velvet Truffles (paleo, vegan), Lemon Protein Balls (gf, df, nut free), Snickerdoodle Protein Cookies (df, gf, paleo), Unicorn Cookie Dough Protein Balls (df, gf, paleo), Chocolate Protein Donuts (gf, df, nut free, paleo), & more snack recipes! Cookies & Cream Truffles (gf, vegan), Cookie Dough Fudge Bars (vegan, paleo), Rocky Road Fudge Bars (vegan, paleo), Cinnamon Roll Muffins, Coffee Cake Greek Yogurt Muffins, Birthday Cake Chocolate Chip Cookie Skillet (paleo & vegan), Cookie Dough Fudge Bars (paleo & vegan), Double Chocolate Cookie Skillet (paleo & vegan), Lemon Bars (gluten-free), Flourless Zucchini Brownies (paleo) & more dessert recipes
I always love knowing when you guys make (and love) my recipes – so tag me or send me a message on Instagram, or leave a reply/rating below! Also, you can find this recipe, as well as all of my others, on Pinterest (click the photo below to Pin)!