I hope you love this Cookie Dough Mini Cheesecakes as much as I do! *This post may contain affiliate links. Read my disclaimer here.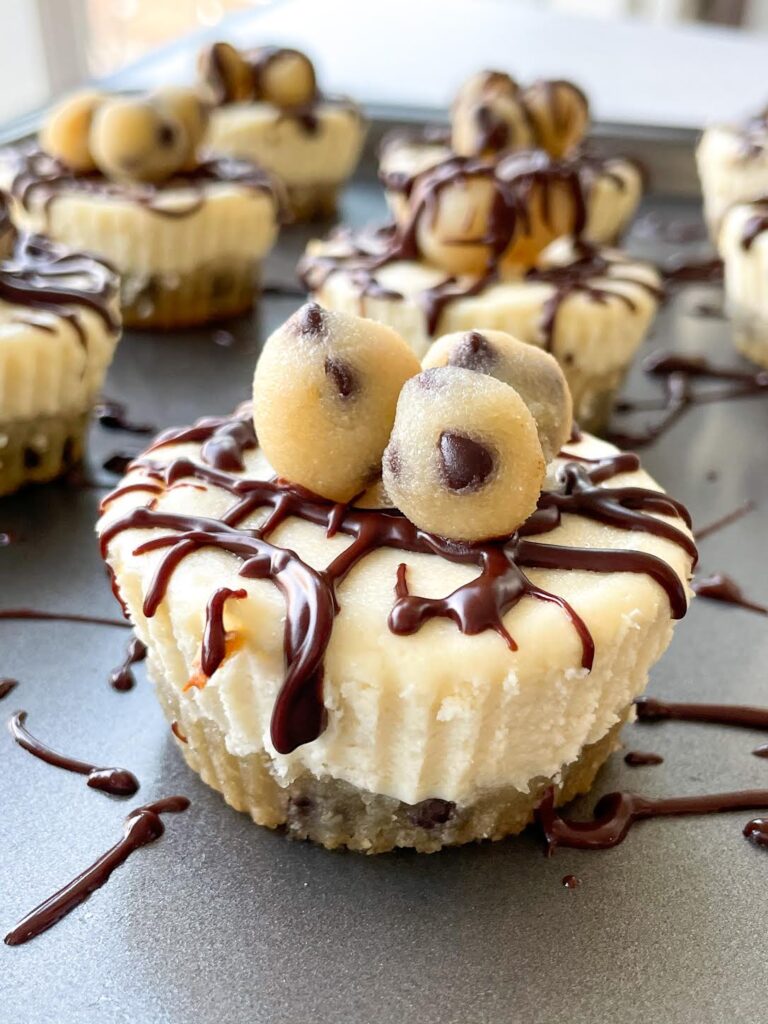 Jump to Recipe
Cookie Dough Mini Cheesecakes
These Cookie Dough Mini Cheesecakes are out of this world. Quite possibly the best cheesecake flavor EVER. What can be better than cookie dough and cheesecake combined. Bonus points for being the perfect single serve size! These are easy to make and perfect for any Summer festivity! They are sweet but not overwhelming, and are made with surprisingly simple ingredients.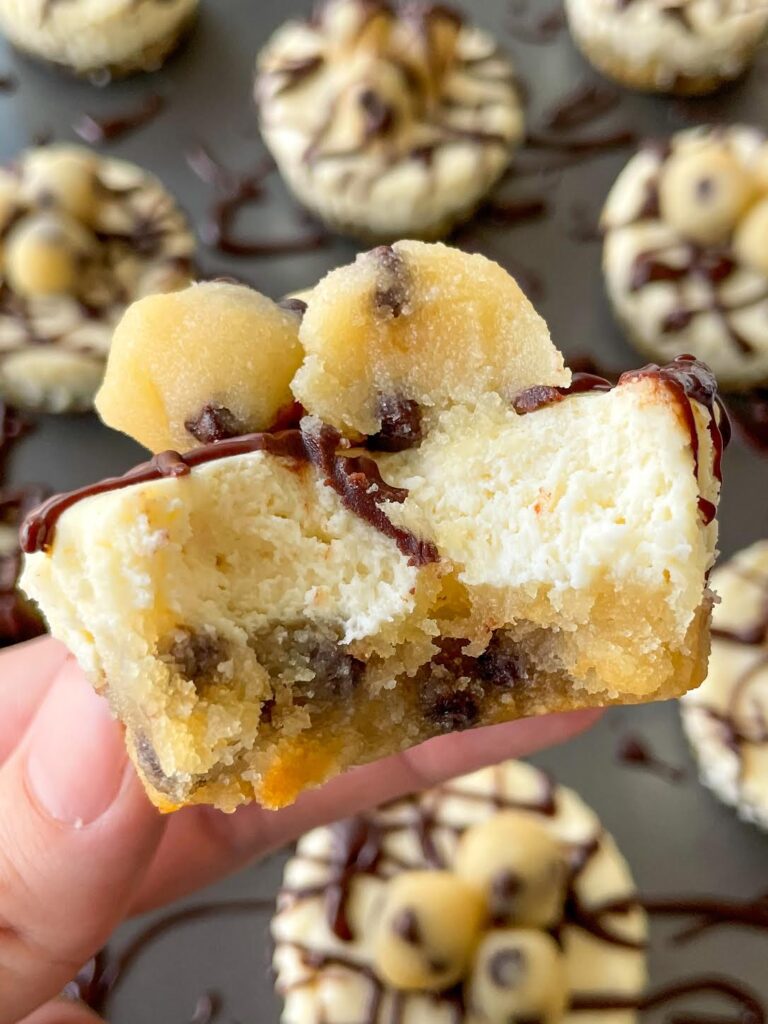 HOW TO MAKE THE MOST DELICIOUS COOKIE DOUGH CHEESECAKE:
All you'll need is a few simple ingredients, two mixing bowls, muffin pan, and muffin liners (I love the reusable silicone muffin liners because they are so easy to use and the muffins never stick to the liners!). You'll be amazed at how delicious these cookie dough cheesecake bites are!
Ingredients:
Almond flour
Maple syrup
Unsalted butter
Milk (I used 2%)
Mini chocolate chips
Cream cheese
Greek yogurt
Cane sugar
Vanilla extract
What I used:
Possible Substitutions:
NOTE: I have not personally tried these substitutes for this recipe and can't guarantee they will work. I share substitutions in hopes to help those who need to make substitutions!
for the cookie dough, you can use coconut oil in place of the butter.
instead of maple syrup in the cookie dough, you could try a different liquid sweetener. You may have to tweak the amount though.
in place of greek yogurt, you could use sour cream
instead of cane sugar, you could use any granulated sugar
Recipes Steps:
This recipe has a few steps but it doesn't take much time and is well worth the wait! First, mix together the wet ingredients for the cookie dough (milk, butter, maple syrup and vanilla extract). Then mix in the almond flour. Finally, fold in chocolate chips. Place about 1 tbsp cookie dough in each muffin cup and press down. Refrigerate while you make the cheesecake filling. In a separate mixing bowl, cream the cream cheese with an electric or hand mixer. Add in the Greek yogurt, cane sugar and vanilla extract and mix until well combined. Finally, mix in egg until smooth. Add about 2 tbsp cream cheese mixture over the cookie dough and spread evenly. Bake at 350°F for 18-20 minutes. Let cool at least 30 minutes. Refrigerate for 4 hours, or overnight. Top with melted chocolate (optional) and cookie dough crumbles (also optional). Enjoy!
Mini Cookie Dough Cheesecakes
Ingredients
Cookie Dough:
1 1/3 cup almond flour
4 tbsp butter
3 tbsp maple syrup
2 tbsp milk of choice
1 ½ tsp vanilla extract
1/3 cup mini chocolate chips
Cheesecake:
8 oz cream cheese
1/3 cup Greek yogurt
1 egg
1/4 cup sugar
3/4 tsp vanilla extract
Toppings:
Chocolate sauce or melted chocolate chips optional
Instructions
Preheat oven to 350 degrees F & line 10 slots of a muffin tray * see note for option to make 12 instead

Mix together wet ingredients for cookie dough, then mix in almond flour until well combined. Finally, fold in mini chocolate chips. Press down about 1 tbsp in the bottom of the 10 cups.

Place the extra cookie dough in an airtight container for later. Refrigerate the muffin pan with cookie dough while you make the cheesecake filling.

Cream together the greek yogurt and cream cheese until smooth. Then mix in egg, sugar, and vanilla extract.

Add ~ 1 ½ – 2 tbsp cream cheese mixture over the cookie dough. Bake for 18-20 minutes.

Let cool completely (about 30 minutes), then refrigerate for 4 hours, or overnight.

Roll the extra cookie dough into 30 small balls. Top each cheesecake with chocolate drizzle and three cookie dough balls. Enjoy!
Notes
Note: If you don't want the cookie dough on top, you can use that cookie dough to make 12 cheesecakes instead of 10. Then, disperse the cheesecake filling in all 12 instead 10 as well. Each cheesecake will be slightly smaller but still great!
Additional Recipes You'll Love:
I have several delicious snack and dessert recipes you may also love: No Bake Red Velvet Truffles (paleo, vegan), Lemon Protein Balls (gf, df, nut free), Cookies & Cream Truffles (gf, vegan), Cookie Dough Fudge Bars (vegan, paleo), Rocky Road Fudge Bars (vegan, paleo), & more dessert recipes
I always love knowing when you guys make (and love) my recipes – so tag me or send me a message on Instagram, or leave a reply/rating below! Also, you can find this recipe, as well as all of my others, on Pinterest (click the photo below to Pin)!