Jump to Recipe
Peanut Butter Cup Protein Balls
No need to buy expensive protein bars or snacks anymore, these Peanut Butter Cup Protein Balls are all you need! I've been making my own protein snacks the last year+ and I absolutely love creating new flavors and types of snacks! They taste amazing and are much cheaper than the store bought versions.
These protein balls literally taste like a Reese's peanut butter cup but are made with ONLY 4 INGREDIENTS and packed with protein!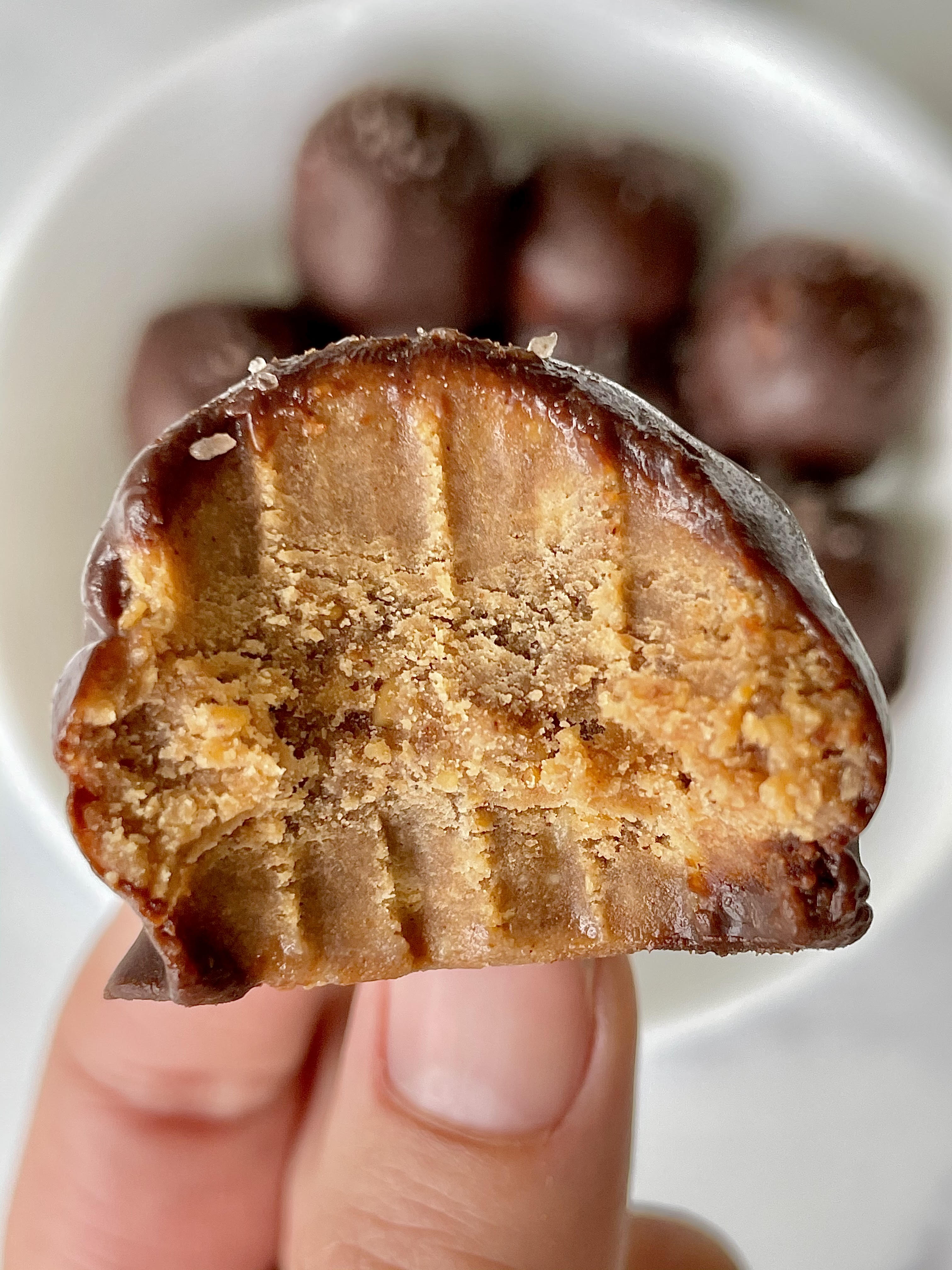 HOW TO MAKE THE MOST DELICIOUS PEANUT BUTTER CUP PROTEIN BALLS:
All you'll need is a few simple ingredients, a mixing bowl, and a fork. You'll be amazed at how delicious these healthy peanut butter cup protein balls are!
Ingredients:
drippy natural peanut butter
cacao pea protein powder
maple syrup
chocolate chips + coconut oil or unsalted butter (helps when melting)
sea salt (optional)
What I used:
My absolute favorite protein powder and the one I have used for almost 3 years is Nuzest. Specifically I love the Nuzest Probiotic Vanilla & the Nuzest Probiotic Cacao. For 15% off anything on the site, you can use code "FIGGINDELICIOUS". It works perfectly in baked goods, smoothies, protein bars and balls and more!
Reusable Silicone Baking Mats – I absolutely love using these baking mats for everything. So versatile, I used it after I dipped the protein balls in chocolate. Plus, they are easy to use and better for the environment – yay! They are also inexpensive (only $15 for a 3 pack of different sizes)
Any peanut butter can be used, but I love buying mine at Trader Joes or Whole Foods 365 brand
Possible Substitutions:
NOTE: I have not personally tried these substitutes for this recipe and can't guarantee they will work. I share substitutions in hopes to help those who need to make substitutions!
any chocolate pea protein powder should work!
you could try using another protein powder like whey, but I am not sure if the texture will be the same
in place of peanut butter, you could use any nut or seed butter
instead of maple syrup, you can substitute for any liquid sweetener (you may just need to tweak the amount)
Recipe Steps:
These could not be easier! They literally take 5 minutes to make. Just mix the ingredients, roll 'em up, dip and chocolate and freeze until chocolate hardens. Then, you'll have delicious snack cookies for the week. Woo! All you'll have to do is mix the wet ingredients together, then add in the dry. Roll into balls, then coat each one in melted chocolate. Freeze & enjoy!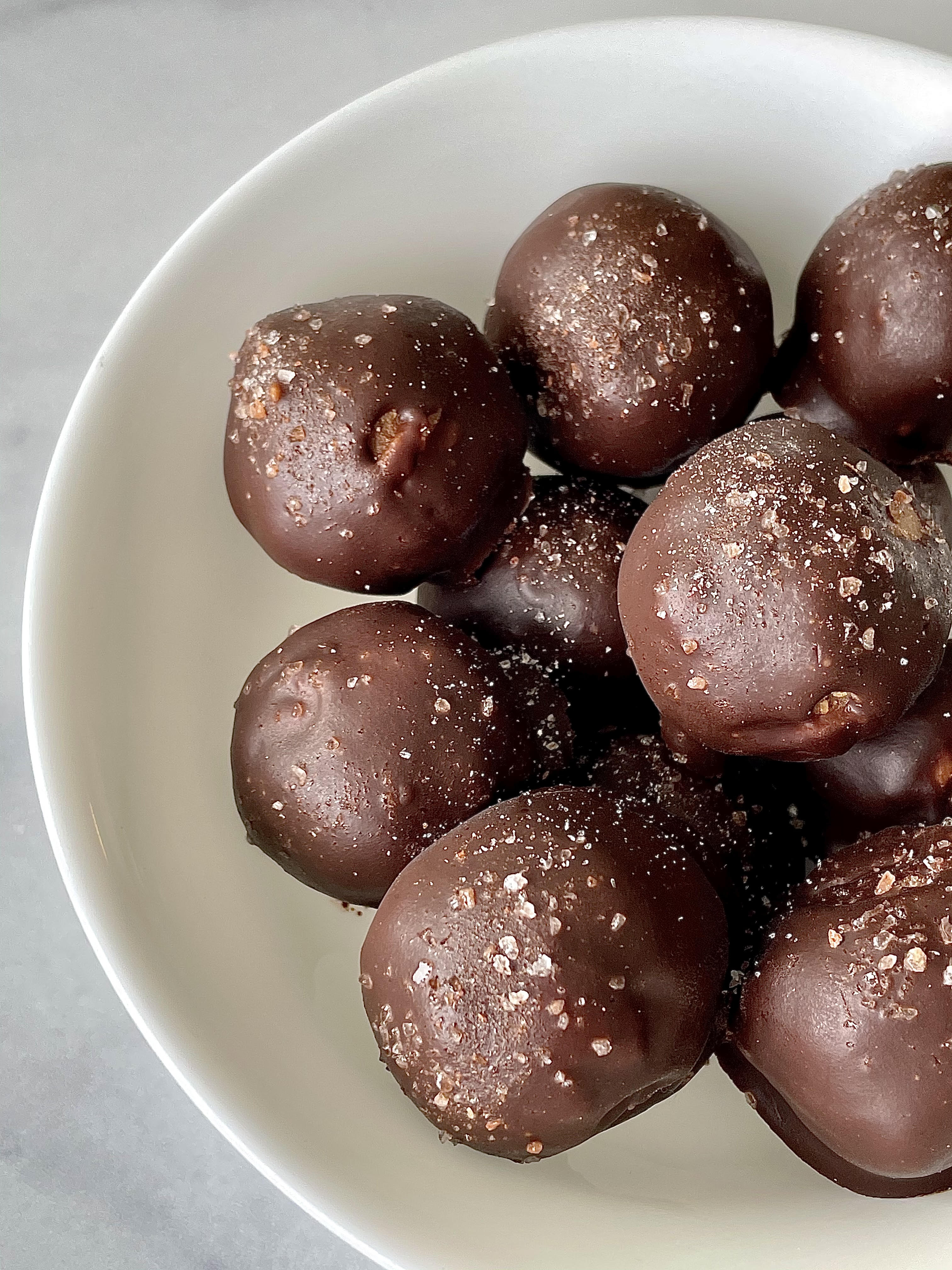 Peanut Butter Cup Protein Balls
Ingredients
1/2 cup natural peanut butter drippy
1/3 cup chocolate pea protein
2-3 tbsp maple syrup
Chocolate Coating (melt together):
1/4 – 1/3 cup chocolate chips
1 tbsp coconut oil or butter
Instructions
In a medium mixing bowl, combine peanut butter and maple syrup. Mix in pea protein until well combined and dough-like. If necessary, add 1-2 tbsp more pea protein.

Roll into 12 balls. Dip in melted chocolate, sprinkle with sea salt and freeze for 5-10 minutes.
Additional Recipes You'll Love:
I have several delicious snack recipes you may also love: Lemon Protein Balls (gf, df, nut free), Snickerdoodle Protein Cookies (df, gf, paleo), Unicorn Cookie Dough Protein Balls (df, gf, paleo), Chocolate Protein Donuts (gf, df, nut free, paleo), & more snack recipes!
I always love knowing when you guys make (and love) my recipes – so tag me or send me a message on Instagram, or leave a reply/rating below! Also, you can find this recipe, as well as all of my others, on Pinterest (click the photo below to Pin)!