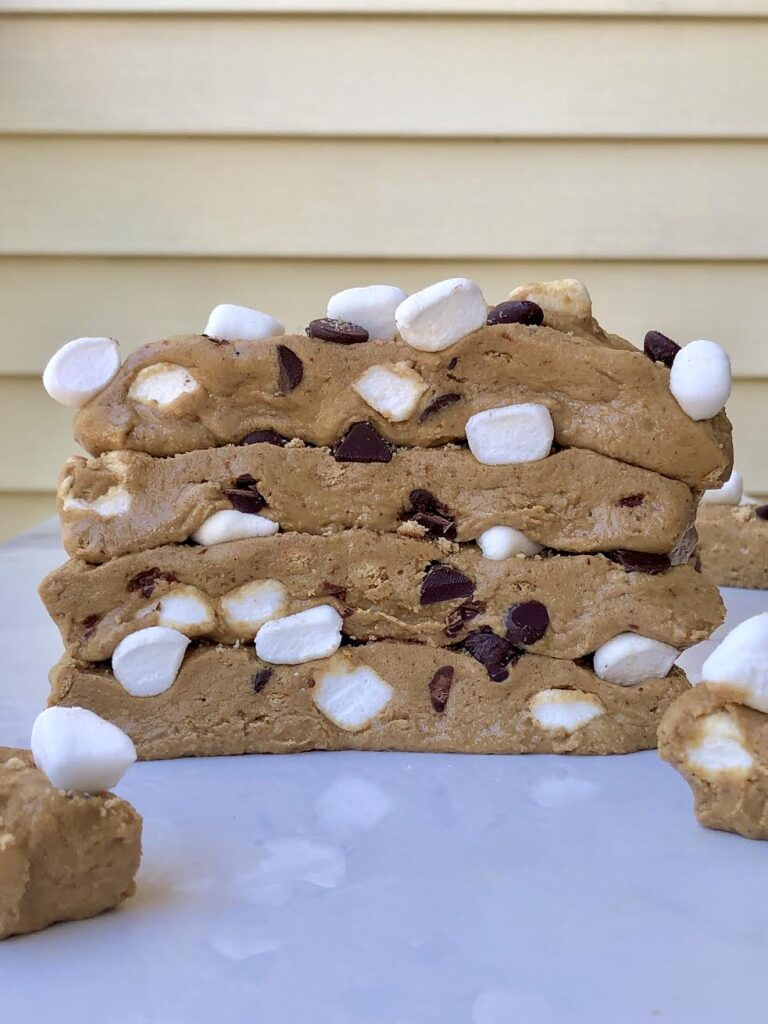 S'mores Protein Bars
Jump to Recipe
These s'mores protein bars taste so delicious and are made with healthy ingredients. If you are in a snack rut or looking for something a little more fun, then these are definitely for you! They are easy to meal prep for the week and will actually keep you full. You can take them on-the-go, pack them in lunches, or snack on them at home! The best part is that they only require a few simple ingredients and a few minutes to make.
I love making new protein bar flavors and these s'mores protein bars are my new Summer favorite. They are made with real food ingredients like pea protein, organic SunButter, coconut flour and a little bit of maple syrup. They could be made vegan and/or gluten-free (by using vegan marshmallows and chocolate, and gluten-free graham crackers).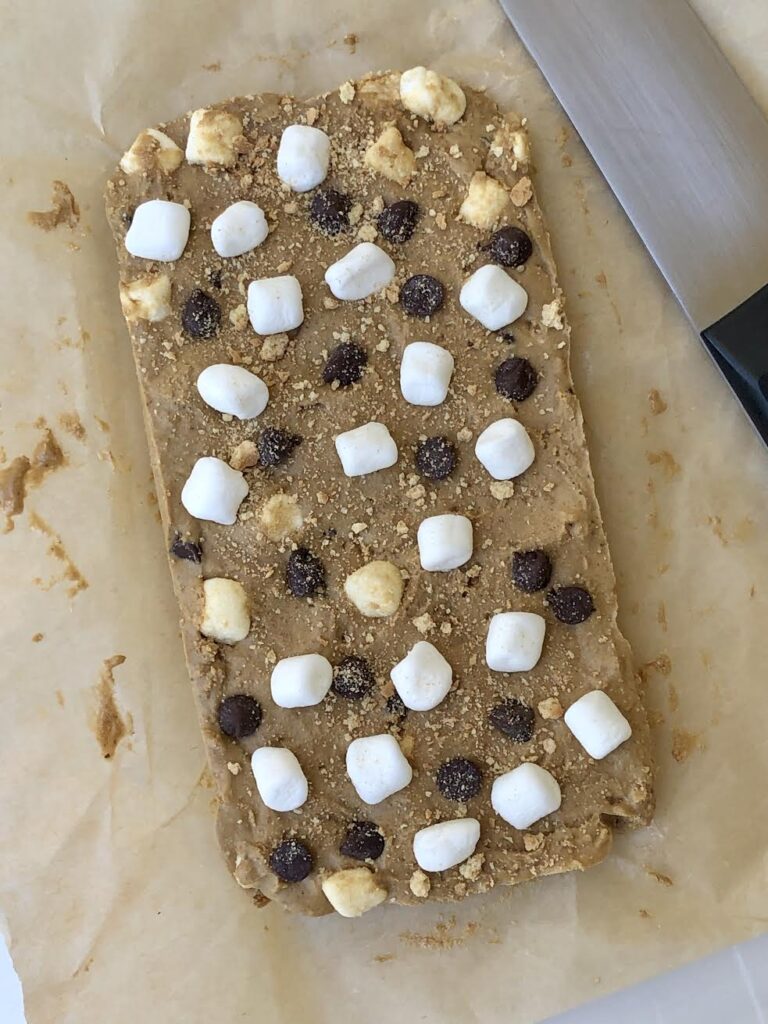 What You'll Need:
To make these S'mores Protein Bars, you'll just need 7 simple ingredients and a few simple steps!
Ingredients:
organic sunbutter or nut butter of choice
vanilla pea protein
coconut flour
coconut oil
crushed graham crackers
mini marshmallows
maple syrup
chocolate chips
How To Make:
This recipe comes together in just a few simple steps. All you have to do is mix together the wet ingredients (Sunbutter, coconut oil and maple) and dry ingredients (coconut flour, pea protein, graham cracker crumble) separately, then combine together until smooth. Next, add in the marshmallows and chocolate chips, refrigerate & enjoy!
S'mores Protein Bars
Ingredients
1 cup organic Sunbutter or drippy nut butter of choice
1/2 cup vanilla pea protein
3 tbsp coconut flour
1-3 tbsp maple syrup
1 1/2 tbsp coconut oil melted
1/4 cup graham cracker crumbles *see note for how to make
1/3 cup mini marshmallows + more to sprinkle on top
1/4 cup chocolate chips + more to sprinkle on top
Instructions
In a medium bowl, mix together pea protein, coconut flour, and graham cracker crumbles. In a separate bowl, mix together Sunbutter, coconut oil and maple syrup. Combine wet and dry ingredients together and mix until smooth.

Fold in marshmallows and chocolate chips.

Line a bread pan with parchment paper and spread mixture evenly across bottom. Add extra marshmallows, chocolate chips and graham cracker crumbs on top (if desired). Refrigerate for 1-2 hours, or until solidified enough to cut into bars.

Cut into 8 large bars or 16 smaller bars & enjoy!

* best kept in the refrigerator in an airtight container
Notes
To make the graham cracker crumbs, either use a food processor or place the graham crackers in a large zip lock bag and use a rolling pin to crumble.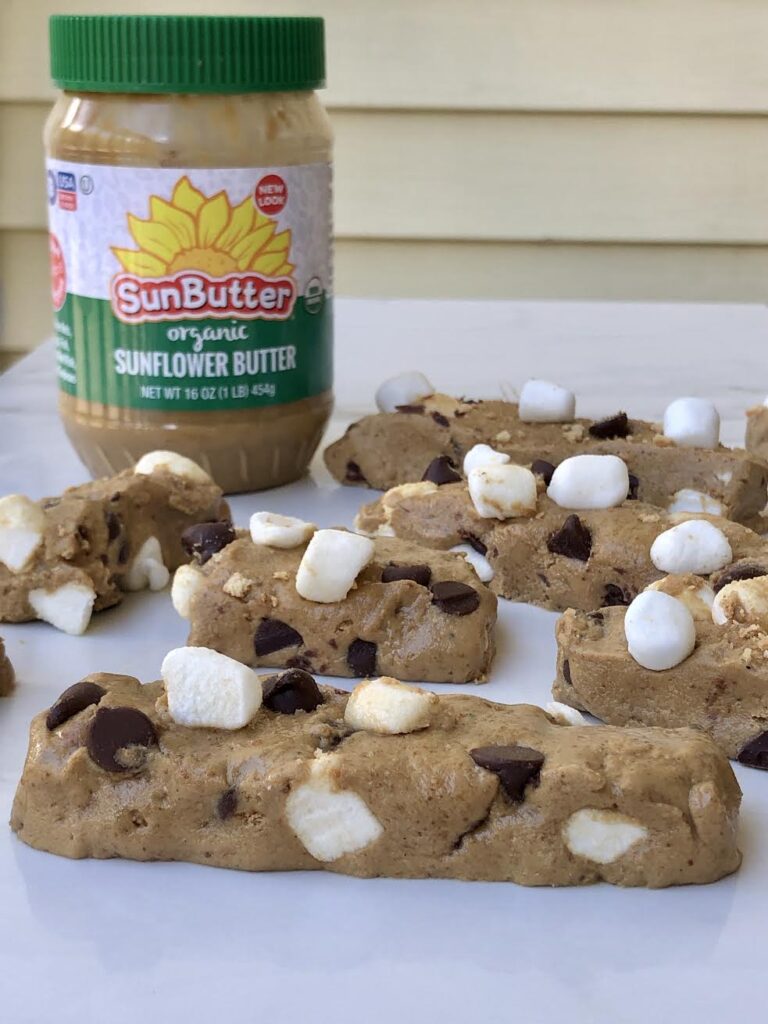 Additional Recipes You'll Love:
I have several delicious SunButter recipes you may also love: SunButter Breakfast Cookies , 5 Favorite SunButter recipes . In addition, you can check out some of my snack recipes including: Lemon Protein Balls (gf, df, nut free), Snickerdoodle Protein Cookies (df, gf, paleo), Unicorn Cookie Dough Protein Balls (df, gf, paleo), Chocolate Protein Donuts (gf, df, nut free, paleo), & more snack recipes!
I always love knowing when you guys make (and love) my recipes – so tag me or send me a message on Instagram, or leave a reply/rating below! Also, you can find this recipe, as well as all of my others, on Pinterest (click the photo below to Pin)!