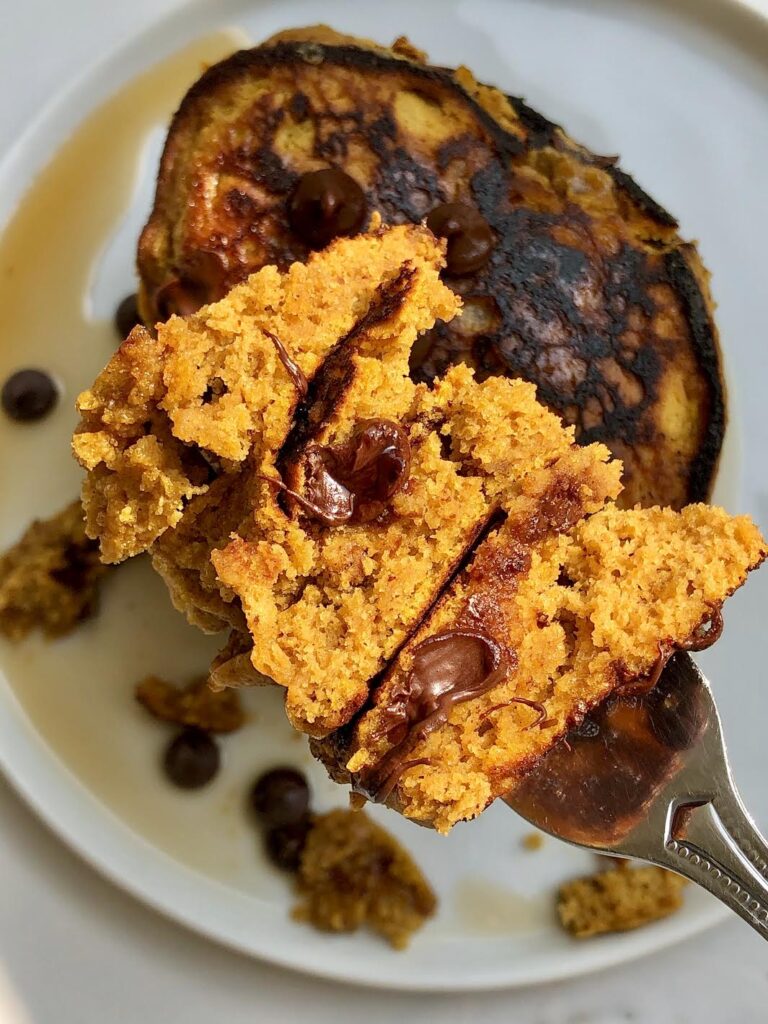 Pumpkin Chocolate Chip Pancakes
Jump to Recipe
These pumpkin chocolate chip pancakes are the perfect Fall breakfast and sure to be a family favorite! They are so easy to make, you can make them over the weekend and keep any leftovers in the refrigerator or freezer for the week.
I am all about easy and delicious meals, and especially love to make them with simple, healthy ingredients. These pancakes are made with oat flour (can make your own by blending rolled oats), organic SunButter, pumpkin purée, milk, eggs, a little brown sugar, and spices. They are gluten-free, and can be made vegan by using an egg substitute like a flax egg.
What You'll Need:
To make these Pumpkin Chocolate Chip Pancakes, you'll just need 7 simple ingredients and a few simple steps!
Ingredients:
oat flour
pumpkin purée
milk, of choice
egg
brown sugar
baking powder
pumpkin spice
salt
chocolate chips
How To Make:
This recipe comes together in just a few simple steps. All you have to do is whisk together the pumpkin, sunbutter, eggs, milk, and brown sugar. Then, add in the flour, baking powder, pumpkin spice and salt and mix until smooth. Add about 1/4 cup to a pan with oil or butter and then sprinkle a few chocolate chips on top. Flip, finish cooking & enjoy!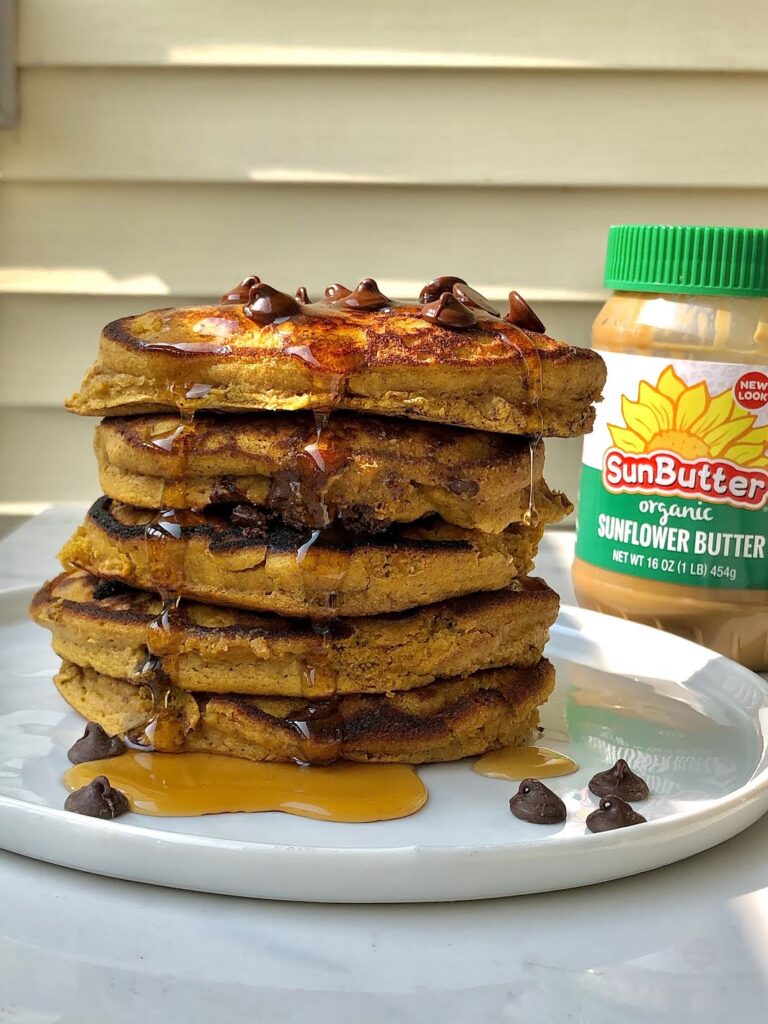 Pumpkin Chocolate Chip Pancakes
Ingredients
1 1/2 cups oat flour
2/3 cup pumpkin purée
1/2 cup milk of choice
3 tbsp organic Sunbutter
2 tbsp brown sugar
1 egg
2 tsp baking powder
2 tsp pumpkin pie spice
1/4 tsp salt
1/4 cup chocolate chips
Instructions
Whisk together eggs and brown sugar, then mix in pumpkin purée and Sunbutter until smooth, and then stir in the milk. Add in flour, baking powder, pumpkin spice, and salt and mix together until smooth.

Heat a pan over medium heat, then add 2 tsp oil or butter. Pour 1/4 cup pancake batter slowly onto pan. Sprinkle a few chocolate chips on top.

Flip pancakes after bubbles rise to surface and bottoms brown (about 2 to 4 minutes), then cook an additional 1-3 minutes. Repeat until all the batter is gone (makes 8-10 pancakes)
Additional Recipes You'll Love:
I have several delicious SunButter recipes you may also love: SunButter Breakfast Cookies , 5 Favorite SunButter recipes . In addition, you can check out some of my snack recipes including: Lemon Protein Balls (gf, df, nut free), Snickerdoodle Protein Cookies (df, gf, paleo), Unicorn Cookie Dough Protein Balls (df, gf, paleo), Chocolate Protein Donuts (gf, df, nut free, paleo), & more snack recipes!
I always love knowing when you guys make (and love) my recipes – so tag me or send me a message on Instagram, or leave a reply/rating below! Also, you can find this recipe, as well as all of my others, on Pinterest (click the photo below to Pin)!