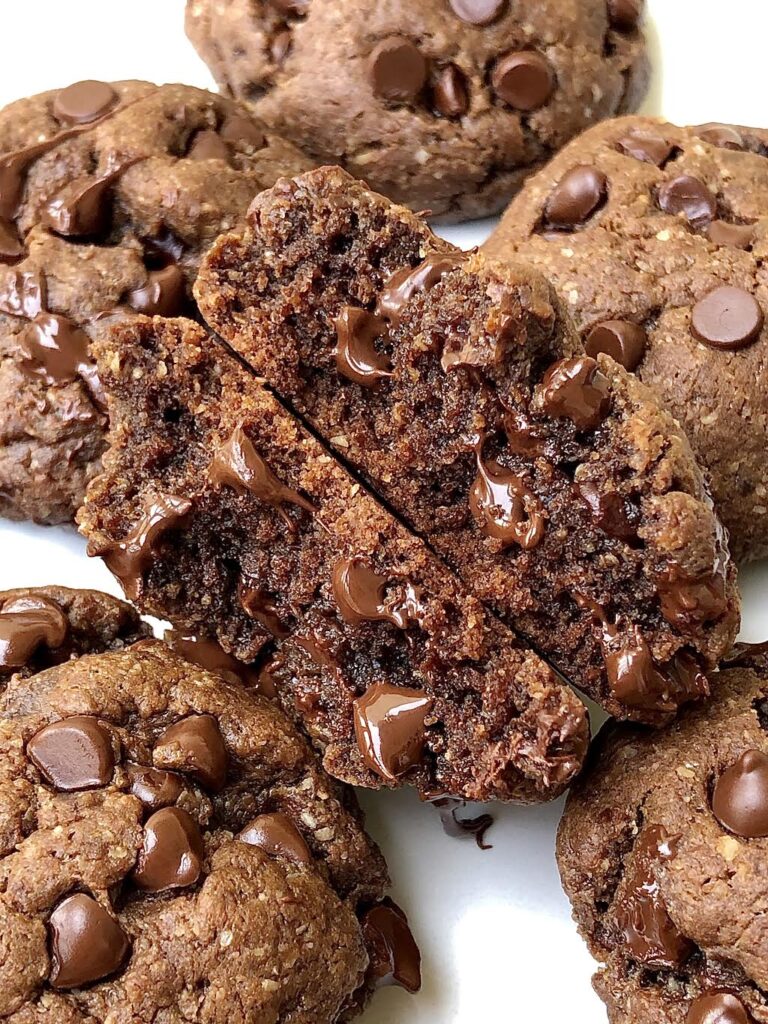 Double Chocolate Chip Cookies (Allergy-Friendly)
Jump to Recipe
These double chocolate chip cookies are the perfect easy treat that everyone can enjoy! These are free from the Top 8 Allergens (meaning there is no eggs, tree nuts, peanuts, wheat, soybeans, or dairy milk) and made with oat flour, organic SunButter and a few other simple ingredients.
What You'll Need:
To make these Double Chocolate Chip Cookies, you'll just need 9 simple ingredients and a few steps!
Ingredients:
oat flour
cacao powder
non-dairy milk, of choice
flax eggs
brown sugar
vanilla extract
baking soda
dairy-free mini chocolate chips
How To Make:
This recipe comes together in just a few simple steps! First, make your flax eggs by mixing together 2 tbsp flax seed meal with 5 tbsp water and let that sit for a few minutes. Then, whisk together the wet ingredients. Add in the dry ingredients, then mix in the mini chocolate chips. Roll the dough into 18-20 golf size balls and place on a baking sheet with parchment paper. Bake, let cool & enjoy!
Double Chocolate Chip Cookies (Allergy Friendly)
Ingredients
1 cup oat flour
1/4 cup cacao powder
2/3 cup organic Sunbutter
2/3 cup brown sugar packed
2 flax eggs *see note on how to make
3 tbsp non-dairy milk
1 tsp vanilla extract
1/2 cup dairy free mini chocolate chips
1/2 tsp baking soda
Instructions
Preheat oven to 350 degrees and line a baking sheet with parchment paper or a silicone baking mat

Mix together brown sugar, flax eggs and vanilla extract, then add in Sunbutter and non-dairy milk. In a separate bowl, whisk together flour, cacao powder, and baking soda. Add the dry ingredients to wet and mix until smooth. Fold in chocolate chips.

Roll into 18-20 balls and spread evenly on a baking sheet.

Bake for 10-12 minutes. Let cool & enjoy!
Notes
 *Flax eggs: 2 tbsp flax seed meal + 1/4 cup and 1 tbsp water. Mix together and let sit for 5-10 minutes.
Additional Recipes You'll Love:
I have several delicious SunButter recipes you may also love: SunButter Breakfast Cookies , 5 Favorite SunButter recipes . In addition, you can check out some of my snack recipes including: Lemon Protein Balls (gf, df, nut free), Snickerdoodle Protein Cookies (df, gf, paleo), Unicorn Cookie Dough Protein Balls (df, gf, paleo), Chocolate Protein Donuts (gf, df, nut free, paleo), & more snack recipes!
I always love knowing when you guys make (and love) my recipes – so tag me or send me a message on Instagram, or leave a reply/rating below! Also, you can find this recipe, as well as all of my others, on Pinterest (click the photo below to Pin)!