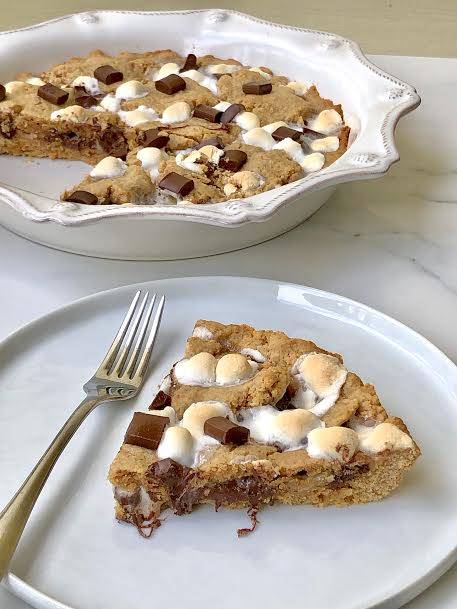 Jump to Recipe
S'mores Pie
This S'mores Pie tastes JUST like a campfire s'more, but in the perfect little pie slice.
What You'll Need:
To make this S'mores Pie, you'll just need 7 main ingredients and a few simple steps!
Ingredients:
graham crackers
flour
egg
brown sugar
butter
mini mashmallows
chocolate chips or chunks
baking powder
vanilla extract
* Possible substitutes listed below. NOTE: I have not personally tried any of these substitutes for this recipe, however I believe they could work.
you can easily use gluten-free graham crackers and vegan marshmallows in this recipe
to make it fully gluten-free, you could try using gf all purpose flour or almond flour in place of the regular flour (usually a 1:1 substitute)
instead of the brown sugar, you could use coconut sugar or cane sugar
in place of butter, you may be able to use vegan butter (I don't believe coconut oil will work)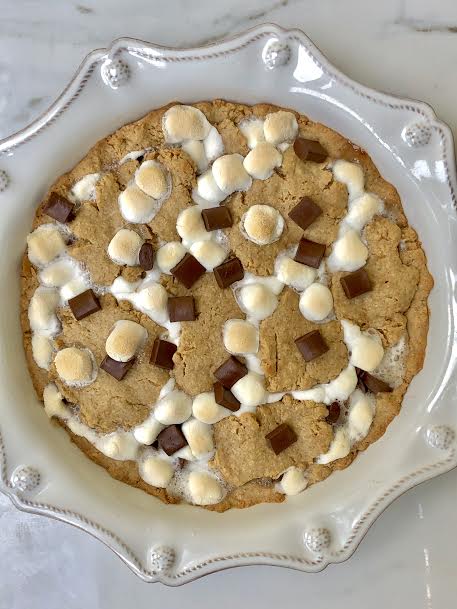 How To Make:
This recipe comes together in just a few simple steps. First, mix together the crust ingredients and spread 3/4 of the dough evenly throughout a greased 9″ pie dish. Then, melt together butter and some of the marshmallows in a saucepan to make marshmallow fluff. Add that thin layer on top of the crust layer. After than, add a layer of chocolate chunks and then mini marshmallows. Finally, add the rest of the dough on top by flatten pieces at a time, and sprinkle more chocolate and marshmallow on top. Bake for 20 minutes, let cool & enjoy!
S'mores Pie
Ingredients
1 1/2 cup graham cracker crumbs ~8-10 graham crackers
1 cup all purpose flour
6 tbsp butter softened + 1 tbsp for marshmallow fluff
1/4 cup brown sugar
1 egg
1 tsp vanilla extract
3/4 tsp baking powder
Dash of salt
1 1/2 cups mini marshmallows + more to sprinkle on top
3/4 cup chocolate chunks + more to sprinkle on top
Instructions
Preheat oven to 350 degrees F and lightly grease a 9″ pie dish.

In a electric mixer (or mixing bowl), mix together butter, egg, brown sugar and vanilla extract. In a separate bowl, whisk together graham cracker crumbs (* see note for how to make), flour, salt and baking powder.

Add the dry ingredients to wet and mix until no clumps remain. Press down 3/4 of the dough evenly across the bottom of the pie dish and push up slightly on the sides to form the crust.

In a saucepan over medium-low heat, add 1 tbsp butter and 3/4 – 1 cup mini marshmallows. Mix consistently until the marshmallows melt and turn into marshmallow "fluff". Add an even layer of fluff over the crust.

Top with chocolate chunks and 1/2 – 3/4 cup mini marshmallows. Then, take a small handful of the leftover crust dough, flatten it, and place on top of chocolate and marshmallows. Repeat this until the remaining dough is gone and most of top is covered (it is ok if it's not fully covered – see photo above for example). Finally, sprinkle with extra chocolate chunks and marshmallows.

Bake for 20 minutes, or until crust and marshmallows are golden brown. Let cool completely before cutting into slices, or else it will be very gooey.
Notes
To make the graham cracker crumbs, either use a food processor or place the graham crackers in a large zip lock bag and use a rolling pin to crumble.
Additional Recipes You'll Love:
Here are a few more delicious dessert recipes you may also love: Chocolate Chip Cheesecake Bars, Cookie Dough Fudge Bars, PB Frozen Yogurt Cups, Birthday Cake Chocolate Chip Skillet
I always love knowing when you guys make (and love) my recipes – so tag me or send me a message on Instagram, or leave a reply/rating below! Also, you can find this recipe, as well as all of my others, on Pinterest (click the photo below to Pin)!