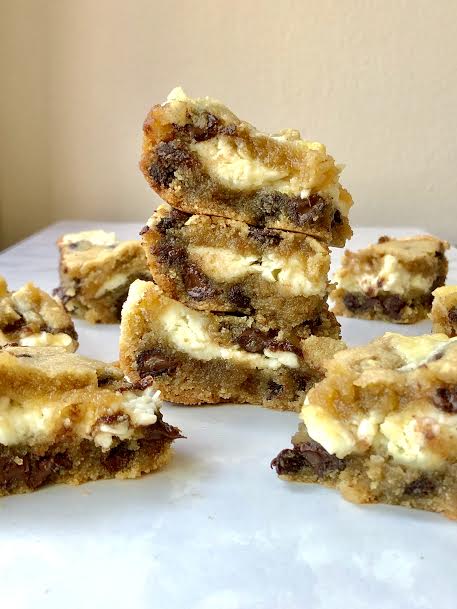 Chocolate Chip Cookie Cheesecake Bars
Jump to Recipe
These chocolate chip cookie cheesecake bars are going to be your new favorite – I just know it! I had to make these three times to get them right, but they are SO WORTH IT. They are everything I dreamed of and more, and I'm so glad I didn't give up on them (even though I really wanted to after attempt #1 and 2 turned out completely opposite of what I was hoping for). They are basically two soft and delicious chocolate chip cookies filled with a slightly sweet cream cheese center. Can I get a heck yes!?
You would never know it, but these chocolate chip cookie cheesecake bars are gluten-free and made with a handful of simple ingredients.
What You'll Need:
To make these Chocolate Chip Cookie Cheesecake Bars, you'll need 10 main ingredients and a few steps!
Ingredients:
almond flour
coconut flour
butter
eggs
brown sugar
cane sugar
chocolate chips
cream cheese
vanilla extract
baking soda
salt
How To Make:
This recipe does have a few more steps than some of my other recipes, but they are absolutely necessary to have a successful cookie cheesecake bar! First, you'll mix the wet ingredients for the dough (egg, sugar, vanilla extract, and butter) and the dry ingredients in a separate bowl (almond flour, coconut flour, baking soda, salt). Then, you'll mix the dry ingredients into the wet, and then fold in the chocolate chips. Next, you'll refrigerate the dough for 30 minutes while the oven is preheating. Bake about 2/3 of the dough, then let cool, and top with the cream cheese layer and remaining dough.
Chocolate Chip Cookie Cheesecake Bars
Ingredients
2 1/4 cups almond flour
2 tbsp coconut flour
8 tbsp butter softened
1 egg
2/3 cup brown sugar
1 tbsp vanilla extract
1/2 tsp baking soda
1/2 tsp salt
1 1/4 cup chocolate chips
Cheesecake Layer:
8 oz cream cheese softened
1 egg
1/4 cup cane sugar
1/2 tsp vanilla extract
Instructions
In a medium bowl or electric mixer, combine egg, sugar, butter, and vanilla extract. In a separate bowl, whisk together almond flour, coconut flour, baking soda and salt. Add the dry ingredients to wet and mix until well combined. Fold in chocolate chips.

Refrigerate the dough for 30-45 minutes. Preheat the oven to 350 degrees F and line an 8×8 pan with parchment paper.

Take 2 cups of the dough and spread evenly across the bottom of the pan. Place the leftover dough back in the refrigerator. Bake the bottom layer for 18-20 minutes, then let cool for about 5 minutes.

While the bottom layer is cooling, use an electric mixer to combine the ingredients of the cheesecake layer.

Pour the cheesecake layer evenly over the bottom cookie layer. Then, take a small handful of the leftover cookie dough, flatten it, and place on top of the cheesecake layer. Repeat this until the remaining cookie dough is gone and most of the cheesecake layer is covered (it is ok if it's not fully covered).

Bake for an additional 25-30 minutes, or until top layer is fully cooked. Let cool for 10-15 minutes, then cover and place in the refrigerator. Chill for at least 1 hour, or overnight. Cut into 16 bars & enjoy!
Additional Recipes You'll Love:
I have several delicious dessert recipes you may also love: Cinnamon Roll Muffins , Cookie Dough Fudge Bars (paleo & vegan), Double Chocolate Cookie Skillet (paleo & vegan),Lemon Bars (gluten-free), Flourless Zucchini Brownies (paleo), Birthday Cake Chocolate Chip Cookie Skillet (paleo & vegan)
I always love knowing when you guys make (and love) my recipes – so tag me or send me a message on Instagram, or leave a reply/rating below! Also, you can find this recipe, as well as all of my others, on Pinterest (click the photo below to Pin)!