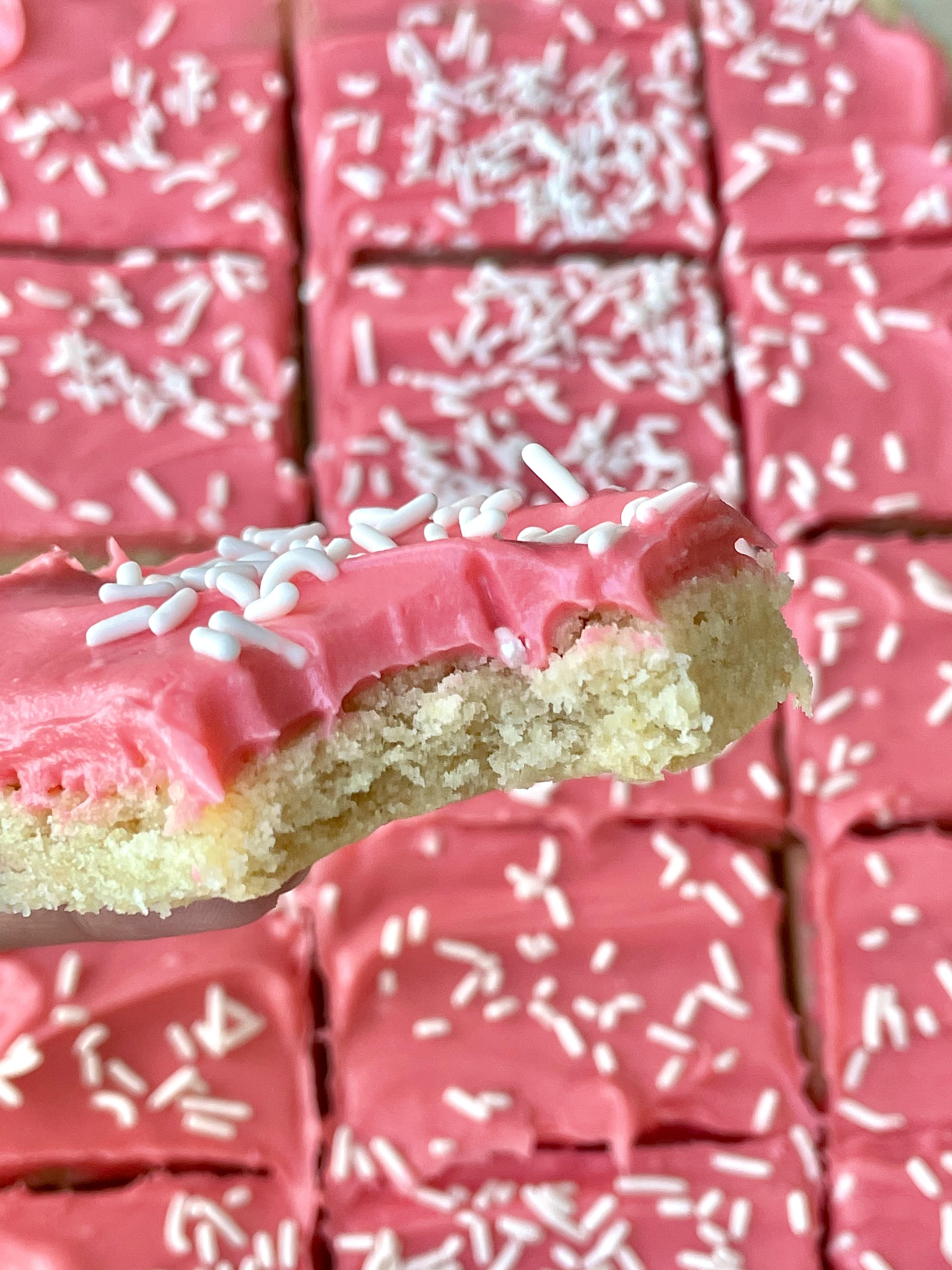 Jump to Recipe
Valentine's Sugar Cookie Bars
These Valentine's sugar cookie bars are absolutely perfect to make for a get together, that special someone, or just for yourself! Buttery, delicious sugar cookie topped with a light and fluffy cream cheese frosting. I love everything about these. In addition, they are made with simple ingredients and only requires a few minutes of prep time. Win, win!
What You'll Need:
You only need a handful of ingredients and a few minutes of prep to make your sugar cookie dreams come true!
Ingredients:
all purpose flour
cane sugar
egg
unsalted butter
vanilla extract
baking powder
salt
cream cheese
powdered sugar
red food coloring (optional)
Valentine's day sprinkles
How To Make:
This recipe comes together in just a few minutes. First, you'll use an electric mixer to whip together the butter and sugar. Then, add in egg, vanilla extract, and salt. Mix until fluffy and well combined. Finally, slowly add in the flower and baking powder. Mix until dough-like. Spread the dough evenly across a parchment paper lined 9×13 glass baking dish. Bake for 18-22 minutes. While the cookie is cooling, make your cream cheese frosting. Whip together crease cheese and butter. Then, add in powdered sugar 1/2 cup at a time. Finally, add in red food coloring and vanilla extra. Add the frosting evenly over the cookie. Top with sprinkles. Cut into 18-24 bars & enjoy!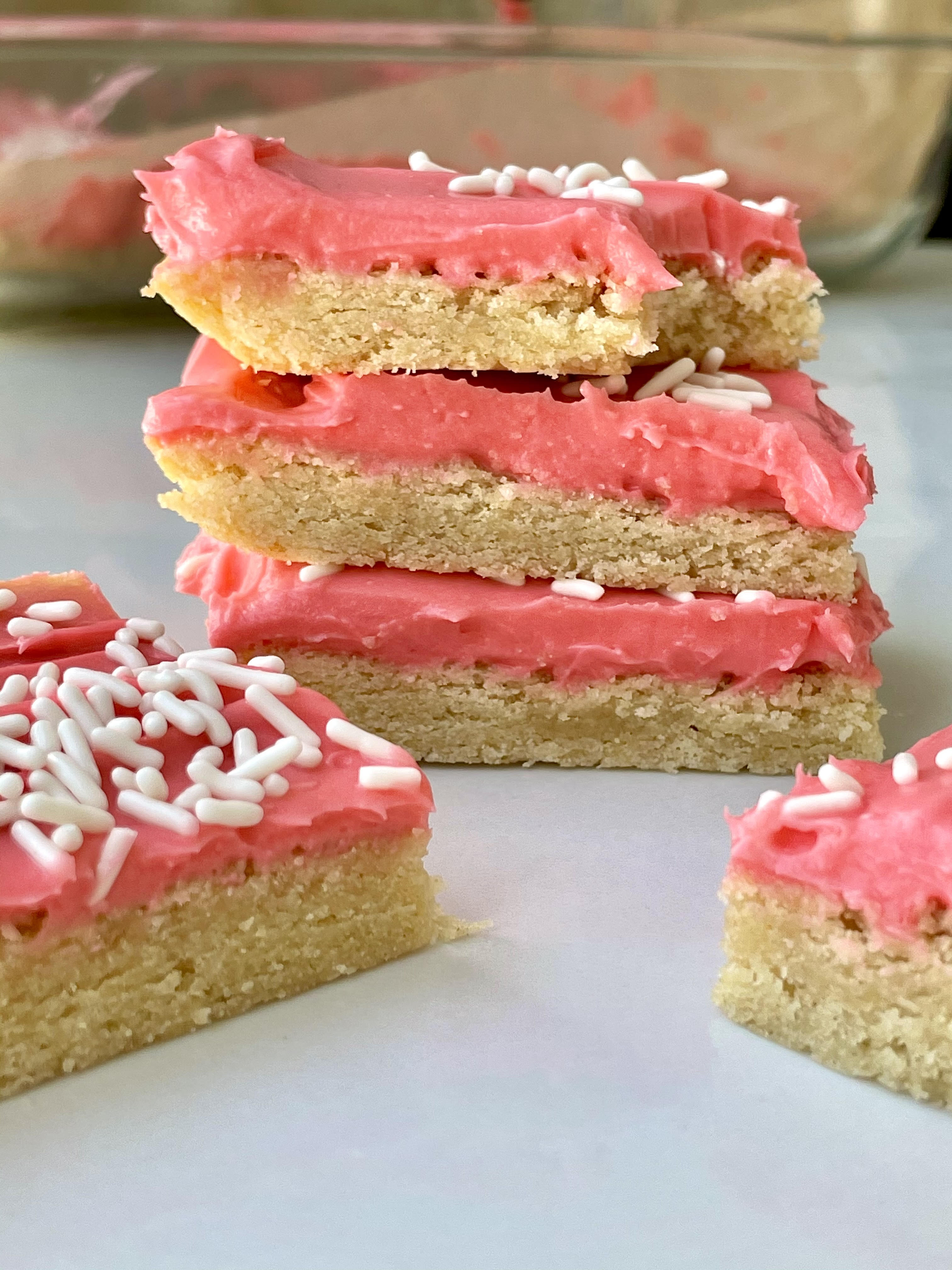 Valentine's Sugar Cookie Bars
Ingredients
2 cups all purpose flour
1 egg
1/2 cup + 3 tbsp unsalted butter softened/room temp
3/4 cup cane sugar
2 tsp vanilla extract
1 tsp baking powder
1/4 tsp salt
Cream Cheese Frosting
6 oz cream cheese
4 tbsp unsalted butter melted
1 1/2 cups powdered sugar
1 tsp vanilla extract
2-5 drops red food coloring optional
white sprinkles
Instructions
Preheat oven to 350°F and line a 9×13 glass baking pan with parchment paper.

Using a hand mixer or electric mixer, cream together butter and sugar. Mix in egg and vanilla extract. Add in flour, baking powder and salt and mix until dough-like.

Spread evenly across the bottom of the baking pan. Bake for 18-23 minutes or until edges are golden brown. Let cool completely.

While cooling, make the cream cheese frosting. Cream together cream cheese and butter, then mix in vanilla extract and red food coloring (optional). Mix in 1/2 cup powdered sugar at a time.

Spread cream cheese frosting evenly across cookie. Top with sprinkles. Cut into 18-24 bars.
Additional Recipes You'll Love
I have several delicious cookies and desserts that I think you'll also love: Salted Caramel Pretzel Cookies, Dark Chocolate Peanut Butter Cookies, Double Chocolate Chip Allergy Friendly Cookies, Cookies & Cream Truffles, Birthday Cake Chocolate Chip Cookie Skillet (paleo & vegan)
I always love knowing when you guys make (and love) my recipes – so tag me or send me a message on Instagram, or leave a reply/rating below! Also, you can find this recipe, as well as all of my others, on Pinterest (click the photo below to Pin)!