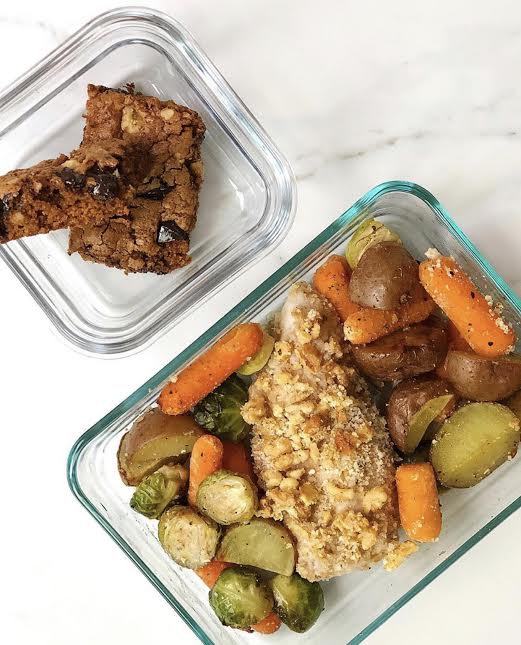 Who doesn't love a super easy to make, delicious meal? I love creating dishes that use simple ingredients, take minimal time and expertise, and are packed with flavor. The possibilities are endless, but it doesn't get much easier than sheet pan meals. This sheet pan walnut crusted chicken with vegetables takes less than 10 minutes to prep and even less time to clean up. The less dishes the better, right?

Since I work mostly from home, I used to not prep lunches and mainly focused on dinner. What I noticed is that I was often getting so busy that I either would snack all day, not ever having an actual lunch, or I'd skip lunch all together. This left me feeling super sluggish in the afternoon and starving by dinnertime. I've partnered with California Walnuts to take part in their #ChooseLunch campaign, an initiative that aims to encourage everyone to take a mindful lunch break and enjoy a nutritious meal. I've been focusing on meal prepping easy lunches and taking time to recharge during lunch. So, when I'm making my lunches for the week, I always prep at least one sheet pan meal! Check out my blog posts for other meal prep ideas and how to make delicious, filling (jar) salads.  

When planning my meals and grocery list, I always try to utilize ingredients in several different recipes so I reduce waste and spend less money on groceries (win, win!). One versatile ingredient I love incorporating into my weekly meals are walnuts. They are packed with plant-based omega-3's (2.5 grams per 1 ounce serving) and can be used in so many different ways. This week, I used them as a crust for the chicken, and in chocolate chip walnut sheet pan cookies. You can also use walnuts in salads, smoothies, and so much more! 
Sheet Pan Walnut Crusted Chicken & Veggies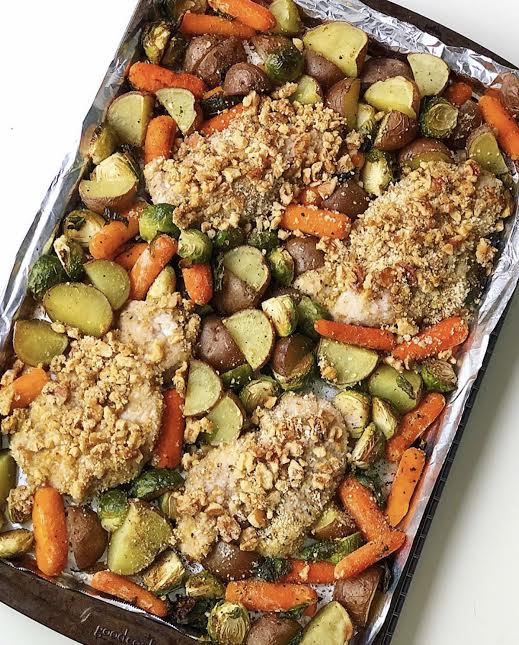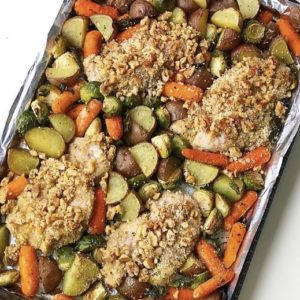 Sheet Pan Walnut Crusted Chicken & Veggies
Ingredients
2 large chicken breasts (cut in half to make 4 smaller breasts), or 4+ chicken tenders
1 cup walnuts finely chopped
½ cup rice crumbs or bread crumbs
1 egg whisked
salt/pepper/Italian seasoning to taste
~4 cups chopped vegetables
I used red potatoes carrots, brussels sprouts
Instructions
Preheat oven to 400 degrees F and line a baking sheet with foil

Toss vegetables with avocado oil and spices, then spread them evenly across pan. Bake for 15-18 minutes, or until vegetables start to soften

While vegetables are baking, prepare the walnut crusted chicken. First, combine the walnuts, rice, and spices together in a bowl. In a separate bowl whisk the egg.

One at a time, dip chicken in egg, then in walnut mixture.

Take the vegetables out of the oven and create space for the chicken. Add the chicken to the sheet pan and bake for another 15-20 minutes, or until chicken reaches internal temperature of 165 degrees F.
Don't forget about dessert!
Just as much as I love meal prepping healthy lunches for the week, I love making an easy treat to have on hand. These sheet pan cookie bars are perfect to bring with lunch, or bring to an office lunch party (if you want to share, that is). They are gluten-free, packed with omega-3 fatty acids, good fats, and chocolate (duh!)  
Sheet Pan Chocolate Chip Walnut Cookies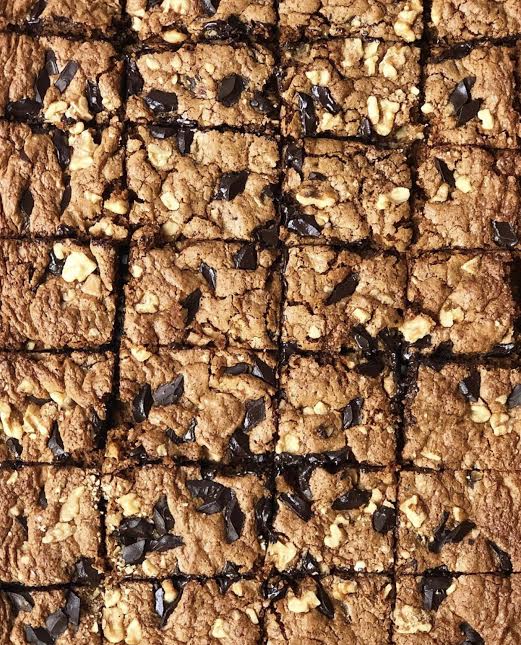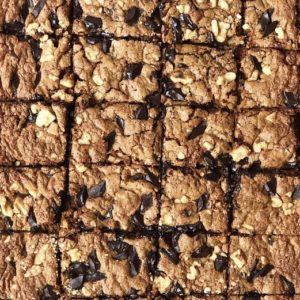 Sheet Pan Chocolate Chip Walnut Cookies
Ingredients
1 ¼ cup oat flour
1/3 cup coconut flour
3 eggs
½ cup butter softened
1 ½ cups coconut sugar
¾ tsp baking soda
½ tsp salt
1 ½ cups walnuts crushed
1 ½ cups chocolate chips or chunks
Instructions
Preheat oven to 325 degrees. Line a baking pan (10×15) with foil and spray oil evenly across foil.

In an electric mixer, combine eggs, sugar and butter. If you don't have one, whisk together the eggs and sugar first, then add the butter and whisk until no clumps remain

In a separate bowl, combine flours, baking soda and salt

Slowly add the dry mixture into the wet and mix until well combined

Fold in walnuts and chocolate chunks

Pour mixture on baking pan and spread evenly.

Bake for 20-24 minutes, or until edges start to brown

Let cool, cut into ~32 pieces and enjoy ☺