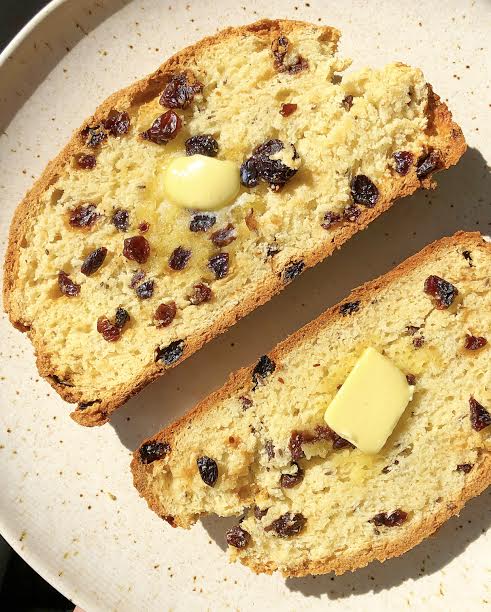 Mom's Irish Soda Bread
Jump to Recipe
Mom's Irish Soda Bread recipe is so special to me. Saint Patrtick's Day was always a big holiday in our house growing up. My Mom would make all the classics like Irish soda bread and corned beef and cabbage. If you love Irish soda bread as much as I do, you need this as part of your celebrations!
My Mom was the BEST cook/baker, but as a kid I was not at all interested in learning to cook or bake. I didn't develop my love for getting creative in the kitchen until after graduating college (years after my Mom passed away). Luckily I have tons of her famous recipes that I can make myself now!
This weekend, I decided to make her authentic Irish soda bread yesterday and it was just as good as I remember! This recipe has been in our family for generations! I hope you all enjoy this recipe as much as I always have. <3
Ingredients:
All-purpose flour
Sugar
Double acting baking powder
Salt
Baking soda
Butter
Dark seedless raisins
Caraway seed
Eggs
Buttermilk
Only takes a few minutes to prep and beginner friendly!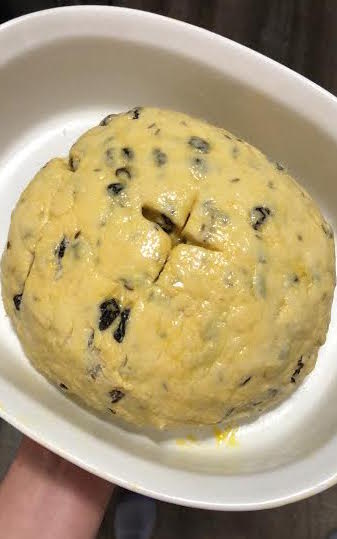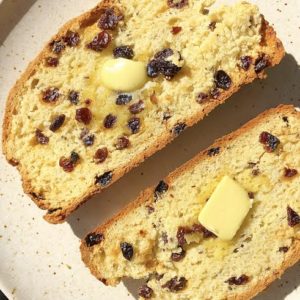 Mom's Irish Soda Bread
Ingredients
4 cups all-purpose flour
3 tbsp sugar
1 tbsp double acting baking powder
1 tsp salt
3/4 tsp baking soda
6 tbsp butter room temperature
1 1/2 cups dark seedless raisins
1 tbsp caraway seed
2 eggs
1 1/2 cups buttermilk
Instructions
Preheat 350 degrees F. Grease well a 2-qt round casserole dish. In large bowl, with fork, mix first 5 ingredients. With pastry blender or 2 knives used scissor-fashion, cut in butter until mixture resembles course crumbs; stir in raisins and caraway seeds.

In small bowl, with fork, beat eggs slightly; remove 1 tbsp and set aside. Stir buttermilk into remaining egg; stir into flour mixture (dough will be sticky)

Turn dough onto well-floured surface; with floured hands, knead about 10 strokes to mix thoroughly. Shape dough into a ball; place in casserole. In center of ball, with sharp knife, cut a 1-inch cross about 1/4 inch deep. Brush dough with reserved egg.

Bake dough, about 1 hour and 20 minutes or until toothpick inserted in center comes out clean. Cool in casserole on wire rack 10 minutes; remove from casserole and cool completely on rack
Additional Recipes You'll Love
I have several delicious muffins and desserts that I think you'll also love: Cinnamon Roll Cupcakes, Cinnamon Roll Muffins, Coffee Cake Greek Yogurt Muffins, Mini Maple Vanilla Scones, Raspberry Yogurt Muffins, Chunky Monkey Muffins, Birthday Cake Chocolate Chip Cookie Skillet (paleo & vegan)
I always love knowing when you guys make (and love) my recipes – so tag me or send me a message on Instagram, or leave a reply/rating below! Also, you can find this recipe, as well as all of my others, on Pinterest (click the photo below to Pin)!