I hope you love this Cauliflower Pizza Date Night spread as much as we did! This post is sponsored by Milton's, however all opinions are mine.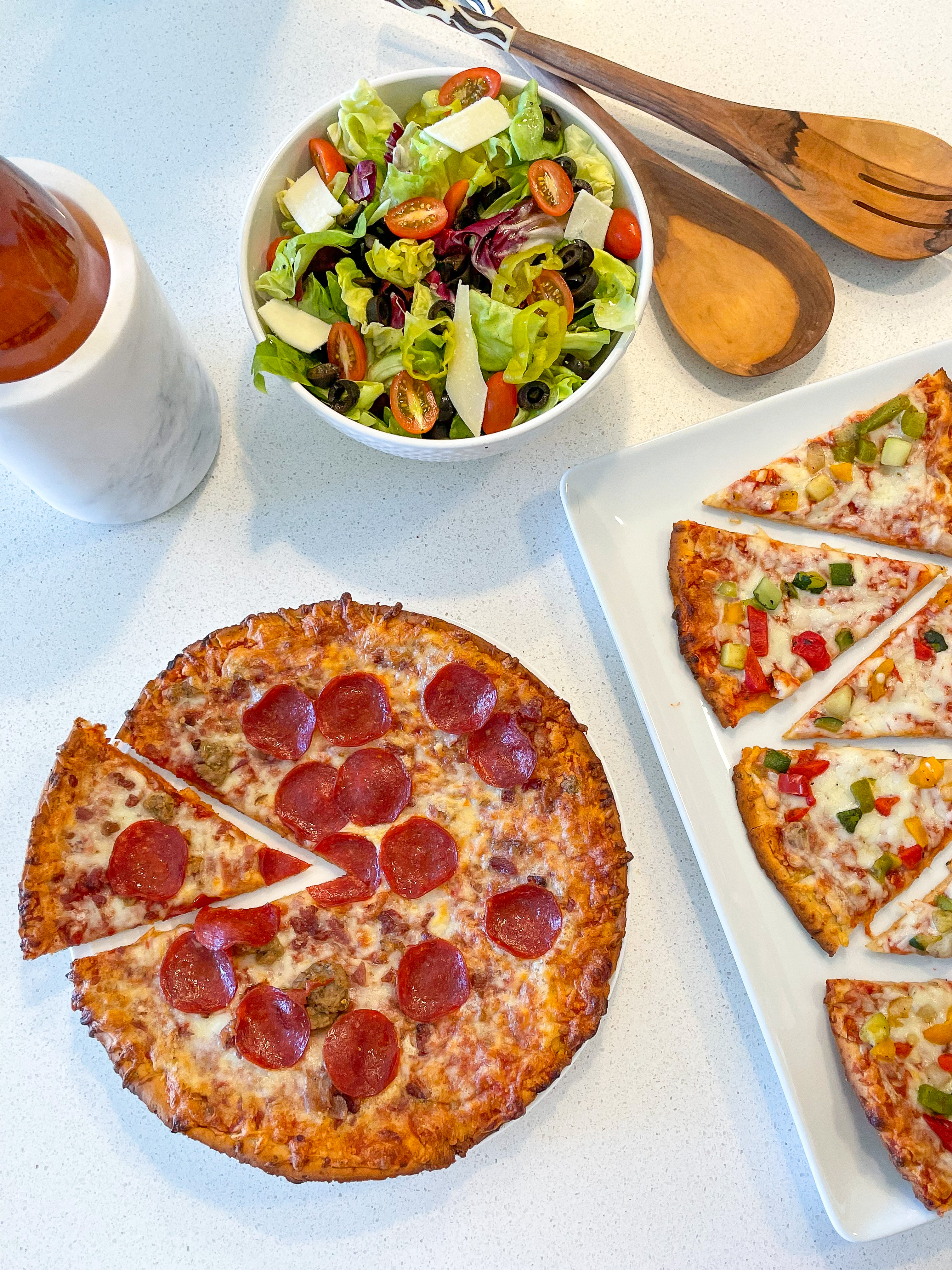 Jump to Recipe
Cauliflower Pizza Date Night with Italian Salad & Rosé
This cauliflower pizza spread has something for everyone! We had friends over for a little date night and pizza, salad and wine was perfect for this gorgeous Summer evening. I'm all about going out to bars and restaurants now that everything is opening back up, but sometimes you can't beat a night in with friends and an easy delicious meal. This whole spread only took 15 minutes total to make!
Have you tried cauliflower pizza before? I am assuming a lot of you have, and many of you may not have been very impressed by it. Personally, before this I hadn't found a cauliflower pizza that tasted good enough for me to want to purchase again. If you can relate to this, then you MUST try Milton's Cauliflower Pizzas. The crust is light and crispy, holds together perfectly and has such flavorful toppings. If the box didn't say cauliflower pizza, you honestly would never guess. Trust me. They are just as delicious as their "regular" crust counterparts, but they are also certified gluten-free and the first ingredient in the pizza is cauliflower!!
Milton's cauliflower pizza is hands down the best cauliflower pizza on the market and I don't say that lightly. It actually may be one of the best frozen pizzas in general. So, go pick some up and have a date night at home this weekend!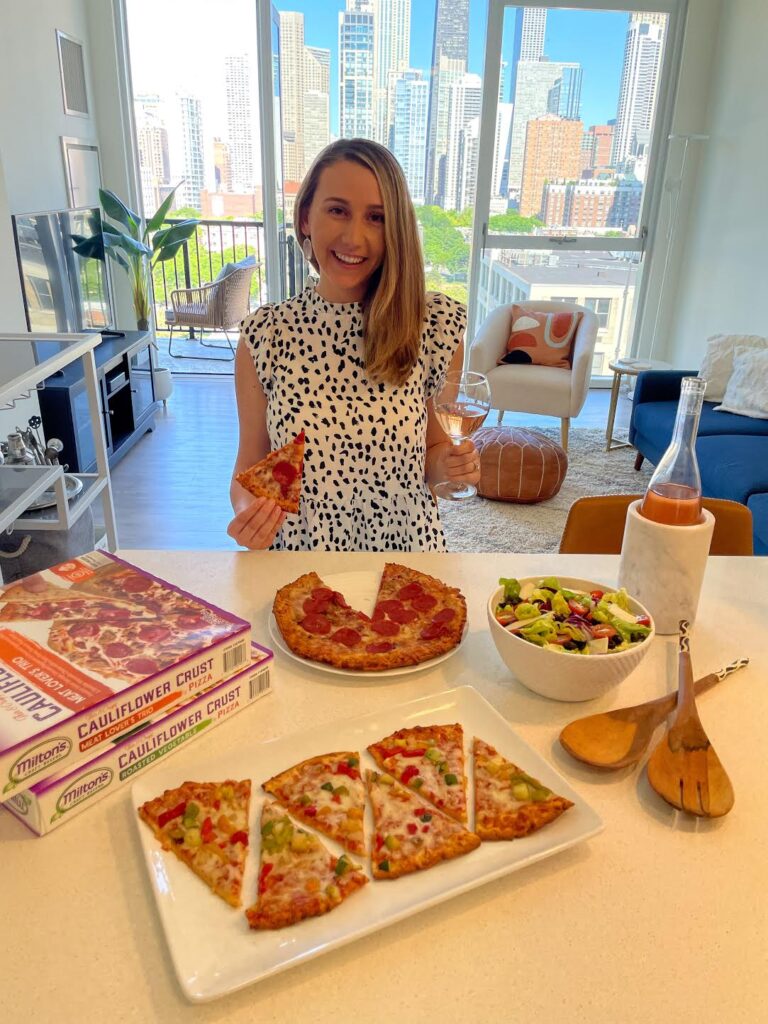 HOW TO MAKE THE MOST DELICIOUS CAULIFLOWER PIZZA DATE NIGHT SPREAD:
All you'll need is a few simple ingredients, and about 15 minutes total to have a delicious date night spread.
Ingredients:
The Best Cauliflower Pizza
Simple Italian Salad:

Butter lettuce & radicchio mix
Cherry tomatoes, halved
Black olives, sliced
Pepperoncinis, whole or sliced
Parmesan cheese, shaved
Red onion, thinly sliced
Dressing: 1/3 cup olive, 2 tbsp red wine vinegar, juice of 1/2 small lemon, salt/pepper/garlic powder/oregano/red pepper flakes to taste
Wine pairings (for those age 21+):

For the veggie pizza and a refreshing option for Summer: a dry rosé is perfect

For the meat lover's pizza a red blend or heartier red wine such as: Shiraz, Cabernet Sauvignon, Zinfandel, or Merlot
Recipes/Cooking Steps:
This spread takes 15 minutes total to make and is the perfect easy date night spread. It's delicious, refreshing and has something everyone will love! First, preheat oven to 425°F. Follow the instructions on the Milton's pizza box and bake pizza for 12-15 minutes. While the pizza is in the oven, make the salad. If you buy pre-sliced olives and pre-shaved parmesan cheese, all you will have to do is quickly slice the tomatoes and pepperoncinis (although you can buy these sliced as well) and whisk together the dressing. For the dressing, in a small bowl, whisk all ingredients together – that's it! The salad should take less than 10 minutes to make & then you can set up your spread and be ready to eat when the pizza is hot out of the oven.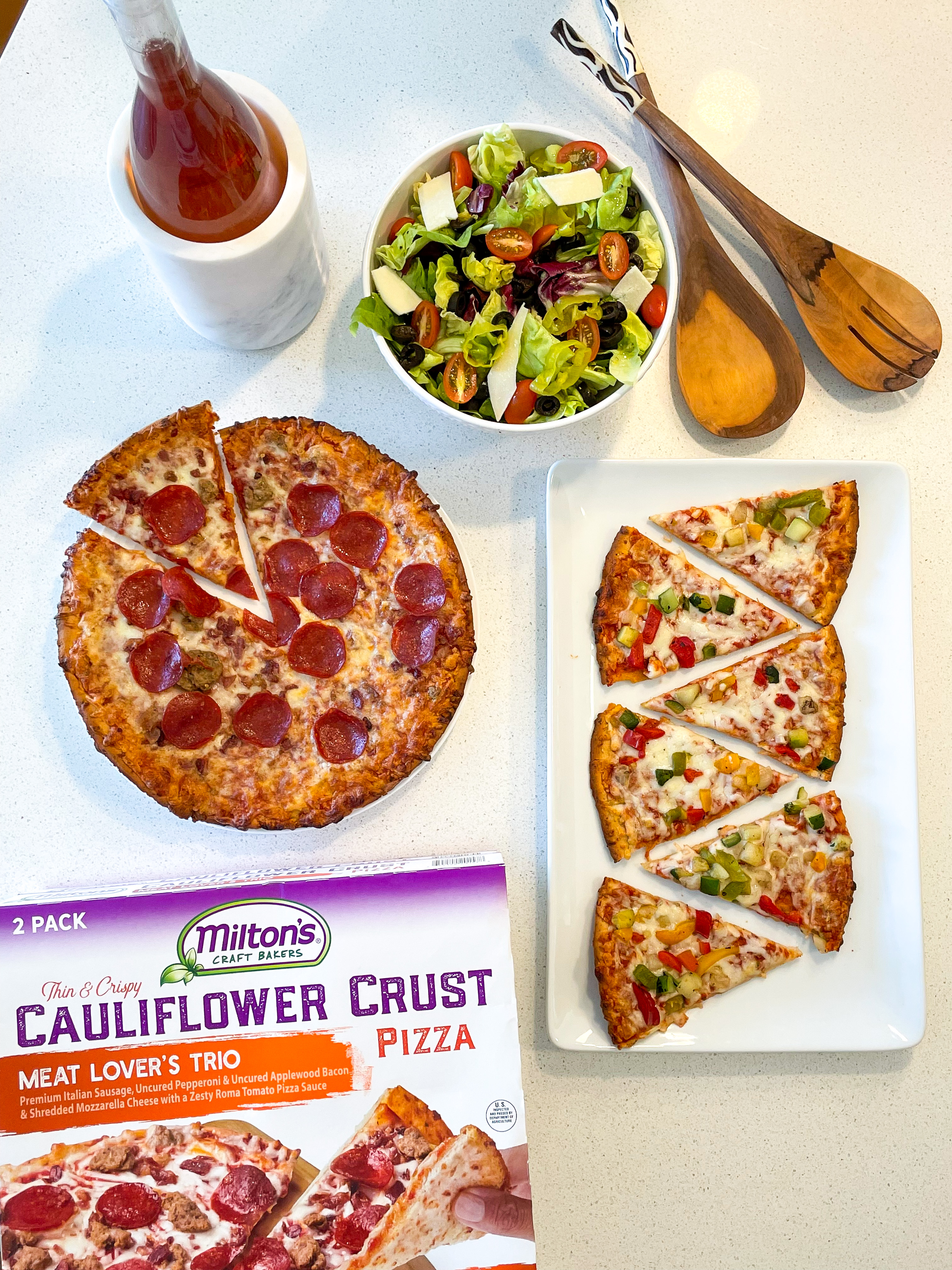 Simple Italian Salad
Ingredients
5 cups butter lettuce & radicchio mix
1/2 cup cherry tomatoes sliced
1/3 cup fresh parmesan cheese shaved
1/4 cup black olives sliced
1/4 red onion thinly sliced
3 pepperoncini sliced
Dressing:
1/3 cup olive oil
2 tbsp red wine vinegar
Juice of 1/2 small lemon
To taste: salt, pepper, garlic powder, oregano, red pepper flakes
Instructions
Whisk together dressing ingredients and combine with the lettuce mix.

Mix in cherry tomatoes, black olives, red onions, pepperoncini, and parmesan. Serve!
Additional Recipes You'll Love:
I have several delicious salad and dinner recipes you may also love: Buffalo Cauliflower Chickpea Salad (V/GF), One Pot Spicy Rigatoni, Thai Chicken Salad with Peanut Dressing, Crispy Fish Tacos with Mango Salsa, Quinoa Vegetable Fried Rice
I always love knowing when you guys make (and love) my recipes – so tag me or send me a message on Instagram, or leave a reply/rating below! Also, you can find this recipe, as well as all of my others, on Pinterest (click the photo below to Pin)!