gure class="wp-block-image size-large">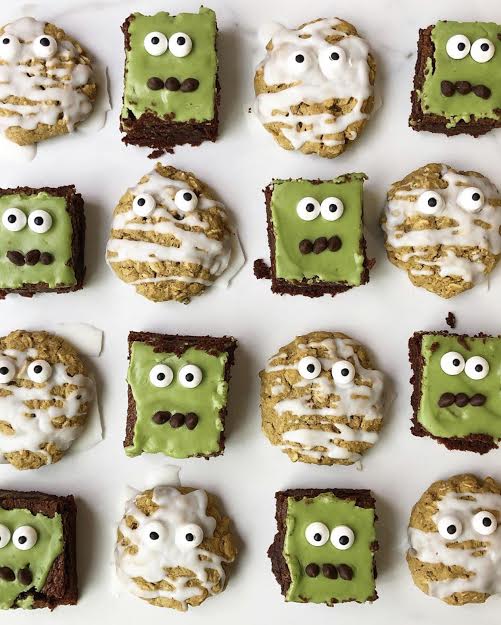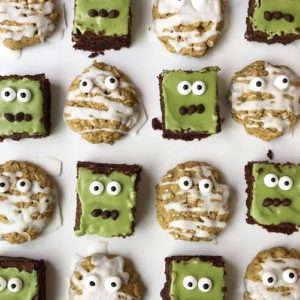 Frankenstein Brownies
Ingredients
2 tbsp coconut flour
3/4 cup tahini
2 eggs
1 cup coconut sugar
2 tsp vanilla extract
1/2 tsp salt
4 tbsp ghee butter or coconut oil work as well
½ cup dark chocolate chips + more to sprinkle on top if desired
3 tbsp cacao powder
Frosting (mix all together)
1/3 cup coconut butter melted
2 tsp matcha powder
+ candy eyeballs and mini chocolate chips for making the face!
Instructions
Preheat oven to 350 degrees. Line a 8 x 8 glass pan with parchment paper

In a large mixing bowl – whisk together eggs, sugar, salt, and vanilla. Once combined, mix in tahini and flour

In a sauce pan, melt butter over medium heat (this won't take long!) Once melted, take off heat, add in chocolate and cacao and mix until smooth

Add chocolate mixture to the tahini/flour mixture and mix thoroughly

Pour combined mixture into the glass pan

Bake for 28-32 minutes. Let cool for 30 minutes, top with frosting and refrigerate until hardens.

Cut into 12-15 squares, top with candy eyeballs (2) and mini chocolate chips (3 in a row) & enjoy!
Notes
* note: the frosting does not taste like matcha (it does taste like coconut butter though); could substitute any green frosting for this recipe!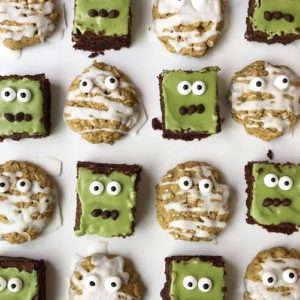 Maple Oatmeal Mummy Cookies
Ingredients
1 1/2 cups Irish style oats
1 1/2 cups oat flour
2/3 cup maple syrup
1 egg
6 tbsp coconut oil or butter
1 tsp baking soda
1 tsp cinnamon
Frosting
1/3 cup coconut butter melted
+ candy eyeballs
Instructions
Whisk together egg, maple syrup and coconut oil. In a separate bowl, combine oats, oat flour, baking soda and cinnamon

Slowly add wet ingredients to dry and mix well.

Refrigerate covered for one hour.

Preheat oven to 350 degrees and line a baking sheet with parchment paper.

Roll dough into 20 balls (~2 tbsp each) and press down with palm to flatten slightly

Bake for 10-12 minutes. Let cool, top with coconut butter drizzle and candy eyes and refrigerate until frosting hardens (or freeze for 5 minutes)