These Greek pita wraps are one of our favorite easy lunches! Filled with so much flavor from ingredients like garlic, lemon, dill and feta. Plus, once you make the meatballs, these wraps can be put together in just a few minutes.
Greek Pita Wrap Components:
Greek Turkey Meatballs: ground turkey, tomato, feta, dill
Tzatziki Sauce: greek yogurt, lemon, garlic, spinach, dill
Toppings: red onion, tomato, cucumber, feta
Whole wheat pita wrap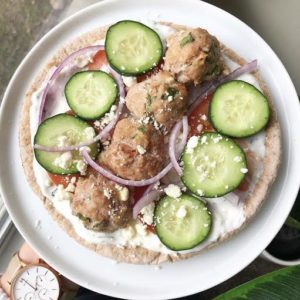 Greek Pita Wraps
Ingredients
1 lb ground turkey
1/3 cup tomato diced
1/2 cup spinach chopped
1/4 cup feta cheese
1 tbsp fresh dill
Greek Yogurt Tzatziki Sauce (mix all together):
1 cup greek yogurt
2 tbsp fresh dill
1 lemon juice from
2 cloves garlic minced
salt and pepper to taste
Toppings:
1 medium cucumber
1 small red onion
1 large tomato
4 whole wheat pitas
Instructions
Preheat oven to 375 degrees. Line a baking sheet with parchment paper

Combine meatball ingredients together. Roll into 18-20.

Bake for 17-19 minutes, or until internal temperature reaches 165 degrees F

For serving: add meatballs, tzatziki sauce and desired toppings to a pita wrap & enjoy!